Something doesn't add up about Arcadia Resources Inc.'s agreement to sell its pharmacy business for a low price of $2 million, according to many of the Indianapolis company's investors.
That sentiment has left some of them more down than ever on Arcadia, whose shares have traded for 2 cents or less since it disclosed on Dec. 6 that it would sell its DailyMed pharmacy business to the Walgreen drugstore chain. Walgreen also agreed to eventually hire Arcadia CEO Marvin Richardson to manage the business.

Arcadia CEO Marvin Richardson will manage the DailyMed pharmacy for Walgreen.
"I don't think there's a chance in heck that something shady isn't going on with this thing,'" said Jon Lewis, an Evansville resident who owns 5 million Arcadia shares.
But other shareholders are hopeful that Arcadia is working out a larger deal with Walgreen that would bring more revenue to Arcadia's remaining operations. Arcadia also operates a home health care staffing business.
For the past five years, Arcadia had bet its future on DailyMed, a service that packages all prescription drugs a patient is taking into convenient pouches marked by the time of day or meal at which they are to be taken. Arcadia claims DailyMed, which also uses nurses to check up on patients by phone, helps improve compliance among patients who take lots of medicines.
The service was invented by Richardson when he ran Minnesota-based PrairieStone Pharmacy LLC. Richardson engineered a $24 million sale to Arcadia in February 2007 and, two months later, became Arcadia's CEO.
To fund DailyMed's expansion, Richardson sold off all of Arcadia's other businesses and was trying to sell the staffing business this year, too. Arcadia also borrowed heavily and sold significant amounts of stock, raising its total shares 53 percent since mid-2007, to 193 million now.
DailyMed garnered some big-name clients, including the Indiana Medicaid program, Indianapolis-based WellPoint Inc. and a pilot program with the Cleveland Clinic. Its annual revenue swelled to $17 million.
But the business was still sucking cash—cash Arcadia no longer had available. The number of patients using the service and the revenue from it didn't grow as fast as Arcadia had hoped. And then the company's debt started coming due.
In September, Arcadia was declared in default on a $5 million loan from Illinois-based H.D. Smith Wholesale Drug Co., one of Arcadia's major suppliers. H.D. Smith was a secured creditor with the right to seize DailyMed's assets.
And looming ahead was another pile of debt—$34.5 million—that comes due in April.
Arcadia persuaded H.D. Smith to forgive the loan if it could sell DailyMed for as little as $2 million.
The next month, Arcadia put DailyMed on the block. Two months later, Illinois-based Walgreen bought it for $2 million, the assumption of some liabilities and the agreement to hire Richardson.
"They're cheating over the shareholders. The CEO jumps from Arcadia to Walgreens?" said Josh Storey, an Arcadia shareholder in Michigan, who holds 75,000 shares.
Storey didn't buy the stock until it had already lost much of its value. Since Richardson became Arcadia's CEO nearly five years ago, the stock price has gradually collapsed, from $2.25 per share to 2 cents now.
Arcadia executives declined to be interviewed for this story, saying they were bound by securities rules and a confidentiality agreement with Walgreen. Since the company's stock was delisted from the New York Stock Exchange, company officials have communicated almost entirely through securities filings, not press releases or conference calls.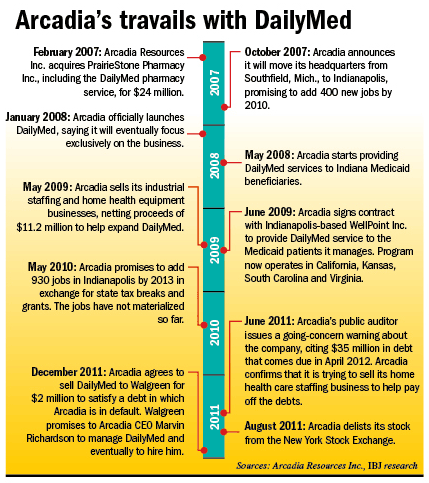 Selling DailyMed leaves Arcadia with its $83-million-a-year medical staffing business, which Arcadia calls its services segment. But unless Arcadia can renegotiate its debt, company officials have stated in securities filings, Arcadia's future as a "going concern" is in doubt.
Storey said that if there's not more to the Walgreen deal, he expects a shareholder lawsuit, perhaps even against Walgreen. Lewis, the Arcadia shareholder from Evansville, said he would sue Arcadia if there isn't any more to the deal.
But both hope there is. Storey, Lewis and numerous other investors speculating on the Yahoo Finance message boards about Arcadia note that Walgreen is expanding its Take Care retail clinics into more of its 8,200 nationwide stores.
In fact, Walgreen staged a grand opening Jan. 19 of its stores in Indianapolis, which are piloting a new format called "Well Experience" that tries to position Walgreen as a place for medical counseling with pharmacists and nurse practitioners.
Shareholders muse that, perhaps, Arcadia might be tapped to provide staff for those operations. They also note that Arcadia keeps advertising for new medical staffing jobs throughout the country.
"You've got some secret dealing with Walgreen going on," Lewis speculated.
Other Arcadia investors point to Walgreen's highly public feud with Express Scripts Inc., a St. Louis-based pharmacy benefit manager, which will no longer fill prescriptions through Walgreen stores. Some investors think Arcadia's pharmacy operations could be tapped to help fill the gap—although it's difficult to see how such a deal would benefit Arcadia and its shareholders after it sells its pharmacy operations to Walgreen.
"Too many coincidences," Storey said. "I almost see a partnership [with Walgreen]. I think Walgreen will hand out some contracts. And Arcadia will come in there."
Kermit Crawford, Walgreen's president of pharmacy, health and wellness services and solutions, would not comment on Walgreen's plans for DailyMed. He simply said DailyMed would help with Walgreen's larger efforts to improve medication compliance by improving access and convenience.
"It fits into the overall big picture," Crawford said of DailyMed.
Igor Ilic, an Arcadia shareholder from Europe, said he shares some of the concerns about Arcadia's deal with Walgreen, but that getting rid of DailyMed—and Richardson, too—will be good things for Arcadia. He noted that DailyMed's profit margins were 15 percent—even before counting the extra spending needed to grow the business—compared with margins of 30 percent for Arcadia's medical staffing business.
"The pharmacy business has been growing revenues. However, if you look at the margins, gross margins have been low and operating margins have actually been negative, whereas when compared to the Healthcare Service Segment, the margins have been much better," Ilic wrote in an e-mail.
"Therefore, taking into account the growing senior population in the U.S. and margins of Arcadia, I support the focus on the Service segment and a potential change in top management."•
Please enable JavaScript to view this content.