The Indianapolis Art Center will reward those who plan ahead with steep ticket discounts to the Broad Ripple Art Fair.
Tickets go on sale March 25 for $5. That's 58 percent off the usual advance price of $12. But prices will escalate $1 per week until the fair rolls around on May 19 and 20.
The idea behind super-discounting is to further encourage advance purchases, which take some of the anxiety out of planning an outdoor event that's also a major source of revenue for the not-for-profit center, Marketing Director Lisa DeHayes said.
Advanced ticketing is just one of several tweaks executives hope will make the fair a better promotional tool for the center, which offers classes to the public year-round.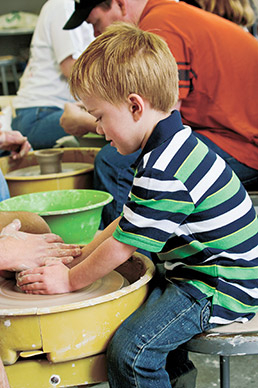 Kids attending the Broad Ripple Art Fair this May will have even more opportunities to create their own art, through "Kids' Camp." (IBJ File Photo)
"Basically during the art fair, people see us as that place with the bathroom," DeHayes said.
Along with the juried sale, the art center will offer adults more art-making activities, such as sculpture and printmaking, at the fair. Kids will also have more opportunities with "Kids' Camp," which requires advance registration.
If fairgoers find themselves hooked on art-making, they can sign up for one of the center's new "pop-ups," which are two-hour sampler classes.
More than 800 artists apply for one of 225 juried spots each year. This year, those who didn't make the cut will be able to exhibit in an "emerging artist" area.
Please enable JavaScript to view this content.