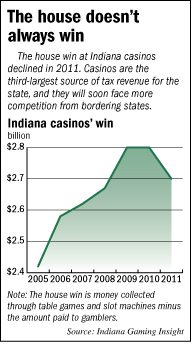 Indiana casinos saw their take from gambling fall in 2011, and new competition in Ohio and perhaps other neighboring states virtually guarantees things will get worse from here.
The house win at 13 casinos dropped 2.3 percent last year, from just under $2.8 billion, to close to $2.7 billion, according to figures from Indiana Gaming Insight.
That was the second year of declines for the industry that supplies Indiana's third-largest source of tax revenue. The prior year, win—revenue collected at table games and slot machines, minus what's paid out to gamblers—slipped one-tenth of a percent.
The falling win is a sign that the days of runaway growth are over, said Bill Eadington, an economics professor and director of the Institute for the Study of Gambling at the University of Nevada Reno.
"This is arguably the best it's ever going to be," Eadington said.
Legalized in Indiana in 1995, the industry grew rapidly, so it's now among the largest in the country, behind Nevada, New Jersey and Pennsylvania. That's bound to change.
Indiana's general fund reaped $660 million from casinos last fiscal year, but budget forecasters predict that will fall to $617 million this year and to $567 million in 2013.
Lawmakers have anticipated competition from Ohio, Kentucky and possibly Chicago, since 2009. At that time, the Legislative Services Agency estimated the state stands to lose more than $700 million a year in state and local revenue.
The competition didn't hit as quickly as expected, but it's around the corner. A Hollywood casino is slated to open in Columbus, Ohio, this fall, while Horseshoe Casinos has said it will open in Cincinnati early in 2013.
Casinos also will open in Toledo and Cleveland, but Cincinnati is expected to have the biggest impact on the three riverboat casinos in southeastern Indiana.
Adding casino gambling to Kentucky racetracks is a top priority for Gov. Steve Beshear. As of Jan. 26, he was close to making a deal with lawmakers that would pave the way to a constitutional amendment to be placed on a November ballot.
Northern Indiana riverboats already are feeling the impact of two tribal casinos in Michigan that opened in 2009. Next up could be a casino in Chicago. Illinois lawmakers were working on a deal this month that would allow five new casinos in the state.
Even a casino that opened last year in the far suburb of Des Plaines, Ill., appears to have cut into northwestern Indiana gambling, said Ed Feigenbaum, publisher of Indiana Gaming Insight.
Declining industry?
Indiana is in a situation similar to that of New Jersey, which lost gamblers to Delaware and Pennsylvania, and that of Reno, Nev., and Lake Tahoe, which lost out to tribal casinos in California, Eadington said. Atlantic City, N.J., has lost about 35 percent of its gambling revenue base since 2006, Eadington said.
"That's a pretty obvious indicator of what happens when you're dependent on a market that is a drive-in market," he said. "Those customers just disappear."
Feigenbaum noted that Indiana's first 11 casinos also lost revenue to the two racetrack casinos that opened in 2008 in Anderson and Shelbyville. With the so-called racinos excluded, win dropped 6.2 percent in 2008 and continued to decline each year thereafter.
The drop-off in 2011 was consistent across the state, Feigenbaum said, and that suggests all the casinos were hurt by the poor economy. Even the Horseshoe Casinos in southern Indiana and Hammond, which tend to market to high-rollers, were doing penny-slot promotions, he said.
"They are pushing to get people to play these machines," Feigenbaum said. "People want to come out and gamble. They just don't have the money."
State to take hit
Lawmakers haven't done anything to shore up the industry. The riverboat casinos have yet to get the go-ahead to build on land, and the industry hasn't received any major tax breaks.
Senate Appropriations Committee Chairman Luke Kenley, R-Noblesville, doesn't foresee that changing much. Though he served on a study committee that issued recommendations in 2009, he said he's concluded that nothing—outside of enticing more Hoosiers to gamble—could make up for casino money lost to bordering states.
To Kenley, it's not worth the "social costs."
"We're not interested in making them successful at all costs, just to guarantee revenue for the state," he said.
Indiana has no grand plan to make up for lost casino tax revenue. However, Kenley said the state will need to protect itself by building up a larger reserve in three to four years. He said that's one reason he's pushing to hold back part of the automatic refund scheduled to go out to individual taxpayers.
Kenley sponsored a bill this session that addresses a potential loss in tax revenue from the two racinos, following a court ruling in October. A bankruptcy court in Delaware that's handling the Chapter 11 bankruptcy case of Indiana Live in Shelbyville sided with the casino, which had argued it shouldn't have to pay taxes on a 15-percent chunk of revenue that's automatically directed to the state, mostly as a subsidy for the horse-racing industry.
Now Indiana Live casino is seeking a refund of taxes paid since 2008.
Kenley's bill would allow the racinos to pay taxes based on their win, minus the 15 percent set-aside, if they agree not to seek a refund. The bill was adopted Jan. 25 by the Committee on Tax and Fiscal Policy.
The bill wouldn't affect future tax collections because the budget forecast already accounts for the change in racinos' tax calculation.•
 
Please enable JavaScript to view this content.