I never dined at Patrick's Kitchen and Drinks (175 S. Main St., Zionsville, 733-8755) when it was part of a Zionsville strip center. No doubt I've missed many worthy restaurants because I didn't notice them tucked away next to a Marsh or squeezed between a Hobby Lobby and a Factory Card Outlet.
Now that Patrick's is newly replanted in downtown Zionsville, though, it's likely to be on the radar of more diners like me. Which is good, because on my visit, the homey pub demonstrated as much commitment to creating a comfortable environment as it did to crafting quality comfort food.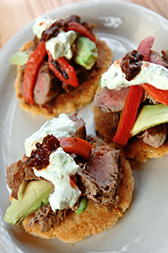 Steak Arepas are popular at the bar or before an entrée at Patrick's. (IBJ Photo/ Perry Reichanadter)
The menu changes regularly, so many of the specifics of our meal may be irrelevant by the time you read this. Still, the Steak Arepas ($11.75) and the Brick Street Blonde Chili ($4.25/$5.75) are likely to stick around. Neither was served at an appropriate temperature, so I didn't get maximum impact from them, but otherwise both showed a high degree of kitchen care. The arepas featured slightly spicy marinated steak, roasted red peppers and avocados on cornmeal pancakes. The latter mixed pork loin in a flavorful blend of green chiles, white beans and cheese.
We stuck with the basic Margherita variety of Patrick's Flatbreads ($10.75), which benefited from a terrific house-made crust and a smart mix of three cheeses and fresh basil. Island Shrimp ($7.95) was less exciting, even with a pineapple-cucumber salsa.
Patrick's did well by its meats, with the American Lamb Chops ($26.75) giving ample evidence why there was only one order left when we arrived. Two center-cut chops were charbroiled to just the right degree. Patrick's Ribeye ($23.50) was equally fine. Like the chops, the angus beef was surrounded with grilled vegetables and house salad and bread. The desserts were notable, with Key Lime Pie ($6) served on a pastry crust rather than the now-default graham cracker base, and Hummingbird Cake ($6) never letting the pineapple, banana, cinnamon chips or cream cheese frosting dominate.
Menu aside, the toughest decision at Patrick's might be whether to sit in the intimate fireplace room or the more jovial room near the bar. Or if you want to book a last-minute room at the upstairs bed-and-breakfast rather than driving home.•
—Lou Harry
__________
First in a month-long series of looks at new north-side suburban restaurants.
 
Please enable JavaScript to view this content.