Hendricks County is out to prove its suburban communities have more to offer than a convenient commute to downtown Indianapolis.

By leading visitors on a spin through such places as Danville and Plainfield, the Hendricks County Convention & Visitors Bureau hopes to shed the spotlight on the area's growing stable of cultural attractions.

About 15 art galleries, cafés and craft shops now are featured on the Rural Routes to Main Street Cultural Trail, and the bureau plans to expand the list to as many as 20 destinations.

The trail is not meant for walking or biking, unlike the Indianapolis Cultural Trail that loops the downtown. Rather, the Hendricks County version is a 72-mile driving expedition that takes visitors on a rustic tour through most of the towns in the county west of Indianapolis.

In just its third year, the trail has brought additional traffic to many businesses, but remains a relative unknown to the outsiders it aims to attract, said Rose Richard, a director of the Hendricks County Arts Council.

"I think the trail is still a well-kept secret," she said. "Are we seeing huge amounts of success? We're seeing some. But we see it as a selling point for the entire community and county."

Besides stops in Danville and Plainfield, the trail meanders through Brownsburg and Pittsboro and the off-the-beaten-path burgs of Coatesville and North Salem on the edge of the county.

The idea for a county-wide cultural trail was spawned by a movement out of the Indiana Office of Tourism Development to encourage the efforts statewide, said Jaime Bohler Smith, associate director of the Hendricks County CVB.

Yet the association, in partnership with the county arts council, was unsuccessful in receiving a $10,000 state grant to support marketing efforts. So, armed with just $8,000, Smith got the trail off the ground by printing some brochures and developing a website, www.ruralroutestomainstreet.com, and social media platforms.

"We were committed with or without the grant," she said. "We felt so strongly that [the trail] was necessary, and we wanted to find the hidden treasures on the rural routes."

The 5,000 brochures printed last year featured a map of the trail, in addition to descriptions of the businesses and hours of operation until October.

The trail began in 2010 with 10 shops, and Smith is pleased that nine are still participating. Five more came aboard last year.

One of the originals is Judy Sexton, who operates the Bread Basket Café & Bakery in Danville. The café and bakery used to be separate—the café in Coatesville and the bakery in Danville. But the nearly 7-year-old café began suffering a few years ago from the depressed economy and remote location.

Faced with closing the café, Sexton located larger and more visible space last year in Danville to consolidate the two facets of her business. Sexton's hoping the move, and the cultural trail, will build business.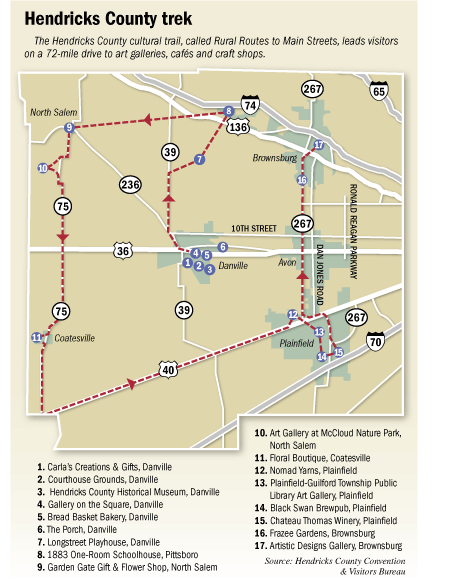 "A small business has a very small advertising budget," she said. "Being on the trail has just given us opportunities that we would have never been able to achieve independently."

A group of women from Broad Ripple who traveled to the café during a holiday open house gave Sexton reason to be optimistic. That they would come from an area so celebrated for its arts community was "quite a compliment," she said.

Including Sexton's café and bakery, Danville has five representatives on the trail, the most of any town in the county. Plainfield has four, Brownsburg and North Salem have two each, and Coatesville has one.

Perhaps the best-known business on the trail is the Chateau Thomas Winery in Plainfield, which annually produces 15,000 cases of wine, including 50 varieties. The winery has satellite locations in Fishers, Bloomington and Nashville.

Chateau Thomas might not need the additional exposure the trail brings as much as Sexton's Bread Basket Café & Bakery. But the idea is to feature a diverse offering to attract more people to Hendricks County, Richard of the county arts council said.

The Gallery on the Square in Danville is the arts council's home and displays a variety of member creations, from different types of paintings, to pottery to photography.

"It's a real eclectic grouping of work," said Richard, a nature and landscape photographer.

In fact, a business needs to be a member of the county arts council to be featured on the trail.

Non-businesses on the trail include the Plainfield-Guilford Township Public Library, which features rotating exhibits at its art gallery, the Hendricks County Historical Museum and an 1883 one-room schoolhouse.•