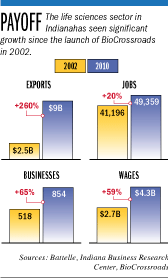 In the decade since the state's biggest public and private institutions decided to join forces to promote the life sciences industry—organized under the group BioCrossroads—the effort has achieved unmistakable successes:

The launch of more than 330 companies, the infusion of more than $330 million in venture capital, a tripling of exports, and a growing number of mentions in national reports on life sciences.

"We're still not Silicon Valley or Research Triangle [Park], but all the surveys say that we're up there," said Chuck Schalliol, who served as BioCrossroads' first CEO and still sits on its board.

However, the life sciences effort has not been enough—as often hoped 10 years ago—to offset job losses in Indiana's overall manufacturing sector or to boost overall Hoosier incomes.

And life sciences businesses nationwide now face more clouds than ever, as an uncertain environment of regulations and reimbursement has driven investors to shift money to other sectors. That has made it harder than ever to find the capital needed to grow a life sciences business.

At the same time, the scientific advances in gene mapping and stem cells have not produced therapeutic breakthroughs as quickly as people thought 10 years ago, which has greatly dampened overall commercial success.

So today, local business leaders in life sciences say the same things they said 10 years ago: Indiana needs more promising companies, needs more investment capital, and needs many more years of commitment from funders to make the strategy truly pay off.

"We have done a good job in Indiana at enhancing the awareness of life science opportunities to the business community, Legislature and public. But let's face it, a recession and attempts at health care reform had consequences that were totally unanticipated when we launched this effort a decade ago," said Pete Kissinger, a Purdue University chemistry professor and serial entrepeneur in the life sciences dating back to his founding of Bioanalytical Systems Inc. in West Lafayette in 1974.

"We need to hang tough and keep on task," Kissinger added. "The needs of an aging population and unmet medical needs are not going away on their own."

Toasting progress

BioCrossroads is hardly the only organization working to grow life sciences businesses in Indiana. Such groups as the Indiana Health Industry Forum and TechPoint are older and no less active in the life sciences area.

But BioCrossroads' backing by the city's and state's major institutions—and their surprisingly long commitment to the effort—is what makes its 10-year anniversary noteworthy.

"We'd seen these grand ideas before that never went anyplace, that sounded great but nobody really seized the moment," said Joe Broecker, senior managing partner at Indianapolis-based Periculum Capital, a merchant banking outfit that has arranged 10 life sciences financing deals—both investments and mergers—in the past decade.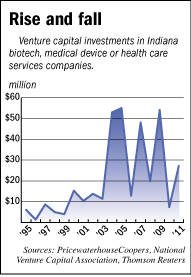 BioCrossroads is spearheaded by the state's three major research universities—IU, Purdue and Notre Dame—along with the state's biggest life sciences businesses: Eli Lilly and Co., Roche Diagnostics Corp., Dow AgroSciences LLC, Indiana University Health and Cook Group Inc.

When it launched on Feb. 13, 2002, the effort also had financial support from the city of Indianapolis and the Central Indiana Corporate Partnership, an organization of the CEOs of the Indianapolis-area's largest employers.

And since then, Indianapolis-based Lilly Endowment Inc., along with the Indianapolis-based Fairbanks Foundation, have provided continuous grants to BioCrossroads totaling more than $30 million.

BioCrossroads is now led by David Johnson, a longtime economic development attorney. He oversees an eight-person staff and an annual budget of $3.2 million.

The group's mission has been to tap the resources of these large institutions to spur entrepreneurial efforts that complement them. Its work has taken many forms and has grown from an initial focus on central Indiana to become a statewide effort. The first item of business was to address the stunning lack of investment capital available for entrepreneurial ventures.

So the founding partners and a few others chipped in $73 million to create the Indiana Future Fund, which doled out its cash to existing venture capital firms, with a request—though not a requirement—that they invest in Indiana companies.

To date, the Future Fund has doled out $60 million to 24 Indiana companies, which have attracted another $270 million from outside investors.

"It was very helpful. It kind of legitimized to a lot of people that this was the real deal," said Ron Henriksen, CEO of an adult stem-cell company, EndGenitor Technologies Inc., which operates out of an incubator built by IU for life sciences companies at the head of the Central Canal downtown.

Helping startups

But BioCrossroads soon realized the Future Fund money was flowing to somewhat established companies—such as West Lafayette-based Endocyte Inc.—not to entrepreneurs just starting out.

So in 2005, BioCrossroads raised $6 million to create the Indiana Seed Fund. The organization uses it to make small investments in promising companies, such as the $360,000—funded by BioCrossroads and Periculum Capital—given late last year to Indianapolis-based startup Zorion Medical Inc.

Later, BioCrossroads spearheaded another venture capital fund of funds, the $58 million INext Fund, which works in a similar way as the Indiana Future Fund.

Some companies hit "home runs," which is the surest way to draw investors back again.

The first was Suros Surgical Systems Inc., which started even before BioCrossroads. Its sale in 2006 to Massachusetts-based Hologic Inc. generated $240 million and created 45 new millionaires in the Indianapolis area.

The next huge financial success was Marcadia Biotech, which sold in late 2010 for as much as $537 million to Switzerland-based Roche.

Last, there is West Lafayette-based Endocyte Inc., a cancer drug development firm. It went public in early 2011 and has sold a total of $142 million in stock over the last year. The company is probably two years away from seeing its first product, an ovarian cancer medicine, hit the market.

Slowing down?

Still, the "euphoria" that erupted after the Indiana Future Fund started making grants has kind of worn off, said Henriksen, head of EndGenitor, who also worked as a managing partner of his own venture capital firm, Twilight Venture Partners.

"For a while, I thought we had some real momentum going. My sense lately is that things have slowed down a little bit," he said.

EndGenitor has been able to fund its research through a partnership with Bloomington-based Cook Group. Such strategies are becoming far more common as institutional investors want to wait longer and longer before investing in a company, said Johnson, BioCrossroads' CEO since 2005. Some companies are choosing board members explicitly for the contacts they have with a large pharmaceutical or medical-device company that could lead to a funding deal.

Funding is still the biggest challenge for Indianapolis and Indiana, according to a 2011 report by consulting firm Jones Lang LaSalle, which included Indianapolis in its report on the top 16 life sciences clusters in the United States, but ranked the city last among them.

"While Indianapolis' life sciences industry has made great strides in recent years, the area needs to further solidify relationships between university programs and established companies in the industry," wrote authors Matt Jackson and Shannon Curley.

They also noted the Indianapolis area's small national take of venture capital and grants from the National Institutes of Health.

"Given the area's NIH and venture capital shortcomings, local government and organizations will need to develop ways to fill this gap and fund early-stage innovation."

To be sure, Indiana and Indianapolis have received stronger praise elsewhere. Last year, The Wall Street Journal cited Indianapolis as one of the best places for life sciences entrepreneurs.

Johnson emphasized that BioCrossroads wants that kind of recognition, but has not made it its top goal. Above all, he said, BioCrossroads wants to make sure Indiana maximizes the resources it has in the life sciences.

"We're doing it because we think there's something missing," Johnson said. "Somehow along the way [in Indiana], we've grown big institutions and we've lost our entrepreneurial focus."

Building connections

To make that happen, BioCrossroads has worked to form collaborations that create new businesses or new services.

Its first and best-known effort was the Indiana Health Information Exchange Inc., a service for and funded by hospitals, which allows them to swap patient records electronically when needed.

IHIE was an outgrowth of the Indianapolis-based Regenstrief Institute Inc. and is now one of the prime models of health information exchange networks that President Obama has been trying to grow across the country.

BioCrossroads counts eight such initiatives in its history, including Exibhit Indiana, which promotes health information technology in Indiana, and OrthoWorx, a sort of mini-BioCrossroads to help the Warsaw-based orthopedic sector.

Broecker, the life sciences investor, says those collaborations have made a big difference.

"I was around the decade before they were formed," he said of BioCrossroads' initiatives, "and I knew how hard it was for entrepreneurs and capital formation. There was next to zero collaboration among the primary institutions in Indiana. If you made it in Indiana, you were extraordinary."

But now, he added, "This is easily a top 10, maybe a top five, market for life sciences."•