Local charities might want to study the Komen-Planned Parenthood dust-up before deciding to align themselves with national movements.
Six years ago, founders of a local charity called The Pink Ribbon Connection figured the name was the perfect way to convey that it serves breast cancer patients by connecting them with information and resources, Executive Director Dori Sparks-Unsworth said.
The potential downside became apparent when Susan G. Komen for the Cure, the organization that made pink ribbons a widely recognized symbol, decided to stop funding Planned Parenthood's breast-cancer screening. The decision sparked a furor, as critics alleged that it was politically motivated.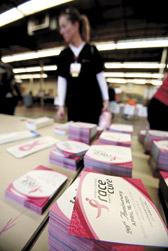 The annual Susan G. Komen Race for the Cure, which celebrated its 20th anniversary in 2011, drew about 40,000 participants last year. (IBJ File Photo)
Under pressure from supporters and local affiliates, Komen reversed the decision. (The central Indiana affiliate posted a statement to its website noting that the decision was made at the national level.) Then on Feb. 7, Karen Handel, a past Republican candidate for governor of Georgia, resigned as Komen's vice president of public policy.
Because the Komen controversy was resolved in a matter of days, Sparks-Unsworth said, her organization didn't suffer any damage. But she was reminded that it's important to tell people The Pink Ribbon Connection is home-grown.
Sparks-Unsworth does a lot of explaining about the difference between her organization and Komen in any case.
"Sometimes people lump together what they call the 'pink organizations,'" she said.
Komen provides grants for research, screening and treatment. The Pink Ribbon Connection matches breast cancer patients with peer counselors, who are available to answer questions over the phone, or provide ongoing, one-on-one support.
Sparks-Unsworth, who works closely with the local Komen affiliate and other breast-cancer groups, said she sees no need to distance her organization from pink-ribbons.
"I think pink organizations are recognized as caring, committed organizations," she said.
Please enable JavaScript to view this content.