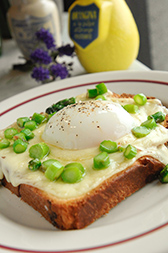 Truffle Egg Brioche at Eggshell Bistro. (IBJ Photo/ Perry Reichanadter)
No amount of bohemian decor or distressed furniture and salvaged wall hangings will make you forget that Eggshell Bistro (51 City Center Drive, Carmel, 660-1616) is part of the behemoth known as Carmel City Center. But the friendly wait staff and artisan breakfasts could lead you to not care at all about the oversized shell that surrounds this superior newcomer.

Attention seems to have been taken across the board to make every bite remind you this is no chain breakfast spot. Not settling for simply "fresh-squeezed" orange juice, Eggshell Bistro offers Organic Orange Juice ($3) "squeezed to order." Tea—from Serendipitea—is served in a 17-oz. pot for one or a 34-oz. pot for two. Ours, the Rubby Slipper ($3, $5—and, no, I'm not sure if that's creative naming or a menu typo), featured a soothing mix of Halloween-esque fruit and spices in a pot that kept it warm for our entire leisurely meal.

IHop stalwarts may complain about the portion sizes, but there were plenty of pleasures packed into the entrees we tried. Mixed Heirloom Potato Frittata ($10) combined baby spinach and capriole goat cheese with garlic and eggs to form a texture-rich mass. Truffled Egg Brioche ($9) scattered bites of asparagus onto the Fontina cheese-covered pastry.

And Sweet Potato Hash ($9) smartly offered a mix of poached egg, chorizo, black beans and just enough jalapeno to keep things interesting.

We couldn't resist meats on the side, adding Sweet Fennel Sausage ($2.50) and Applewood Smoked Bacon ($3.25) from Indy's own Smoking Goose. Again, small portions, but delicious complements to an already strong meal. A Fruit Mix du Jour ($3, $6) allowed us the delusion of healthfulness.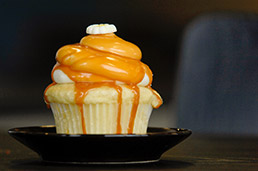 The choices at Holy Cow, Cupcakes! vary from day to day. A lucky day has butterscotch-dipped vanilla as an option. (IBJ Photo/ Perry Reichanadter)
Biggest disappointment? The kitchen was out of Anson Mills Grits ($3, $6—with an upcharge for Grafton cheddar). How does that happen?

Eggshell Bistro does offer desserts, including a ricotta-based Roman Cheesecake ($7.50), but there were other temptations just a few steps away. Carmel City Center is also now home to Holy Cow, Cupcakes! (61 W. City Center Drive, Carmel, 571-1500). If that name sounds familiar, it could be because you sampled one at the Carmel Farmer's Market—where the company launched four years ago—or you visited its former location on Rangeline Road.

Difficult-to-resist creations on our visit to the new, spacious spot included a surprisingly low-key butterscotch-dipped vanilla, a hearty Oreo and a chewy cookie-dough-stuffed variation, none of which tried too hard (as many a nouveau cupcake seems to do). The Holy Cow styles can vary by the day, but the price remains constant: Each runs $2.50 with $12 for a half dozen. Want something you tried yesterday but that isn't available today? You can special-order, but you'll have to take a dozen.

Hint: They keep for about two days if stored in an airtight container.•

__________

Third in a month-long series of reviews of new north-side restaurants.