American Fasteners Inc. shut down one Friday and reopened the next Monday as a unit of The Whitesell Group of Companies.

The business, which distributes nuts and bolts to industrial users across the country, still operates out of the old headquarters on Rockville Road in Avon. There is one big difference, however. It's no longer saddled with $15 million in debt and other liabilities, including $5 million owed to various unsecured creditors.

Among those creditors are local suppliers who say American Fasteners' demands for inventory in the weeks before it shuttered made their losses worse. The suppliers blame Whitesell, which worked in the background at AFI for a year before the company closed on Dec. 16.

"They had been pushing us like crazy for deliveries," said Jesse Alexander, a co-owner of Alexander Screw in Indianapolis, which AFI owed $300,000.

Richard Hauser, controller at Whitesell's office in Avon, said the company doesn't comment publicly on its business. Messages left at Whitesell headquarters in Muscle Shoals, Ala., were not returned.

Whitesell makes and distributes metal parts to automotive and other industries. Acquisitions are a major part of the growth strategy, and the company advertises on its website that it can make a deal with a distressed firm in less than 60 days, helping it avoid bankruptcy.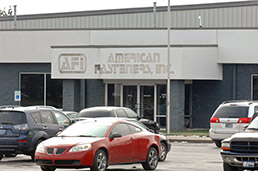 The Whitesell Group of Companies acquired assets of American Fasteners Inc. in Avon. (IBJ Photo/ Perry Reichanadter)
Whitesell acquired AFI's assets in December through an out-of-court liquidation.

That transaction surprised local suppliers, who were expecting a merger of operations that would result in their getting paid.

AFI's suppliers learned about the so-called Article 9 sale in a Dec. 16 notice to potential creditors. Under Article 9 of the Uniform Commercial Code, a bank may foreclose on personal property—such as manufacturing equipment—without going through the courts.

Three days later, Dec. 19, Whitesell sent a letter to AFI's suppliers saying it had bought most of the assets, including customer accounts, inventory and equipment in Avon, Plainfield, St. Louis, Tucson, Memphis and Mexico.

Whitesell scooped up the assets of MKM Machine Tool in Jeffersonville in early December, also through an Article 9 sale. According to the Dec. 2 notice to creditors in that case, MKM also had $15 million in liabilities, including $4 million to "general creditors."

The notices from MKM and AFI said the company "previously attempted to sell the operations but the debt load and multiyear sustained operating losses were too great for any potential buyer or investor to risk." Both notices were unsigned.

There's nothing unusual about a company going out of business, through bankruptcy court or not, and leaving its creditors empty-handed.

What seems unusual about Whitesell is the way it was involved with AFI before the business went under, said Henry Efroymson, chairman of the bankruptcy practice at Ice Miller LLP.

Creditors could argue that Whitesell was managing AFI's business, and therefore should be liable for its debts, Efroymson said.

A judge may or may not agree, depending on what facts surface, he said. "It looks like an appropriate case for investigation."

Uniform Commercial Code filings with the Indiana secretary of state show AFI's bank debt was assigned to a Muscle Shoals entity, Indiana Fasteners Inc., on Dec. 27, 2010. So Whitesell, which may have bought out the bank's position at a discount, became AFI's main secured lender. (The filings don't reveal the amount of AFI's debt, nor how much Whitesell actually paid.)

That could be another factor a court would consider in whether to hold Whitesell liable, Efroymson said.

"This is just one of those factors, but it's an interesting one," he said.

Dakota Engineering in Indianapolis supplied both AFI and MKM, and was owed about $30,000 when MKM shut down, Dakota owner Alan Jones said. The amount isn't worth taking legal action, he said, but he's more cautious in dealing with Whitesell.

Jones found out Whitesell was involved with MKM's business last year, after the company fell behind on payments. He contacted MKM's former president, who told him Whitesell was making the financial decisions.

Jones said Whitesell arranged for MKM to pay some of what was owed at the time. Then the company ramped up its orders.

"I cannot believe it's legal to expedite parts in, knowing you're going to take it to receivership," Jones said.

Whether Whitesell knew MKM and AFI were on the verge of going out of business would take a lot of investigation and a court battle that small vendors probably can't afford, said Michael Alerding, a partner at the law firm Alerding Castor and Hewitt LLP.

Alerding had heard about the Whitesell acquisitions from two suppliers, but has no plans to represent them in a lawsuit. If nothing else, Alerding said, their stories reinforce the need for business owners to be cautious about extending credit to their customers.

In the end, Whitesell may be just another much-needed customer, Alerding said.

"It was a business decision to keep working with them," he said. "Business decisions are a large part of why this happened."•