Community Achievement in Health Care
Finalist: B.A.B.E. (Beds and Britches, Etc. Store)
St. Vincent Indianapolis Hospital
Six vouchers for a convertible car seat, two vouchers for a crib blanket, one voucher for a pack of 12 diapers. Every Tuesday, Thursday and Saturday from noon 'til 4 p.m. you'll hear voucher talk at St. Vincent's Beds and Britches, Etc. Store, as moms-to-be and parents shop for clothing and other items for their babies. B.A.B.E. may look like a small, low-frills cousin of a retail baby store, but its impact is huge.
The incentive program, a collaboration among local hospitals and community service agencies, was created to encourage underprivileged moms-to-be to get the health care and education they needed to deliver healthy babies. The ultimate goal was to lower Marion County's infant mortality rate, which ranked among the highest in the nation 20 years ago. African-American babies were particularly at risk.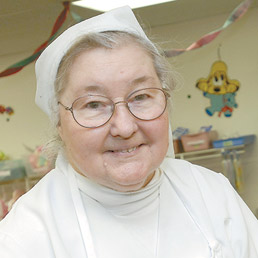 Sister Rosaria Raidl (IBJ Photo/ Perry Reichanadter)
Participating health-care providers reward qualifying moms-to-be and new parents $5 or $10 vouchers for getting pre-natal check-ups; attending childbirth, nutrition and parenting classes and GED programs; and taking their infants to a clinic for well-baby visits and immunizations. The vouchers can be exchanged at a B.A.B.E. store for gently used or new maternity and baby clothes and other necessities.
St. Vincent sponsored the first area B.A.B.E. store, which opened in 1995 at 23rd Street and Park Avenue. It's been going strong ever since under the management of Sister Rosaria Raidl, Daughter of Charity, who has seen it transform lives over the years.
"The moms have really taken the responsibility of keeping their appointments with the health-care providers and taking advantage of parenting and childbirth educational classes and other programs," she said. Most moms-to-be Sister Raidl sees are African-Americans between the ages of 15 and 30. Some are as young as age 12.
Twice each year Sister Mary John Tintea, Daughter of Charity, spearheads a fundraiser for the store, collecting donations and selling raffle tickets. "The fundraiser is aimed at St. Vincent associates, who purchase thousands of dollars in raffle tickets each year to raise money for the store," said Jon J. White, communications consultant for St. Vincent Hospital Indianapolis. Donated items range from flat screen TVs to Indianapolis 500 race tickets.
Today five B.A.B.E. stores are located throughout Marion County. St. Vincent is responsible for two of the stores. Besides the original, it operates a store at 6940 Michigan Road. Other B.A.B.E. stores are sponsored by the Marion County Public Health Department, Methodist Hospital and Franciscan St. Francis Health.
While the demographic each serves is different, the common denominator is that their customers are all struggling financially. Without this program, they would not receive pre-natal care and education, and their babies wouldn't receive the care they need to improve their odds of living beyond infancy. Since the program began, thousands of women have redeemed coupons, fathers are participating in larger numbers and Marion County's infant mortality rate has fallen.
"The B.A.B.E. stores continue to play a critical role in promoting healthy pregnancies and reducing the infant mortality rate in Marion County," said Dr. Virginia A. Caine, director of the Marion County Health Department.
"The B.A.B.E. program is fortunate to have such great community partners."
Please enable JavaScript to view this content.