WINNER: Advancements in Health Care
Eric D. Blom, PhD
Adjunct Professor, Department of Speech and Hearing Science, Indiana University; Speech Pathologist and Inventor, Center for Ear Nose Throat & Allergy
Carmel medical device inventor Eric D. Blom heard about the butcher in 1931 who used his own ice pick to perform crude surgery on himself. He yearned to speak again after cancer stole his voice box. The butcher put a hollow feather into his neck puncture to keep it from leaking or closing. To speak, he took the quill out and covered the hole with his thumb.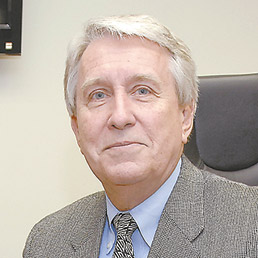 (IBJ Photo/ Perry Reichanadter)
Blom knew he could do better for patients who share the butcher's affliction. When a patient has advanced stage cancer of the larynx, a surgeon may have to perform a total laryngectomy and remove a patient's voice box. Impairments are profound.
 
After earning a PhD in speech pathology from the University of Maryland, Blom, 68, and otolaryngologist Mark I. Singer, M.D., F.A.C.S., co-developed the tracheoesophageal voice restoration technique. They pioneered the "puncture" that makes it possible for patients to speak after this type of surgery.
 
Their first device was FDA-approved in 1980 and featured in a Newsweek magazine story in 1982. Subsequent enhancements have been made to the Blom-Singer prosthesis, which is currently manufactured by InHealth Technologies in Carpinteria, Calif.
Over the course of his career, Blom authored or co-authored 60 scientific publications and has been an invited guest lecturer at conferences throughout the United States and 24 foreign countries. An adjunct professor of speech and hearing science at Indiana University, Blom recently retired from seeing patients as a speech pathologist at the Center for Ear Nose Throat & Allergy for 30 years.
He's been well decorated for his work. The Bayville, Ohio, native has been honored by the American-Speech-Language-Hearing Association and is the only nonphysician inducted into the Royal Society of Medicine, Section of Laryngology and Rhinology, in London. In 1998, The American Academy of Otolaryngology-Head and Neck Surgery Bulletin included the Blom-Singer valve among its list of medical equipment and device milestones from the previous 250 years.
Since 1982, Richard D. Conard, partner at Barnes & Thornburg LLC, has helped Blom secure 29 United States and foreign patents. Seven additional patents are pending. "You can just see his wheels spinning constantly when we meet," Conard said.
Blom sums things up pretty simply: "I look for problems, then I find solutions."
In 2002, surgeons had to remove the voice box from retired family physician James H. Acklin, M.D., Paris, Ill., because of laryngeal cancer. "I was always happy before, but then I became depressed. I just wanted to be able to talk," he recalled. Six months later, Acklin got the Blom-Singer voice prosthesis and his depression went away.
"I couldn't swallow before when I was on a feeding tube. Now I eat anything I want. Am I limited by my heart attack? Yes. Am I limited by this? No. I think Dr. Blom is a genius. Every morning when I look in the mirror to change the valve, I thank him," Acklin said.
Patients have to have the manual dexterity to remove, clean and reinsert valves, which could be challenging for some elderly patients. But if you really want to talk, the devices are worth the trouble.
In recent years, Blom figured out how to help ventilator-dependent patients speak with their natural voice, hands-free. He invented the Blom Tracheostomy Tube System, manufactured by Pulmodyne Inc., in Indianapolis. This helps quadriplegic patients, hospitalized patients on ventilators and people with progressive neuromuscular diseases, such as muscular dystrophy and Lou Gehrig's disease.
A year ago, he introduced the Blom Tracheostomy Tube and Speech Inner Cannula, which reduces trauma to the patient's airway and chance for developing pneumonia. Ventilator-dependent patients cannot manage the secretions down their throats that we all have. When medical device suction cups get plugged up, secretions pool and can lead to pneumonia.
Preventing pneumonia benefits hospitals as well as patients. Conard said, "If a patient develops pneumonia or any other additional complication while he is in a hospital, Medicare does not reimburse the hospital. So there's incentive for hospitals to get patients out quickly before they get sick again."
Before she died in 2011, a 33-year-old ventilator-dependent quadriplegic named Jessica got Blom's tracheostomy tube. She had not been able to speak or smell anything for three years before that.
Jessica was so happy that she could talk and smell again that she made a video to send to Blom. In it, she told Blom, "Thank you so much for giving me a better quality of life. My family can understand me much better. Thank God for you!"
Please enable JavaScript to view this content.