FINALIST: Physician
Jodi L. Smith, PhD, M.D.
John E. Kalsbeck Professor and Director of Pediatric Neurosurgery, James Whitcomb Riley Hospital for Children/Goodman Campbell Brain and Spine
While earning an advanced degree in anatomy from the University of Utah School of Medicine, Jodi Smith, PhD, M.D., conducted research to try to prevent problems like spina bifida. She was preparing for an academic career, but a chance meeting with a pediatric neurosurgeon made her switch paths. Smith went on to earn her medical degree, graduating first in her class and completing her fellowship in pediatric neurosurgery at Harvard in the Boston Children's Hospital. Thousands of children and families who benefit from her skills as one of the nation's top pediatric neurosurgeons are very glad she did.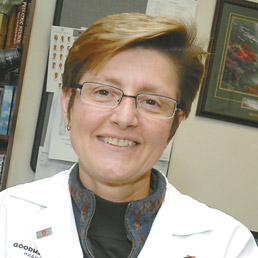 (IBJ Photo/ Perry Reichanadter)
So is Smith. Her office is filled with mementos from grateful families. "I want to be the best for my kids," Smith said. "It's so much fun to be part of their lives and to feel like I've been able to make a difference."

One of only 137 board-certified, fellowship-trained pediatric neurosurgeons nationwide, Smith and her partners perform 1,000 surgeries and see 6,000 patients each year for neurosurgical issues. Most surgeries are for traumatic brain and spine injuries, brain and spinal cord tumors, congenital spine and craniofacial disorders and hydrocephalus (water on the brain). But Smith also performs complicated surgeries for epilepsy and for moyamoya, a cerebrovascular disorder resulting from blocked arteries at the base of the brain. She's one of the few pediatric surgeons in the nation who does.

"Smith is often the last hope for children with such complex conditions," said Sheila J. Ogden, administrative director for IU Health Neuroscience.

Some children with epilepsy continue to have seizures even while taking multiple medications. Approximately 86-percent of them are able to live seizure-free—some no longer requiring medications—after Smith operates. She is conducting epilepsy research and hopes to collaborate with colleagues at Eli Lilly and Co. to develop improved medications for seizures. She loves the challenge, but she does it all for the kids.

"The only thing rivaling Smith's skill in performing cutting-edge procedures is her special gift for building trust with families in crisis," Ogden said.

Smith, age 50, doesn't have children of her own, but she treats the hundreds of patients she operates on each year as if they were her own. "These parents are handing over these precious little people to us to operate on and care for," she said. "If I perceive parents need to talk to me because they are worried about their child's upcoming surgery, I'll stay there for however long it takes." Smith, who is blessed with an enthusiasm for life and an abundance of energy, admits to spending about 90-percent of her time at Riley.

She's received 34 Red Shoes Awards from Riley for her outstanding dedication and commitment to pediatric patients and their families. Her peers nationwide voted her among the top neurosurgeons in the nation, according to U.S. News and World Report's list of America's Top Doctors (2011-2012).

Smith feels she's been divinely guided throughout her life. "I believe that one of my purposes in life is to be a pediatric neurosurgeon," she said. "It's a lot of stress and a lot of pressure, but it's worth it. I know the strength and the help I get comes from God."