FINALIST: Volunteer
Dorothy Van Hove
Volunteer, Indiana University Health Methodist Hospital
Most of her nursing career was spent in the classrooms at the University of Nebraska and Indiana University, where she trained students to become nurses. After 25 years as an instructor, Dorothy Van Hove decided it was time to retire. But that didn't mean slowing down.
Since then Van Hove, age 78, has devoted every Tuesday to volunteering at Indiana University Health Methodist Hospital. She's logged more than 7,800 hours in her 25 years of volunteering—first in the Hospice and now in the Emergency Medicine & Trauma Center.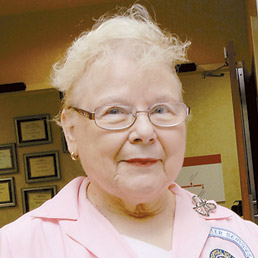 (IBJ Photo/ Perry Reichanadter)
"It's use it or lose it," she said. "On Tuesdays, we're so busy that I'm walking all the time, and I just love that. I like to keep moving and to keep busy. And I always learn something while I'm there, whether it's from the families or the patients or the staff."
While Van Hove loved teaching, she enjoys the interaction with the doctors and nurses and, of course, the patients—experiences that were rare while she served as an instructor. "I think a great deal of the nurses," she said. "They work really hard. If I can do something for them, then I've had a good day."
Volunteering allows her to showcase her other talents. She often shows up on Tuesdays with home-baked goodies for the trauma center staff. Van Hove, a grandmother of two, possesses a talent many parents would kill for—the ability to talk children out of crying.
"I let them know that it's OK to be afraid; it's OK to cry, and then we talk about it," she said. Adults also receive their fair share of TLC from her. "I like to hold their hand or put my arm around them when they're afraid," she said. "It's just something that's in me."
Van Hove's contributions haven't gone unnoticed.
"Dorothy's kindness and compassion for our patients has been an immeasurable contribution to our mission of Preeminent Care at IU Health," said Margie Smith-Simmons, public relations manager at IU Health. "During patient follow-up phone calls, we hear her praises sung by thankful patients who appreciated her calming presence and general kindness."
Van Hove has also served as a member of the Methodist Hospital Task Core for 20 years, tirelessly working to raise funds for nursing scholarships and other education and community programs.
Even while growing up on a farm in Columbus, Neb., Van Hove always had a spirit of adventure, an unquenchable thirst for knowledge and a desire to serve others. As a child, she became attracted to nursing thanks to her second cousin, a nurse who planned to join the Army during World War II. "I thought, goodness, she was going to take care of people and she was going to see the world," Van Hove said. "She was just a princess on a pedestal to me."
Van Hove's curiosity reaches beyond the world of medicine, however. She is a member of the Indianapolis Museum of Art, the Indianapolis Symphony and Scientech, an organization of retired professionals. An avid reader, she belongs to a book club. Recently she visited the local prison to see how ICAN service dogs are trained. "I'm very curious," she said. "I just wanted to know what they were doing. I'll do anything once … most anything. Let's put it that way."
Please enable JavaScript to view this content.