The minor-league Indianapolis Indians overcame a bevy of obstacles last season to continue a run of major-league profits.
Team officials are rolling out several new promotions to keep the profits coming home in the upcoming season. And profitability could increase 10 percent or more in 2012, thanks to income generated by four Super Bowl-related events.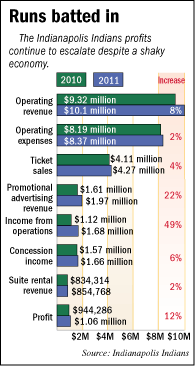 In 2011, the AAA farm team of the Pittsburgh Pirates recorded a profit of $1.1 million on revenue of $10.1 million. That's up from $944,286 on revenue of $9.32 million in 2010. The team in 2009 had profit of $459,603 on revenue of $8.47 million.
The 2011 gains came in the face of an economy that continues to be an unpleasant opponent for all professional sports teams, an excessively wet Indiana spring, a 9-21 start to the season, and a succession of 95-plus-degree days in July and August that kept many Hoosiers indoors.
"This organization has several things going for it," said Larry DeGaris, director of academic sports marketing programs at the University of Indianapolis. "They have a great facility in Victory Field, they're at the right price point given the economy, and they're very innovative in terms of entertainment and special promotions. What they're selling is part baseball, part outdoor picnic with a little bit of carnival thrown in."
The team has turned a profit for 36 consecutive years. This winter, sales of tickets, suites and sponsorships—which, according to team officials, are near or slightly ahead of last year—give the Tribe reason to expect more profitability in 2012.
Super Bowl event revenue and expenses are still being tabulated, but team officials anticipate the activities will register the Tribe a five-figure or six-figure profit.
The outfield, where a large tent was constructed for Super Bowl events, will get new sod later this month—two years ahead of schedule but necessary due to the Super Bowl activities. The infield got new sod in the fall. It cost $200,000 to re-sod the infield and outfield, team officials said.
During Super Bowl week, Victory Field hosted the Dan Patrick radio show, a celebrity beach party and flag football game, the DirecTV party, and a New England Patriots post-game Super Bowl party.
Burleson
As for Super Bowl profits, "Some will be added to the bottom line, some will go toward maintenance and upgrades of Victory Field," said Cal Burleson, the team's general manager.
"When it comes to minor-league teams spending on their ballparks, we always lead the parade," Burleson said. "We think keeping this facility pristine is a big drawing card for our fans."
Indians officials are in the process of finalizing and rolling out a litany of new promotions and attractions for the upcoming season, which begins April 6. The home opener is April 13.
"We think a big key to our success is providing family-oriented affordable entertainment," Burleson said. "It sounds simple, but we've worked hard to keep the product fresh and continue to be innovative."
Highlighting the new promotions are a Kids Eat Free promotion where anyone 14 or younger attending a Sunday game gets a free hot dog, soft drink and bag of chips, and a Thursday Value Night, which includes an Indians T-shirt, hot dog and unlimited soft drinks for $5 for anyone who purchases a $15 box seat or $11 reserved seat.
"Our concession-related promotions have always done very well, and we think these will be especially well received," Burleson said.
The Indians have also rolled out a deal that allows fans to get $1 off of each ticket bought at least a day in advance of the game. Online ticket sales begin March 1, and the Indians ticket office opens March 12.
For the first time in decades, all Indians home games will be televised. Most of the games will be telecast on WRTV-TV Channel 6's digital channel, HomeTown Sports & News. A handful of Indians' home games will air on Channel 6, Burleson said.
The Indians will cover production costs and split the ad inventory with WRTV, said Indians Vice President of Corporate Affairs Bruce Schumacher, who helped craft the deal.
"We're confident we'll be able to bring in enough ad revenue to more than off-set our costs," Schumacher said. "And we think having our games on TV will be a great promotional tool for the team."
DeGaris doesn't think having the games on TV will hurt attendance.
Last year, attendance for the Indians' 71 home games was 580,082, for an average of 8,170 fans per game. In 2010, total attendance was 569,969. The Indians have posted year-over-year attendance gains in four of the last five seasons.•
Please enable JavaScript to view this content.