The Indiana Historical Society reports that ticketed visits to the Indiana Experience rose 71 percent last year. The society did not disclose the total number of tickets sold nor actual attendance.

The Indiana Experience, which opened in March 2010, is inside the Eugene and Marilyn Glick Indiana History Center at 450 W. Ohio St.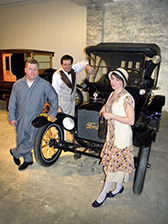 The Indiana Experience exhibit, open nearly two years at the Indiana History Center, draws Hoosiers into their past. (IBJ File Photo)
Overall use of the building increased 15 percent, the historical society said. That included more visits to the William H. Smith Memorial Library and higher retail sales in the Basile History Market.

"We are truly connecting people to Indiana's past," historical society CEO John Herbst said. "The attendance numbers are a wonderful indication that we're on the right track, that the innovative and exciting programs we're providing are engaging our guests."

The historical society received a $425,000 challenge grant from the National Endowment for the Humanities in December to support an endowment for Indiana Experience. The historical society began recently an effort to raise nearly $1.3 million to match the grant.