Every year, there's something new and different at Indiana attractions. Here's our rundown of some of the changes you'll find as you explore options for an in-state getaway.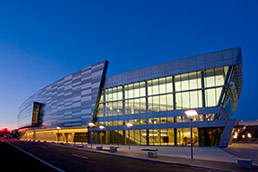 Ford Center (Photos Courtesy of Ford Center)
• The Ford Center is Evansville's brand new 290,000-square-foot downtown arena. The 11,000-seat center, built with Indiana limestone, is host to performances by Cirque du Soleil: Quidam, "Disney On Ice," the city's own Evansville Icemen and more.

• Lincoln Amphitheatre will present a new musical about its titular legend, titled "A. Lincoln: A Pioneer Tale," featuring an original score. It will be presented in rotation with "Joseph and the Amazing Technicolor Dreamcoat," co-produced with Evansville Civic Theatre.

• If you visit Casino Aztar in Evansville anytime after February, you'll find a new pedestrian bridge that connects Le Merigot Hotel to the riverboat casino. After getting inside, patrons will find more than 15 new and updated slot games.

• To commemorate the 200th anniversary of the Siege of Fort Wayne, not-for-profit Historic Fort Wayne Inc. is orchestrating a large reenactment and related events to celebrate the history of the old fort. There will be historical depictions of the siege, historian speakers, War of 1812 artifacts on display and four regiments from surrounding states coming in for the Sept. 8-9 event.

• Indiana Dunes Tourism has expanded its Beyond the Beach Discovery Trail. Since its opening in 2010, the trail has grown to include 60 sites in several counties. New to the mix is historic Marquette Park in the Miller section of Gary, Brauer Museum of Art at Valparaiso University and Bluhm County Park in Westville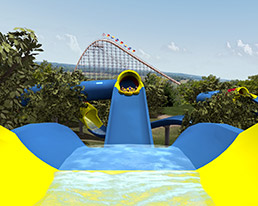 The mammoth (Rendering Courtesy of Holiday World)
• A coaster of gargantuan proportions opens this year at Holiday World. The Mammoth, the world's longest water coaster, dethrones another of its coasters.

• Dawg Haus Diner is Greensburg's newest throwback restaurant. At this 1950s-themed eatery, choose from 25 specialty hot dog options plus Italian sausages and bratwurst.

• This spring, Whispering Pines Alpacas in Nashville adds tours of its farm—including petting opportunities with its four 1-year-old alpacas and 13 adults. After the tour, check out the farm store to pick up a pair of comfy alpaca wool socks

• Three Floyds Brewing Co.'s popular Dark Lord Days isn't the only thing to look forward to when visiting the Munster brewery this year. A major restaurant and brewery renovation will double the facility in size to accommodate the culinary pub-food creations of new chef Mike Sheerin, a new quality-control laboratory in the brewery and a "to-go" beer and merchandise kiosk for beer geeks.

• In lieu of flames, the tenants of Richmond's historic 19th-century firehouse now are putting out barbeque and blues music. Recently opened, Firehouse BBQ & Blues was restored by two local fire fighters.

• In March, Bloomington's Oliver Winery opens a new tasting room, serving up wines made from grapes harvested in Monroe County. Wine will be served by the flight and by the glass, and bottles will be available for purchase. Oliver Winery is working with Bloomington's One World Catering to design a menu that will pair small specialty foods with the wine.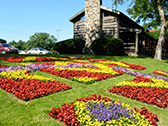 Autumn Flower Carpet (Photo Courtesy of Elkhart County, IN CUB)
• Elkhart's renovated Lerner Theater gets a special tribute this fall in the form of 6,500 pots of mums. The city will be creating the first and only Autumn Flower Carpet in September on a full city block, made entirely of the jewel-toned plants in a pattern that highlights Lerner Theater's artistic details. While you're there, visit another Amish Country favorite—The Quilt Gardens along the Heritage Trail—this year with 19 different gardens and more than 1 million blooms. Open from May 30 to Oct.1