Yes, I wrote about "Godspell" just a few weeks ago. And, yes, I'm writing about it again.
That's because Marian University's Feb. 22-25 production of the pop musical brought so much new to the table that it was like seeing a different show.
A few caveats first. Marian does not offer a theater major. It does not have a full department teaching a student body crowded with triple-threat talent. To be honest, I wasn't even sure where its Peine Arena Theatre, was located when I pulled onto campus.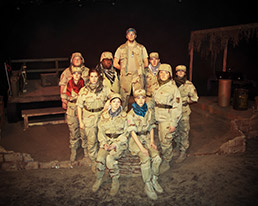 Marian University reimagines "Godspell" in a war zone. (Photo Courtesy Marian University)
What it does have is the talent of director James Leagre, who replanted the notoriously peppy show in a more sober setting—a desert war zone. Here, the apostles are military recruits, the songs have a marching cadence (when it fits), and the John/Judas becomes a drill sergeant. Distant—and sometimes not-so-distant—gunfire is heard. The crucifixion includes the roar of strafing aircraft. And baptism comes via a lonely well in the otherwise arid landscape.
The combination of God and uniforms sometimes created a sense that we were in a (to me) scary alternate universe where the lines of church and state have been not just crossed but destroyed. But that was tempered with a strong sense of ordinary people in a dangerous place trying to
find faith and community. The "Godspell" tune "On the Willows" includes the lines, "But how can we sing?/Sing the Lord's songs? In a foreign land?" and therein is the seed of this production, which I found moving, honest and given a context well worthy of further exploration.
A special perseverance award should go to actor Billy Thompson who, on the Feb. 25 final performance, seemed to be playing Jesus with a completely blown-out voice. Sounding more like Jimmy Stewart's Mr. Smith than a Biblical song-and-dance man, he created a likable messiah sympathetically connected to his flock/platoon—even when the notes weren't there.
I've never really grasped what others saw in Andrew Lloyd Webber's "The Phantom of the Opera." The would-be enigmatic lead, dumb-as-a-music-stand heroine, and thrill-free chandelier add up to little in my estimation. And don't get me started on the magic lasso.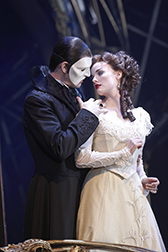 "Love Never Dies" sequels a blockbuster hit. (Photo/John Tsiavis)
So when I heard that Webber's stage sequel, "Love Never Dies," had been critically drubbed in London (one scribe labeled it "Paint Never Dries"), I had trouble imagining a production I could like even less than the original.
Well, surprise. As rewritten by Webber and company, given a new staging in Melbourne, and presented in movie theaters by Fathom Events, "Love Never Dies" is now big, melodramatic musical fun. Stylistically reminiscent of the Maury Yeston musical "Phantom" more so than the plodding Webber version, "Love Never Dies" follows the Phantom to Coney Island where he orchestrates another encounter with his muse, now accompanied by her husband and child (yes, he's 10 years old).
Stripped of the supernatural silliness, built from better-motivated characters, upgraded with far better lyrics, and containing a genuine what's-going-to-happen-next drive, "Love Never Dies" is now strong enough to warrant a full U.S. production for Broadway and beyond. I cringe at the idea of seeing "Phantom of the Opera" again on stage. But I'm looking forward to a live "Love Never Dies."
The show gets an encore presentation in area theaters March 7. (For a full lineup, visit www.fathomevents.com.)
It's telling that, during the climactic mega mix of "Can You Feel It?," "Don't Stop Till You Get Enough," "Billy Jean" and "Black or White," band members for "Michael Jackson: The Immortal" (at Bankers Life Fieldhouse Feb. 24-25) had to nearly beg audience members to get on their feet and clap along.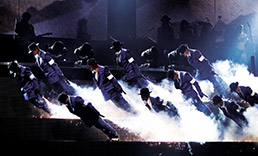 Visual effects highlight Cirque du Soleil's "Michael Jackson: The Immortal." (Photo/ Olivier Samson Arcand)
And by the time Michael Jackson (recorded, obviously) was singing his insistence that the kid was not his son, most of those who had risen had already settled back into their seats.
Certainly, the Cirque du Soleil powers-that-be had plenty of material to work with. And they've got a seemingly endless supply of acrobats, musicians and dancers who are up to the task of making manifest whatever the collective Cirque imagination could dream up. But, in this case, the dreams don't quite coalesce into a show worthy of its subject or of the massive effort taken to bring them to the stage.
The misguided choices are many. There's a central figure—a metallic mime—without the personality (or lighting design) to hold attention on stage the way the best Cirque clowns have done in past productions. There's a dancing chimp-suited guy and a cartooned afro-sporting J5 dance crew with nothing interesting to do and way too much stage time to do it. There's too much emphasis on would-be-deep Jackson songs and not enough Cirque wonder. And something is wrong when you can't make "Thriller" thrilling.
Even in a disappointing Cirque du Soleil show, though, there are jaw-dropping moments. "The Immortal" features stunning visuals which, when working in conjunction with—rather than distracting from—the on-stage action, are unlike anything you've ever seen. An early sequence featuring wall-climbing dancers appearing to run atop moving train cars is extraordinary and promises wonders the rest of the show doesn't deliver.•
__________
This column appears weekly. Send information on upcoming arts and entertainment events to [email protected]
 
Please enable JavaScript to view this content.