Long-suffering General Motors Corp. dealer Lockhart Automotive Group—in recent years forced to shutter several stores as the automaker axed its Saturn and Hummer divisions—finally has a new showroom to celebrate.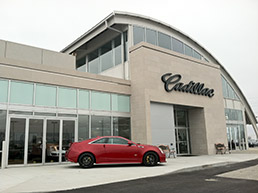 The renovated Lockhart Cadillac showroom in Fishers replaces the longtime Keystone Avenue location. (Photo Courtesy Lockhart Automotive Group)
It's sort of a new showroom. Lockhart has remodeled and reopened its former Hummer location at State Road 37 and 126th Street in Fishers as a Cadillac store.

As a result, it will discontinue new Cadillac sales after 37 years at 5550 N. Keystone Ave. The service bays and body shop at the Keystone location will remain open, however, and the Indianapolis site will continue to sell used cars.

General Motors' announcement in 2009 that it would phase out Hummer and Saturn was particularly devastating to Lockhart. Besides selling Hummers, Lockhart had three Saturn stores in the Indianapolis area.

The former Saturn location in Fishers, just up the street from the ex-Hummer store, has been selling and servicing used cars as Lockhart Preferred Pre-Owned.

The partial Quonset hut roof at the new showroom remains as the only reminder of the building's Hummer origins.

Lockhart also operates a Cadillac store along U.S. 31 in Greenwood.

The Lockhart chain is operated by the brother-and-sister team of Lynn Kimmel and Marc Lockhart. Their mother, Freda Lockhart, invested millions of dollars in the late 1980s to become among the first GM dealers in the nation to open an import-fighting Saturn franchise. Freda died in early 2010.