A not-for-profit lender is foreclosing on the old Emrich's Furniture building, which was once envisioned as a catalyst for development south of downtown.
Local Initiatives Support Corp. filed a foreclosure suit against Concord Community Development Corp. and Hudson Furniture Co., a longtime owner of the building that's just south of Interstate 70 from Lucas Oil Stadium.
The foreclosure is the first in Indianapolis for Local Initiatives Support Corp., or LISC, which started the local chapter 20 years ago.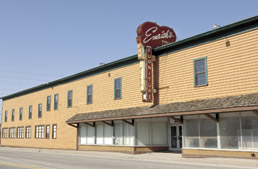 Local Initiatives Support Corp.'s foreclosure on the former Emrich's Furniture building is the first in the local chapter's 20-year history. (IBJ Photo/ Perry Reichanadter)
"All of our loans are fairly high-risk," Executive Director Bill Taft said. LISC often extends repayment deadlines, but, he said, "Usually, we can work it out."
LISC had not received any payments on its $515,265 construction loan since Jan. 1, 2011, and is owed more than $228,000, including default interest and late charges, according to the lawsuit filed in Marion Superior Court in February.
Family-owned Emrich's closed its three stores in 1997 after 116 years in business. The former store at 324-325 W. Morris St. is a hodgepodge of furniture-making, warehouse and showroom space.
In the early 2000s, the Concord CDC struck a long-term master lease and began recruiting not-for-profit and small-business tenants. Then, in October 2002, the CDC and building owner obtained financing for what was supposed to be $1.6 million in renovations.
The CDC signed a promissory note with LISC. Hudson backed the note with a mortgage.
Hudson Furniture—whose principals are Timothy J. Hudson and his daughter Susan Grimland—is no longer in the furniture business but owns the Emrich's property, which has been in the family for years, said Brian Jones, Hudson's attorney at Bose McKinney & Evans.
Shortly after getting the loan, the CDC had a change in executive directors and gradually stopped working on the project, Taft said.
"It certainly isn't what we planned," said Taft, who joined LISC in 2005.
Carl Becker, the CDC's attorney and a board member, would not comment on the foreclosure suit or the CDC's past work with the Emrich's building.
Dori Sparks-Unsworth, the former executive director who spearheaded the Emrich's project, said she left the organization after getting married and moving out of state.
Returning to Indianapolis several years later, she said she was surprised to see work on the building had stopped, and all the tenants had left.
The CDC's website identifies Morris and Meridian streets as top priorities for retail development, as most major retailers have fled the neighborhood.
"It seems, strategically, the Emrich would've increased in value, not decreased," said Sparks-Unsworth, who is now executive director at the Pink Ribbon Connection, a charity that supports breast cancer patients.
Hudson Furniture took over making payments on the loan in 2005, Jones said, but he didn't know the details of the arrangement.
Court filings show the promissory note was amended in 2005, but the CDC remained as the primary borrower.
Jones didn't have any information on the current status of the building, but he relayed a statement from his client.
"Hudson Furniture is moving forward with negotiations on a development plan for the property, something that will be a benefit to the local community and create new jobs," he said.
Jones could not elaborate on the plans.
Taft said he knows Hudson Furniture has been in talks with a number of developers over the years and hopes the current effort is successful.
The 68,000-square-foot building sits on a large lot less than half a mile south of Lucas Oil Stadium. If LISC ends up taking possession, Taft said he would look to sell to a developer.
"What we want to see happen there is something that's good for the neighborhood. How it gets from here to there, we'll see."
Making loans is one of LISC's primary tools in promoting redevelopment, though activity declined along with the real estate market over the past several years. The local chapter, which is part of a national organization based in New York, has $4.8 million in loans outstanding, Taft said.
LISC does not usually act as the first mortgage lender. The more typical LISC loan covers predevelopment costs, which are paid back after a project attracts other financing.
Loans are repaid into the national pool from which LISC borrows. LISC also offers recoverable grants, which are similar, and are repaid to the local chapter.
LISC made $545,000 in loans and recoverable grants last year, but it has done larger deals. Its single-largest borrower is Southeast Neighborhood Development, which took out $2.5 million to buy a Fountain Square building that houses charter schools.
While local lending activity is down, LISC ramped up its national and local fundraising and has supplied more grants to support "holistic" community development, Taft said. LISC's grants support paid staff at neighborhood-based organizations.
LISC has poured most of its resources into neighborhoods where residents participated in writing so-called "quality of life" plans. That includes neighborhoods on the southeast and southwest sides, but not the Concord CDC service area.
The Concord CDC covers an area bounded by Washington Street on the north, Hanna Avenue on the south, White River on the west, and Madison Avenue/Interstate 65 to the east.•
Please enable JavaScript to view this content.