Two local real estate firms are working on plans to convert a 10-story downtown office building along North Pennsylvania Street into market-rate apartments.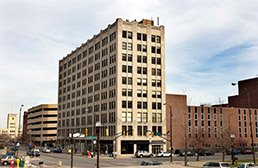 Rents for apartments will range from $900 to $1,500 per month.
The Whitsett Group and Ambrose Property Group bought the American Building, a limestone structure built in 1929, from the parent company of The Indianapolis Star in a deal that closed in February.
They expect to spend $7 million to $10 million to retrofit the building at 333 N. Pennsylvania St. to accommodate 72 apartments. The ground floor will remain as commercial space. Construction is scheduled to begin in late summer or early fall.
Rents will range from $900 to $1,500 per month, depending on the size and view from the units, said Whitsett Group principal Joe Whitsett. Parts of the building, which sits a few blocks from Mass Ave, offer excellent views of the Indiana War Memorial Plaza, University Park and the American Legion Mall.
The seller was a subsidiary of Gannett Co. Inc., which owns The Indianapolis Star and the newspaper's headquarters building next door at 307 N. Pennsylvania St. Gannett was represented in the transaction by Mary Beth Kohart, a first vice president with the local office of CB Richard Ellis.
The building, which is only 47 percent occupied, had been up for sale for more than a year, Kohart said. Tenants include bankruptcy attorney Mark S. Zuckerberg, the Indianapolis Local Initiatives Support Corp., and the Greater Educational Opportunities, or GEO, Foundation.
The asking price had been $1.95 million, but the building ultimately sold for less than $1 million.
One challenge for the developers could be a lack of parking. Gannett will continue to provide garage parking for tenants of the American Building through their lease terms, but the company did not include any parking in the sale.
Patrick Chittenden, a vice president with Ambrose, said finding parking spaces to lease nearby shouldn't be a problem.
Whitsett is acting as lead developer because of the firm's multifamily expertise, while Ambrose is an equity investor and will continue to handle leasing for the building's commercial space, Chittenden said.
Each of the American Building's 10 floors is about 9,500 square feet.
Please enable JavaScript to view this content.