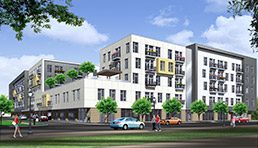 Milhaus Development faces a May 1 deadline to begin construction of The Residences at 451 E. Market St. The project would redevelop the Bank One Operations Center. (Photo Courtesy Milhaus Development)
Squabbling former partners in Kosene & Kosene Development have settled a legal dispute that jeopardized redevelopment of the vacant former Bank One Operations Center downtown.

The lawsuit, filed by Kosene principals in May, alleged ex-partner Tadd Miller cut them out of the city-supported project in violation of partnership agreements. The parties have agreed to a confidential settlement, and a Marion County Superior Court judge agreed to dismiss the case March 8.

Miller's new company, Milhaus Development, didn't waste any time getting the $45 million project moving again. For good reason: If the company doesn't start construction by May 1, the city has the option to back out of the deal.

One day after the case settled, Milhaus filed updated plans calling for 256 apartment units in a $28 million first phase that would salvage the two-story former Ops Center structure at the northwest corner of Washington and East streets, and add three more floors above.

The first floor is designed for parking but could be switched to office space based on market demand, said David Leazenby, a principal in Milhaus, which is partnering on the deal with locally based Gene B. Glick Co. Glick will manage the apartment community.

An earlier version of the plan called for first-floor retail. But otherwise the latest iteration is very similar to the original, including the number of apartments.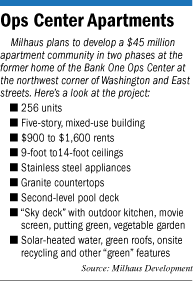 Units would feature amenities including stainless steel appliances, granite countertops and solid-surface flooring, with rents ranging from $900 to $1,600 per month, Leazenby said. Second-floor units in the old Ops Center structure would have 14-foot ceilings, exposed concrete columns and concrete floors.

Plans also call for a pool on the second level, and a community "sky deck" that would feature an outdoor kitchen, movie screen, putting green and vegetable garden.

A Metropolitan Development Commission hearing examiner is scheduled to consider the proposal April 12, and Milhaus hopes to start construction shortly thereafter. The firm plans to close on its bank financing and a deal with an equity investor in June, Leazenby said.

Construction on a second phase of the project, which would add additional apartments, would start after the first units are delivered in spring 2013. In total, the developments would cost about $45 million.

The Ops Center project has dragged on since late 2009 as the developer, city and property owners tried to sort out financing, timing and valuation. The lawsuit added another variable.

The suit claimed Miller in 2008 covered initial expenses for the deal by taking $120,000 from a partnership he had set up with Gerry Kosene, David Kosene and Angie Guinn, in which the Kosenes and Miller each owned 32.3 percent and Guinn, Kosene & Kosene's office manager, owned 3 percent.

But simultaneously, Miller was setting up a separate entity he alone controlled to purchase the Bank One Garage and Ops Center and "deceiving the public and all other parties" into believing The Residences at 451 E. Market St. would be his first "solo" project, the suit alleges.

Kosene & Kosene Principal Gerry Kosene said the settlement will be final once agreed-upon payments are made, but he declined to discuss terms of the deal, citing a nondisclosure agreement.

"We're satisfied with the settlement," Kosene said. "We're not greedy people; we just wanted the situation corrected. I'm very pleased with it, and that's all I can tell you."

The Kosenes do not have any equity interest or involvement with the Ops Center project.

The complicated deal—approved by the Metropolitan Development Commission in October 2009—called for the city to pay up to $18.5 million (the eventual purchase price came in lower, at $14 million) to an affiliate of Columbus, Ohio-based Smoot Construction for both the Ops Center and an adjacent 1,600-space parking garage. The pact called for the city's keeping the garage but turning over the Ops Center to Milhaus.

In exchange for free-and-clear control of the rundown office building, a 10-year tax abatement and a subsidized deal for 600 parking spaces in the garage, Milhaus would develop the project. The city would pay for its purchase of the property from garage revenue.

If Milhaus doesn't meet its deadline, the city has the right to take back the entire property and seek another developer that can close the deal.

The city has no plans to offer an extension, but there's also no "automatic trigger" where the city would intervene and take over the project, noted Deron Kintner, executive director of the Indianapolis Local Public Improvement Bond Bank.

"Without limiting our future rights, if they're well on their way I think it's in the city's best interest to allow them to proceed rather than to start the process over, investing even more time, energy and resources," Kintner said.

"At this point, I'm glad the lawsuit has been settled. I'm excited to hear they're moving forward and that they're going to begin construction soon."•