A midrise mix of apartments and first-floor retail is the most likely replacement for a triangle-shaped Mass Ave parcel occupied by the Indianapolis Fire Department.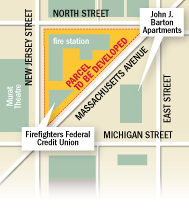 The city is wrapping up its selection process for redevelopment of the 1.45-acre property bordered by Massachusetts Avenue, North New Jersey Street and East North Street.
Five bidders submitted proposals in November, and industry sources said the city and brokerage firm CB Richard Ellis, which the city hired to shepherd the process, have narrowed the field to three and plan to announce the successful bidder in the next few weeks.
Construction likely won't begin for at least another year, though, because the city must first move the Indianapolis Fire Department headquarters, Fire Station No. 7 and the Firefighters Credit Union.
Simultaneously with its review of fire station redevelopment plans, CB Richard Ellis is helping the city scout for sites to relocate the fire department operations and to build a much-needed parking garage to serve the Mass Ave corridor and the new project.
Deputy Mayor Michael Huber said the city and CB are juggling multiple components that have to come together for the project to work. He declined to discuss timing or identify the bidders.
"We are excited about the quality of the responses and the ideas that were submitted," he said.
Market observers expect the redevelopment proposals to range in price from $30 million to $50 million.
Two bidders confirmed submitting proposals, and real estate sources identified two other contenders. IBJ could not determine the fifth bidder by press time.
One of the finalist bidders is a high-powered partnership of apartment specialist J.C. Hart Co., jack-of-all-trades developer Paul Kite Co. and the architecture firm Schmidt Associates.
The team's proposal calls for four or five stories of apartments over ground-floor commercial space along Mass Ave. Underground parking would serve the residential units above.
The structure would "feel" like Mass Ave, but with a "contemporary bent," said Schmidt Associates principal Wayne Schmidt. He declined to share renderings or a final cost, citing competitive reasons.
"We feel like we have a good, solid proposal," said Schmidt, whose 100-person firm has its headquarters at Massachusetts Avenue and Vermont Street. "Our firm has been involved in the Avenue through its entire rebirth. We look at Mass Ave as being our home."
Flaherty & Collins Properties and Insight Development Corp., another finalist, are proposing a development that would tie in with their $25 million project across the street, which calls for a mix of market-rate and affordable apartments and retail space surrounding Barton Tower.
By developing both sites, the firms could realize some savings on financing and also achieve the "right mix" of retail and housing for that stretch of Mass Ave, Insight Development President Bruce Baird said in a statement.
"Our proposed vision for the firehouse site works in a cohesive fashion with our plans for the Barton side of the street," Baird said.
"We see a mix of quality housing—all market rate on that side of the street—and a significant retail component that will attract shoppers and merchants and better connect Mass Ave between East and New Jersey streets."
He declined to provide a project price or describe the proposal in more detail.
Bidders also include a joint effort by Milhaus Development and Shiel Sexton, and an offering by Monument Realty.
It also wasn't clear which of the bidders besides the teams made up of Flaherty/Insight and Hart/Kite/Schmidt had made the city's short list.
Principals with Milhaus and Monument Realty did not return phone messages. Officials with Shiel Sexton declined to discuss their bid. Milhaus already is working on a city-supported deal to redevelop the former home of the Bank One Operations Center into apartments.
Two other high-powered local developers, Keystone Group and Buckingham Cos., did not submit bids for the Mass Ave parcel. Keystone won a deal last year to build a parking and retail building for the city in Broad Ripple, and Buckingham is developing the city-supported CityWay project at Delaware and South streets.
In the case of the Mass Ave redevelopment, the city has asked bidders to pay for the site. City incentives likely would come in the form of subsidizing a parking garage or perhaps tax abatements.
The administration of Mayor Greg Ballard is running an unusually quiet selection process, refusing to disclose any information on the bids in response to public records requests, even the names of who is bidding, ostensibly so the city can gain some leverage over the bidders.
Years earlier, former Mayor Bart Peterson revealed detailed information about the bidders seeking to redevelop the Market Square Arena site, an endeavor that ultimately fizzled.
The failure of that project and a handful of other condo developments downtown painted a grim outlook for downtown residential, but a resurgence of apartments has rekindled optimism.
The empty-nester condo buyers never really materialized, but the apartment market—both in terms of occupancy and financing—continues to look strong, said Brian F. Knapp, director of special assets and investment services for the local office of Colliers International.
Knapp, who experienced the condo downturn firsthand when he had to return his Lockerbie Park project to lenders, said he's less convinced about the prospects for a retail component in the Mass Ave redevelopment.
He's concerned about the "revolving door" of tenants on the corridor and all the existing vacant spaces.•
Please enable JavaScript to view this content.