A rare 1909 poster promoting the very first race at the Indianapolis Motor Speedway has been sold for $24,000, a local auction house says.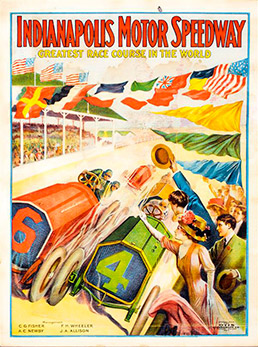 The 1909 poster came from the collection of a former Indianapolis Motor Speedway executive.
Antique Helper Auctions said the winning bid from an unidentified telephone bidder more than tripled the pre-auction estimated value of $7,000.
The colorful poster, sold March 24, came from a collection of racing memorabilia from the estate of former Indianapolis Motor Speedway executive Clarence Cagle. Cagle worked at IMS from 1945 to 1975 in positions including track superintendent and vice president of Speedway Corp.
Cagle, who died in 2003 at age 88, was responsible for renovating the track for new owner Tony Hulman in 1945 after the Speedway closed for almost three years during World War II.
The racing collection also included pit badges, patches, belt buckles, books, programs, bolo ties, jewelry and helmets, but the poster was the big prize. The auction house called the piece "extremely rare," with one other one held by the U.S. Library of Congress.
Austrian engineer Louis Schwitzer won the two-lap, 5-mile inaugural race at IMS on Aug. 19, 1909, with an average speed of 57.4 mph in a Stoddard Dayton touring car.
Please enable JavaScript to view this content.