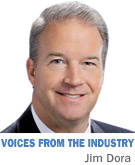 The service industry is alive and well in this country. In fact, every business supplies a service to a paying customer. Whether it is a physical item constructed or a specific service provided, everyone is truly in the service business.
Why, then, is the service often terrible? Is technology partially to blame?
In today's fast-paced world, we want everything delivered to us at the speed of light. The world's information at our fingertips has made us an impatient society. Self-service in all industries has caused us to become accustomed to a level of service that may be satisfactory for many transactions, but certainly not all of them. The demand for low cost and high speed often takes the human touch out of many of our daily transactions.
And yet service can make the difference between becoming a commodity product or being a memorable experience.
Technology has allowed for a level of disconnect from provider to customer, or vice versa, that is alarming.
As an example, recently I received an e-mail complaint from a customer in my company's general information in-box. After it was forwarded to me, I certainly expected to find that the customer had already checked out of the hotel. Upon calling the general manager, we found that the customer was still in the hotel and had checked in only an hour earlier. I was amazed that an unhappy customer, who had just checked in, would send a complaint to a general information mailbox instead of contacting the front desk for the hotel manager to address the issues.
Luckily, we were able to find the customer and fix the problem. I hope this attention will be remembered and this customer will continue to consider us in the future.
Why will some customers allow for the time it takes to properly provide them the service they desire, relish the experience that can come with that service, and pay the appropriate amount for the experience? Why will the same customer view another experience as strictly a commodity transaction and demand the lowest cost while ignoring the potential experience they may receive in the transaction?
Moreover, how can a brick-and-mortar business use technology to provide the service and experience desired by our customers in the way they wish to be served? How can we engage in a relationship with a customer who might want to avoid direct contact?
Good service will always require having the right person in place with the ability and training to anticipate needs along with the power to provide for those needs. Finding the person who truly enjoys providing a great customer service experience and who wants to create a relationship will always be the key in creating an experience where the customer will choose to return.
Creating a relationship in a very short time frame can mean the beginning of what can become a lifelong relationship between customer and service provider. In that same time frame, with the wrong person in place or by not meeting the needs of the customer, the relationship can be ruined for a lifetime.
While it seems clear what a business needs to provide to create the experience the customer wants, the customer also needs to be involved.
As a service provider, I want to know where I exceed expectations, but I really want to know where I have not. And I want to know it as soon as possible, preferably while the customer is still in my business so I have the opportunity to make things right.
Technology has created the ability for anyone to reach thousands or millions of people quickly. It has also allowed for the removal of the human contact point. And it has allowed personal communication and interaction to fall to a very low level or to not exist at all.
As a service provider, I want to know when I have failed in providing the service expected. And, above all, I want to make it right for the customer.
Call me, write me, e-mail me, text me, tweet me. Use any type of technology you like. Allow me to serve you and to earn and keep your business.•
__________
Dora is president of General Hotels Corp. in Indianapolis. Views expressed here are the writer's.
Please enable JavaScript to view this content.