Lots of fliers, especially business travelers, love to kvetch about the decline in frequency of flights and the number of nonstop destinations you can reach from Indianapolis International Airport.
Realistically, there's little the airport can do. Airlines are merging and scrapping duplicative service. Oil costs more than $100 a barrel. All those smaller jets that used to fly in and out of Indy are being replaced by fewer, bigger jets that are more economical to operate because airlines can cram them full of passengers.
And Indianapolis isn't a major hub for any airline.
So it might be time for gripers—especially wealthy ones—to put up or shut up and fund a new airline proposed for Indianapolis.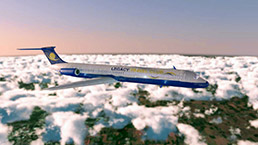 Legacy Travel Club would offer premium service on its MD-83 aircraft, including meals and movies. (IBJ File Photo)
Christopher Allen, the man trying to launch Legacy Travel Club, plans to make a pitch June 7 at the Venture Club.
He'd like to launch Legacy by 2013. Some think he faces long odds getting the airline off the ground at all, but being granted time to present to Venture Club boosts his credibility.
Allen, who once worked in the mailroom of now-defunct local carrier ATA Airlines, has a business plan that calls for a minimum of $5.3 million to fund the first six months of his proposed airline.
At least three angel investors have said they'll chip in money. Trouble is, they want to see him raise $50,000 first.
Allen is already planning a "proof of market" trip next February to St. Thomas. Allen said he's chartering a plane from Miami Air. Some folks at TechPoint, the state's information technology group, have already expressed interest in that flight.
Legacy isn't intended to serve just vacationers, but also business travelers. The planned fleet of MD-83 aircraft would be equipped to offer premium service, including meals and movies. The airline would fly to destinations such as the West Coast, which is lacking in nonstop flights from here.
"I'm confident that our St. Thomas trip will demonstrate to investors that the market still exists here," said Allen, who works in the admissions department at IUPUI. He's looking to hire a president with airline experience.
Indianapolis' last hometown airline was ATA, which folded in 2008.
The Indianapolis Airport Authority has been trying to win back nonstop service Indianapolis lost in recent years to destinations such as San Francisco and San Diego.
Please enable JavaScript to view this content.