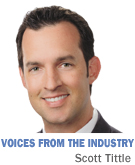 Nursing facilities face at least two tremendous external challenges in coming years. The population they serve will increase exponentially, and the increase will come at a time when Medicare and Medicaid reimbursements have been significantly reduced.
The upshot is that, as Congress and the president enter an election year and continue to deal with deficit reduction, Indiana and the nursing facilities here are taking steps now to do more with less.
The nation's elderly population is projected to more than double from 2005 through 2050 as baby boomers enter retirement age. Conversely, our overall work force will increase at a much slower rate.
In fact, the Bureau of Labor Statistics indicates that labor-force participation peaked between 1997 and 2000 and will continue to decrease every year through 2050. The resulting need for high-performing and high-quality staff across the continuum of care will be essential as nursing facilities will see residents who live longer and have higher acuity needs.
Indeed, new technologies, such as remote patient monitoring devices, electronic pharmacy dispensing units and hand-held tablets to track resident data, will reduce medical errors, increase the focus on preventive care, and eliminate unnecessary paperwork to allow for more direct staffing care.
Still, training and retaining the future health care work force will be critical for the long-term-care industry.
The second challenge is also not insignificant. About 70 percent of all long-term-care services in the country are reimbursed in some form or fashion by Medicare and Medicaid. Last year alone, Medicare reimbursement for certain therapy services was cut so dramatically that many facilities nationally were forced to hold off on backfilling job openings and, in some cases, even had to let staff go.
More recently, Congress reduced reimbursement for "bad debt" owed to long-term-care providers that served "dual-eligibles," or residents covered by both Medicaid and Medicare.
About half the states reimburse for such bad debt through their state Medicaid program. However, Indiana is not one of those states and, as a result, providers here were hit disproportionately hard. Indiana's estimated nursing facility reduction alone is just over $140 million over the next 10 years.
On the Medicaid side, nursing facilities in Indiana received a 5-percent rate reduction in the 2011 state budget. Considering the average long-term care Medicaid daily rate is just above $150 a day per person—which is about $6 to $10 under the actual cost of care for 24/7 skilled nursing care and related residential services—every Medicaid dollar clearly counts.
With the reimbursement candle being burned at both ends, any further reductions in these programs will make it increasingly difficult for nursing homes.
Meeting these challenges is not only important for the continued delivery of quality health care in Indiana, but also from the perspective of supporting our economy. The nursing-facility profession is the ninth-largest employer in Indiana, with more than 100,000 jobs, accounting for more than $300 million in state and local taxes and more than $8 billion in total economic activity.
It is critical that nursing facilities, especially in rural parts of Indiana, remain viable, or the opportunities for skilled health care professionals in those areas will be greatly diminished.
If there is any good news, it is that Indiana is taking significant steps to implement one of the most robust pay-for-performance incentive programs in the country for long-term-care providers. Starting in mid-2013, nursing facilities will have the opportunity to receive a quality add-on component to their base Medicaid rate if they achieve certain quality goals. Those quality metrics, developed between the state and the profession, amount to 12 domains focused on improving quality and customer service.
Specifically, nursing facilities will be measured on whether they reduce employee turnover and improve retention rates, and score highly on resident, family and staff satisfaction surveys, along with several other related quality metrics. This new quality program, commonly referred to as "value-based purchasing," will go a long way toward giving nursing facilities incentives to improve the quality care that they already provide and to attract and retain the best possible staff.
Even with the incentive program, there are challenging times ahead for Indiana nursing facilities as they strive to provide the same level of quality for a greater number of Hoosiers with fewer resources.
Additional challenges and opportunities on the horizon include efforts to reduce hospitalizations, join in accountable care organizations, or participate in bundling and site-neutral payment models.
Nursing facilities' ability to succeed under these circumstances and new payment models will define the kind of care available for the current and next generation of residents. Indiana's nursing facilities are preparing now for that challenge.•
__________
Tittle is president of the Indiana Health Care Association and of counsel at Indianapolis law firm Krieg DeVault LLP. Views expressed here are the writer's.
Please enable JavaScript to view this content.