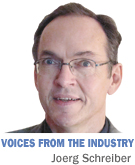 Health care is in constant change, whether brought about by politicians, the health care industry, medical science or increasingly educated patients. The driving motor for our progress has been, and will be, innovation. We have many innovative elements in Indiana—big and small companies, entrepreneurs and startups, powerful academic institutions and a collaborative climate.
What we lack is accessible risk-seeking capital and infrastructure that supports very-early-stage company development. Indiana's health science industry has grown to have a $44 billion impact on the state's economy, but maintaining and growing that requires state funding and technical support at the earliest stages.
As a region and state, we have lost patience and perspective. It takes considerable time to take a health science technology from academia to a marketable product—and it can be years before a company becomes profitable. Health science startups need time and technical support to develop and scale up so they can meet regulatory requirements and translate their discoveries into therapies for patients.
Much of the infrastructure developed 10 years ago when initial industry building efforts were put into place have fallen by the wayside—victims of economic challenges, failure of the industry to meet unrealistic job creation benchmarks, or simply the inability of startups to generate funds to move projects forward.
What we need now is a plan to bring the industry back together, to focus our efforts, and to jointly pursue tools and resources to support innovation.
To address these challenges, the Indiana Health Industry Forum has developed a statewide strategy, articulating the needs and interests of members of the state's health science industry. What follows are some of the challenges and solutions identified by the plan.
• Part of what makes many of the coastal health science hubs so successful is their ability to attract and retain entrepreneurs and serial angel investors. To build our own networks, we have to demonstrate that entrepreneurial effort is appreciated and supported. Once that climate has been set and we begin to build our base of successful entrepreneurs, we then can start to attract others, to work side by side with our internal champions.
• Today, our knowledge of how to innovate is dispersed in the heads and personal networks of a few insiders, and it can be challenging for those outside the network to access. What if we could create knowledge portals, where entrepreneurial resources can be accessed easily?
The organization that takes on this charge would need to be committed to use, mine and describe all available resources, and to facilitate the connections for the knowledge seeker. This would be another area where public funds could be used to support the creation of an important piece of knowledge infrastructure.
• Innovation can be applied to process as much as product. A successful outsourced health science business model involves directly hiring as few people as possible and operating without fixed costs wherever possible. Creative use of resources should be rewarded and nontraditional approaches to innovation should be encouraged.
We have experience with technology transfer from the universities. What if we could entice our large payer organizations and hospital systems to open up a little and become idea generators for new businesses? Ideas from these sources could have an immediate impact on lowering the costs of health care delivery.
• Work force development is also an important piece of the technical support needed for the industry. Improving the dialogue between industry and academia, even at the earliest stages of education, assures that students are being taught the skills they will need and that they understand the variety of career options available to them, even as many of those jobs have yet to be imagined.
A few weeks ago in this newspaper, the economic future of Indiana was predicted to be in slow decline. I think there is enough innovative willpower not to accept this verdict but to use our strengths, here in the health science industry specifically, to prove the prediction wrong.
On May 8, the Indiana Health Industry Forum hosted its annual meeting and convene all the stakeholders—including government, academia and industry—to take a fresh look at innovation and implement the strategy.
We all must be part of the solution and together can imagine a new way forward.•
__________
Schreiber is CEO of Indiana Biopharma LLC, president of White Arrow Consulting LLC and chairman of the Indiana Health Industry Forum. Views expressed here are the writer's.
Please enable JavaScript to view this content.