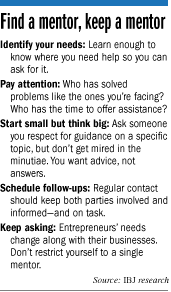 Mark Hill is one of Indianapolis' entrepreneurial success stories.
At 27, he co-founded banking software company Baker Hill with $50,000 from family and friends and two decades later sold the company for an estimated $75 million-plus. (Terms of the 2005 deal weren't disclosed, but he has said the initial offer was three times Baker Hill's annual revenue of $25 million.)
"It was one of those 20-year overnight successes," he said.
Now managing partner of local venture-capital firm Collina Ventures and chairman of the state's TechPoint trade group, Hill is quick to credit those who helped him on his path from upstart accountant to accomplished entrepreneur.
Longtime adviser David Becker, for example, introduced him to the idea of recurring revenue in the 1990s—providing the spark that fired up Baker Hill's bottom line. Rather than selling software to one-off customers and scrambling to find more buyers, the company shifted to a model where clients signed multiyear service agreements.
"That made revenue much, much more stable and … the company worth more," Hill said. "It was a big idea that changed the nature of how we did business."
The experience also taught him another important lesson: Good mentors can make a world of difference to up-and-coming entrepreneurs.
That's true for Hill and countless other business owners who find themselves in need of a gut check from time to time. It might be lonely at the top, but these days mentors are an essential part of an entrepreneur's toolkit.
Indeed, about 67 percent of small-business owners have a confidant with whom they consult before making critical decisions, according to a recent study from the National Federation of Independent Business.
That's far from a new development, since business advisers have long contributed to successful enterprises. But the days of passively waiting for someone to take a shine to you—or your idea—are long gone.
"Young people are more willing to look for mentors and ask for help outright," said Karen Corsaro, an Indianapolis strategy consultant and frequent unpaid adviser. "That is very healthy."
Corsaro, 54, launched The Corsaro Group in 2000 after 17 years leading Simon Property Group Inc.'s strategic marketing division. More recently, she has begun investing her own money in particularly promising ventures. And she still maintains active mentoring relationships with about 20 protégés.
Although it can be tricky to balance her different interests, Corsaro said she has developed the ability to size up potential relationships quickly. She occasionally sees an opportunity for the mentoring-investing-consulting trifecta, "but rarely at the same time."
It's not unusual for Corsaro to be solicited as a mentor by someone she just turned down for funding, however, and she gives either request equal consideration.
"As a mentor, you have to be careful to figure out who is worth investing your time in," she said, citing her requirement that protégés be good at networking and follow-through. "You have to pick your horse carefully."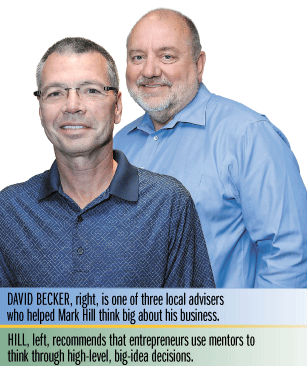 Time is a factor, though Corsaro said mentoring shouldn't be an all-consuming effort. Still, she recommends regular contact so neither party feels overwhelmed with the task at hand.
Corsaro estimates she spends about six hours a week working with her protégés, who are in various stages of development and require a different level of involvement.
"You want to feel involved and informed enough that you can help," she said. "I'm not there to be their mother. I don't work for them. They are respectful of my time."
Corsaro is one of several mentors serial entrepreneur James Burnes has tapped for advice as he pursues his passion for product development. Burnes, who launched virtual patent-marking service PatentStatus LLC in January, built his network of experts over time, as needs arose.
Having a group of mentors—"like my own personal board of directors," he says—allows Burnes to avoid wearing out his welcome with any one of them. It also gives him a variety of perspectives from which to draw. He isn't looking for a cheerleader. He wants mentors who will challenge his thinking.
"You have to find someone who's willing to be constructive, not just pacify you with niceties," said Burnes, 33. "I've always looked for people willing to disagree with my presumptions and challenge me to think harder. I know I can raise my game."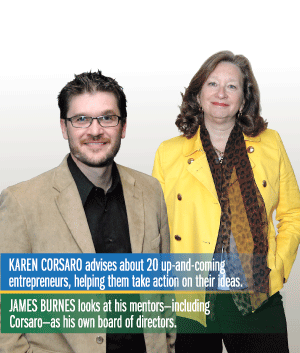 Strong rapport and mutual respect are good starting points for a mentoring relationship, Burnes said. He recommends asking a would-be mentor for help with a specific topic, then going from there.
Entrepreneurs should identify their needs before reaching out to potential mentors, agreed Julie Grice, executive director of Business Ownership Initiative of Indiana. After all, it's difficult to find the right solution without a clear idea of the problem.
Although the local not-for-profit does not have a mentoring program as part of its business-training curriculum, Grice said BOI encourages its clients to use all available resources, including impartial advisers. Mentors don't even need to be in the same industry, she said, correcting a common misconception.
"You just need someone who has overcome similar challenges to the ones you're facing," she said.
When Grice left a position at the Greater Indianapolis Chamber of Commerce to start her own communications consulting firm, for example, she sought the guidance of retired Long Electric CEO Yvonne Shaheen.
"Her business wasn't like my business," Grice said, "but she knew about maintaining healthy cash flow and securing the right contracts."
Snappening.com founder Crystal Grave, on the other hand, convened a panel of subject-matter experts—including some paid consultants—to help when she was putting together her event-planning website. A self-described "mentor sponge," she said she has learned just as much from paid advisers as she has from the hundreds of less-formal relationships she's had over the years.
"I think it's foolish to rely on one or the other," she said. "You really need both."
Among her mentors: Robert Clark, managing director of the Indiana Angel Network and entrepreneur-in-residence at not-for-profit Elevate Ventures. They met when Grave pitched her concept at last year's Innovation Showcase in Indianapolis.
In his role at Elevate Ventures, Clark puts together advisory boards for promising startups—helping to establish relationships he said are crucial for business success.
"Mentors are what these companies need," he said. "They don't need someone to hand them money and then leave."
Advisers sometimes end up becoming investors, too, Clark said, but potential for a financial return isn't what motivates most mentors.
Corsaro and Burnes both describe the mentor-protégé relationship as mutually beneficial, since mentors can—and often do—learn as much as they teach. Corsaro's mentoring experience, for example, has allowed her to keep up with marketing technology as it changes.
"I learn and grow and am probably better prepared to do consulting and investing because I'm a mentor," she said. But "the greatest satisfaction comes from seeing the person you're mentoring succeed."
Collina Venture's Hill has an even broader view. Although he doesn't have a roster of protégés right now, he's still eager to share his insight with the up-and-coming entrepreneurs he encounters as a potential investor.
"Most of the time, I'm trying to coach people, to get them to think something through or figure out how to get started," Hill said. "I'm just passionate about this. The more we can do to help 20-somethings be successful, the better it will reflect on our city down the line."•
Please enable JavaScript to view this content.