People can't stop talking about the company culture.
Former employees discuss it. Family friends mention it. Victoria Schneider Temple, president and CEO of The Schneider Corp., can't stray far from the topic no matter what else she's trying to say about her family's third-generation surveying and engineering firm.
She keeps coming back to the culture of service, integrity and respect that she said her father, John Schneider, and grandfather, company founder Vincent Schneider, imbedded deeply into the 50-year-old company—and into her.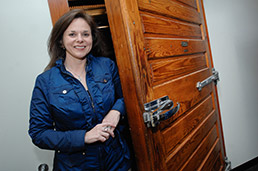 This 6-inch-thick freezer door was saved in Schneider Corp.'s renovation of its Fort Benjamin Harrison barracks headquarters. Victoria Temple's father, John Schneider, was stationed at Fort Ben after serving in Vietnam. (IBJ photo/Perry Reichanadter)
"My dad always said, 'If you do the right thing, profits will follow," Temple recalled. He was an early disciple of Robert Greenleaf, the guru who coined the term "servant leadership" in the 1970s.
Both Schneiders walked the walk so well that Temple found herself dissatisfied in other work environments after earning a law degree in 1995. She hadn't planned a career with Schneider. She wasn't interested in becoming the engineer that her grandfather and father and brother Barry—now Schneider chairman—were.
So she worked for a couple of law firms over the next two years, but found herself longing for Schneider's emphasis on customer service and employee satisfaction that she had assumed all businesses practiced.

"I craved it," she said.
She apparently wasn't the only one.
"Schneider had the very best culture of any place that I've ever worked," said Kris Conover, who left the firm in 2009 after 26 years to buy his father-in-law's heating and cooling business with his wife.
He was Schneider's senior vice president of operations when he was offered the opportunity to be his own boss. Whom did he consult first about this weighty decision? Victoria Temple.
"She totally supported me, even offered me a hiatus to sort things out before I made a decision," Conover said. "She made it clear she didn't want me to go," but said she wouldn't hold him back.
That leadership style is all Temple, 42, has ever known. "My dad is a good and honest businessman," she said, and he told her "there's no substitute for treating people with respect."
Market 'slams shut'
That mantra was sorely tested when the recession hit Schneider hard in late 2007. Because the firm relied about 65 percent on residential work, Schneider was an early casualty along with the rest of the housing industry and was soon staring down some of its darkest days.
All through the 1990s and early 2000s, the firm that had started in 1962 as a surveyor expanded, adding landscape engineering and architecture and mapping services and acquiring businesses in other cities. In 1999, Schneider bought a 1939 enlisted-men's barracks at Fort Harrison State Park and gutted it, spending a year to renovate the structure to house almost 350 employees. By 2007, the company had eight branch offices in four states and $35 million in revenue.
Then, "the market just slammed shut," Temple said.
What saved Schneider, she said, was an early, hard look at what tough choices had to be made. She and her brother, and the rest of the company's six-member board, knew they had to retrench deep and fast. They knew just buckling down on expenses would not be enough; there would have to be layoffs.
In the end, Schneider went through four major rounds of layoffs in 2008 and another in January 2009. In just over a year, the company shrank about 40 percent. Attrition over the following two years brought employment down to about 100.
Temple said those days were incredibly painful, for everyone.
"We had to let go some very good people," Temple said. Her goals during that long process, she said, were to make sure every decision was carefully considered and every person who lost a job was treated with dignity and respect.
Matt Maudlin was vice president of marketing and sales support for Schneider on May 1, 2008, when he got a call from his supervisor at 8 a.m., asking him to come down to his office. Maudlin knew what the call meant. He didn't bother taking any work with him. He said Temple met him at the door as he left that meeting. She was crying.
"It really bothered her tremendously," he said.
Maudlin has kept in touch with the company and has even been hired to do contract work for a few projects. He said Temple and Schneider as a whole "have always been concerned about doing the right thing."
"Doing the right thing" is the same phrase Danny O'Malia uses to describe Temple. O'Malia, who ran his family's grocery chain for two decades and now operates a consulting firm that teaches customer-service principles, has known Temple since she was in first grade. His daughter was her classmate for 12 years. And he now serves with Temple on the Cathedral High School board.
Schneider hired O'Malia in 2008 to lead a customer-service seminar for not just its employees but also its clients.
"They were dealing with tough times, yet [Temple] was willing to spend the time and the money to improve their employees and clients, showing clients that Schneider cared about their long-term success," he said. "I think that's very cool."
A stable influence
Conover, the longtime Schneider VP, said he watched Temple grow into that level of maturity and strategic thinking. She started in human resources in 1997, and over the years "learned how to help shape the culture of the company."
By the time hard times hit, Temple was prepared to face them, he said.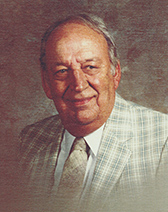 Company founder Vincent Schneider discovered a love for civil engineering during his service in the Army's artillery division during World War II. He later attended Purdue University on the GI bill. (Photo courtesy of The Schneider Corp.)
Schneider "needed a steady hand, a voice of reason. There was a lot of anxiety that could have gotten out of control. She was a good, stable influence," Conover said.
Temple's stability came from a solid background. She and her brother "always felt loved and taken care of," she said. Her father was low-key: "Just because you're the leader, you don't have to scream that you're the leader." Her mother "allowed my dad to do what he needed to do" with his business. She ran the household; that was her job and she never complained about it, Temple said.
According to Maudlin, the business approach that Temple and her brother both portrayed to employees was, "How can I take what my father blessed me with and give something greater to my children?"
Back in 2001, Schneider Corp. used a consulting firm to help uncover its core goals: Longevity turned up as No. 1; adaptability came in second. In 2008, it was time to put the rubber to the road.
Temple and the rest of Schneider's six-member board spent the next few years diversifying the company's lines of business. Residential is now only 10 percent of Schneider's work; the firm has picked up more commercial and governmental work, expanding its land mapping and engineering divisions.
And after four years of pulling back, Schneider is finally spreading its wings again—cautiously. About 25 employees have been added in the last year. The sales force has doubled. Major projects for Eskenazi Hospital, Purdue Research Foundation and several Jack-in-the-Box restaurants are under way.
"Our engineers are happy to have green spaces to work on again," Temple said.
She credits Schneider employees with making the difference.
"At the end of the day, it has very little to do with me or my family," she said.
"I was proud of this company before; now I'm more proud. A lot was asked of our employees. They were asked to sacrifice, to work harder. And they delivered in spades."•
Please enable JavaScript to view this content.