If nicknames are a sign of attachment, Angie's List CEO Bill Oesterle became wedded to the near-east side years ago.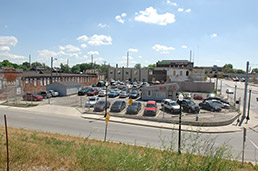 Bill's Auto Sales, at 902 E. Washington St., is one of the properties Henry Amalgamated acquired this year to expand the Angie's List campus. (IBJ photo/ Perry Reichanadter)
He bought and fixed up two run-down houses, "the yellow house" and "the blue house," on East Market Street, simply because he was tired of the view they provided from the back of the consumer-review company's offices.

Angie's List has filled those houses and other properties with workers as the company has rapidly grown. The two homes were the first of many real estate acquisitions, a total of 48 properties, that Oesterle's firm Henry Amalgamated would make in the Holy Cross neighborhood from 2006 through this May.
IBJ.COM EXTRA
For a map of the 48 properties that have been acquired,
CLICK HERE
Henry Amalgamated has acquired nearly 40 percent of those holdings since Angie's List struck a $7.1 million incentives deal with the city of Indianapolis in October. Now Oesterle's firm controls the most prominent sites east of the entrance to Interstate 65/70 downtown.

"They're sort of the gateway properties," Oesterle said. "I don't think folks have quite realized how much redevelopment has taken place in that area. A few of these gateway buildings I think are going to go a long way to changing that."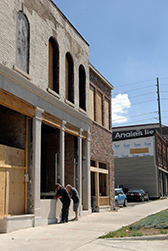 Crews are in the midst of renovating old buildings on East Washington Street next to Angie's List. (IBJ photo/ Perry Reichanadter)
The work is already under way on former storefronts on East Washington Street. An antiques shop is gone, and so is the used bookstore that Oesterle refers to as "the creepy bookstore."

Next to move, though it's not clear how soon, will be two businesses that occupy large corner lots—Bill's Auto Sales at Pine and Washington streets and Automotive Products Co. at the southeast corner of Pine and Market streets. Henry Amalgamated completed its "gateway" purchases on May 30 with a long-vacant building at the northeast corner of Pine and Market.

Another large site, Last Chance Wrecker's lots on East Market Street, will be freed up when the company moves to a new location this summer.

Oesterle
Oesterle is contemplating a brand-new building and parking garage for Angie's List, though he said it's too early to name a location or talk about other details. So much of the land he's acquired is vacant that he could build on Washington, Market or Ohio streets.

Angie's List said last summer that it was considering new headquarters locations in Lafayette and Fishers. But after Indianapolis offered to reimburse $5.6 million in real estate acquisition and renovation costs, the company decided to stay and expand its presence east of downtown. The city also will direct $1.5 million from the sale of the water utility toward infrastructure improvements—streets, sidewalks and lighting—around Angie's List. That work is scheduled for next spring.

In return for the incentives, Angie's List said it would invest $6.5 million in real estate and $5 million in personal property, and hire 500 more people by 2015. Oesterle said the head count, around 650 last August, already tops 1,000.

Henry Amalgamated has spent $3 million that the city will reimburse out of revenue from the downtown tax-increment finance district, Oesterle said. He expects to take another two years to spend the rest.

Drving demand

Community development groups see Angie's List as the near-downtown anchor for a revitalized East Washington Street.

"All healthy commercial corridors have demand drivers," said Joe Bowling, director of the East Washington Street Partnership at Englewood Community Development Corp. "Angie's List, as they continue to grow the numbers of employees on that campus, can spur other development around it."

Angie's List is one of three "catalyst" sites included in a "vision plan" that the East Washington Street Partnership created with Ball State University. The others are the P.R. Mallory industrial complex at Washington and Gray streets, which is being redeveloped by Southeast Neighborhood Development, and the Englewood CDC's "town center" near Washington and Rural streets.

Angie's List is converting storefronts to office space, which is counter to the retail the East Washington Street plan envisions. Bowling said Oesterle's partner in Henry Amalgamated, Karl Northern, has promised to bring back retail, after more office space becomes available to Angie's List.

Angie's List has been a welcome presence in the Holy Cross neighborhood, but it hasn't yet spurred the kind of growth planners and residents want.

Susan Houchin, secretary/treasurer of the Holy Cross Neighborhood Association, said Angie's List was the first company to take an active role in the association.

Despite its proximity to downtown, Holy Cross doesn't have many neighborhood restaurants or shops, Houchin said. Flat 12 Bierwerks and the Smoking Goose smokehouse are relative newcomers.

"We're residential, and then we're light industrial, and there really isn't any in-between," Houchin said.

Cheap space

Oesterle said he was attracted to the quiet, mostly industrial section of Holy Cross back in 2000 because, "It was inexpensive space with free parking."

Employees' cars now cover acres of vacant land. Other purchases provided office space and employee amenities. Henry Amalgamated rents out some of the homes as residences.

Angie's List paid $900,000 in rent and related parking costs in 2011, and $600,000 of that went to Oesterle, according to a recent filing the publicly traded company made with securities regulators.

Henry Amalgamated spent $6 million in real estate and renovations from 2006 through June of last year, according to company officials.

If Angie's List were ever to relocate, Oesterle said he would simply look for a new mix of business tenants and add more residences.

Some of Angie's List's industrial neighbors are likely to stick around. John Roop, president of Capitol City Fence Co. on East Ohio Street, said he doesn't have any immediate plans to move.

"Unless Angie buys me out," he joked. "She's buying out the whole neighborhood, isn't she?"•