The redevelopment of the former Winona Hospital site near the Children's Museum of Indianapolis will include 50 apartment units in a $6.5 million project dubbed Illinois Place.
The neighboring museum is acting as lead developer for the site on North Illinois Street, which has been abandoned since the hospital closed in 2004.
Last month, the museum selected The Whitsett Group LLC to redevelop and operate part of the site.
Its plans, shared with IBJ on Tuesday, call for 33 one-bedroom and 17 two-bedroom apartments that will be leased under federal affordable housing guidelines.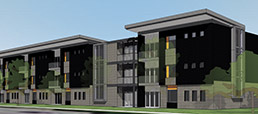 Plans call for 50 apartment units at Illinois Place. (Rendering courtesy The Whitsett Group)
Whitsett is a local affordable housing developer that has five properties within five miles of the Winona site: Constitution Gardens Apartments, Stetson Senior Apartments, Mapleton Properties, 1010 Central Apartments and the 707 North Apartments.
"One of the best features [of the project] is just being so close to the Children's Museum," said Whitsett Group principal Joe Whitsett.
The museum has a program called the Neighborhood Club in which it offers free memberships to families in the immediate area.
Whitsett is finishing up securing financing for the project, which includes affordable housing tax credits and state-issued tax exempt bonds. The developer expects construction to begin in late October or early November and wrap up in September 2013. Winona was demolished in October 2011.
The architect for Illinois Place is Indianapolis-based DkGr LLC. Its work includes Indianapolis Public Schools projects such as the Shortridge High School gymnasium, Cold Spring Environmental Magnet addition and the Theodore Potter School No. 74 renovation, in addition to The Point on Fall Creek.
The Point on Fall Creek is a $22 million Whitsett development that will include nearly 140 apartments and a retail component on the property where the demolished Keystone Towers stood.
Meanwhile, the Winona redevelopment also is expected to include office and green space.
The planned 22,000 square feet of commercial space likely would be built to accommodate a medical or wellness clinic, said Anthony Bridgeman, the museum's director of community initiatives.
"Some type of commercial office space would make sense," he said. "But we're open to consider other types of opportunities or commercial uses."
The redevelopment of the former Winona site is set to be done in stages, with any commercial project following the completion of the apartments.
The entire property is roughly 4 acres. Planners want to devote nearly half the area to green space.
The city took control of the hospital site in 2010 and wrote off about $1 million in tax bills. It requested proposals for redevelopment in February 2010, listing the property at $667,500, but received no responses. It's now in the process of deeding the property to an affiliate of the museum.
 
Please enable JavaScript to view this content.