Some of the state's largest private companies barely treaded water last year. Berry Plastics Corp., Biomet Inc. and Do It Best Corp., for example, experienced little growth from 2010.
Ten of the 50 companies lost ground. Revenue for LDI Ltd. LLC fell nearly 14 percent after the Indianapolis-based holding company sold its FinishMaster auto paint unit. Herff Jones, the Indianapolis-headquartered maker of yearbooks and other school materials, experienced the impact of selling its photography arm.
Some companies boomed, however, and MaxIT Healthcare LLC led the way.
MaxIT saw revenue shoot up 63 percent in 2011, to $179.4 million—more than any other company on the list.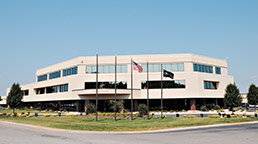 Biomet was among a handful of the state's largest companies whose revenue trended sideways.(IBJ file photo)
The Westfield company is riding a wave of hospitals' and medical offices' switching or adding computer systems to better track patient records, said CEO Mike Sweeney.
Only about 75 of the company's 1,100 employees are in Westfield. Most of the rest are scattered around the country helping medical offices implement the systems, particularly as hospitals absorb clinics or doctors' offices.
MaxIt could see strong growth for several more years, Sweeney predicted, because there is no sign the rush to improve technology will end anytime soon. One reason is the federal push to reward health care providers for quality of care rather than the amount provided; thus providers have incentives to track patient health.
Health care spending wasn't the only trend sparking big run-ups in revenue.
One firm made hay from a crisis among competitors.
Independent Stationers Inc., an Indianapolis-based cooperative whose member companies sell office products, couldn't have scripted a better growth scenario.
Independent Stationers sales shot up 36.6 percent, to $239 million, as the members scooped up customers from Office Max, Office Depot and other big-box office suppliers. Both consumers and commercial customers are defecting from the big boxes to discounters and online retailers.
Cutbacks at the chains have hurt customer service—the specialty of Independent Stationers members, said the company's CEO, Mike Gentile. Service is particularly important to the small and midsize businesses the members cater to.
"The growth is purely in market share," Gentile said, adding that total industry sales are largely flat.
Surging commodity prices were another avenue to big revenue gains last year. Oil in particular thrust several companies into steep climbs. Consider: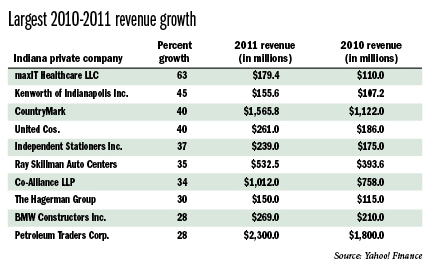 • Petroleum Traders Corp., a wholesale gasoline and diesel fuel supplier headquartered in Fort Wayne, saw sales rise nearly 28 percent, to $2.3 billion.
• Superior Oil Co. Inc., an Indianapolis-based distributor of industrial solvents, chemicals, fiberglass and resin, enjoyed a 14.4-percent increase, to $191.7 million, partly due to rising petroleum prices.
• Swifty Oil Co. Inc., a convenience store chain based in Seymour, had a 12.5-percent increase, to $603 million.
• Indianapolis-based CountryMark, which pumps and refines oil into diesel fuel in southern Indiana and Illinois, saw revenue rise nearly 40 percent, to $1.6 billion. CountryMark sells its diesel fuel to farm cooperatives. Two years of booming fuel prices have nearly doubled CountryMark revenue.
• One CountryMark shareholder, Avon-based Co-Alliance LLP, relied on rising diesel fuel prices for part of its 34-percent increase in revenue. Co-Alliance, which sells diesel not only to farmers but also to commercial fleets, crept across $1 billion in sales last year.
Co-Alliance also benefited from increasing prices in other commodities—corn and soybeans, noted CEO Kevin Still. Not only did the value of each bushel increase, but lucrative prices also prompted farmers to spend heavily on fertilizer and seed, further ratcheting up Co-Alliance sales.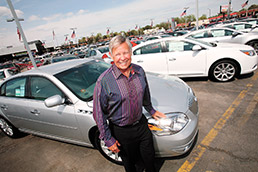 Ray Skillman's car dealerships rode an improved auto market. (IBJ file photo)
Moreover, the price of genetically altered seed has increased 30 percent in the past five years as additional traits such as insect residence were added.
The improving economy lifted some of the state's biggest auto dealers.
Ray Skillman Auto Centers, an Indianapolis-based dealer, saw revenue climb 35 percent, to $532.5 million, due to a brightening market, but also because the company streamlined several Indianapolis-area acquisitions, said Cory Delp, a Skillman general manager on the south side.
Lafayette-based Bob Rohrman Auto Group also rode an updraft in car sales, but saw its Hyundai, Kia and Subaru brands outsell its Honda and Toyota brands, said Indiana Comptroller Tom Hanlin.
Some contractors had good years, too.
Revenue for Indianapolis-based BMW Constructors Inc. rose 28 percent, to $269 million, by helping upgrade the BP oil refinery in Whiting to process Canadian oil.
Another Indianapolis contractor, F.A. Wilhelm Construction Co., benefited from big projects including the Wishard Hospital, NCAA headquarters expansion and the Indiana University Health Neuroscience Center.•
Please enable JavaScript to view this content.