This year's list of fastest-growing private companies in the Indianapolis area is a diverse lot, operating in industries ranging from human resources to office furnishings to construction to home health care and games. But the fastest, Slingshot SEO Inc., specializes in Internet marketing.
Slingshot SEO Inc.
What started a dozen or so years ago as three Zionsville High School buddies building websites about their favorite cars and figuring out how to get those sites ranked on search engines has evolved into the fastest-growing private company in central Indiana.
Slingshot SEO—the brainchild of Aaron Aders, Kevin Bailey and Jeremy Dearringer—helps companies become "digitally relevant," and that attention propelled whopping sevenfold growth in the past three years, to $10.9 million in revenue in 2011.
From left, Jeremy Dearringer, Aaron Aders and Kevin Bailey have grown Slingshot SEO at warp speed. In the past three years, revenue has shot up sevenfold, making Slingshot the fastest-growing company in the Indianapolis area. (IBJ Photo/ Perry Reichanadter)
Since some 90-plus percent of Web searchers never venture past the first page of their search, businesses need to get on that first page—ideally on the top half of the screen. That's why IU Health, ValPak, Family Leisure and ExactTarget are among the companies that use Slingshot SEO (search engine optimization) services.
Slingshot methodology is proprietary, but Bailey said its goal is to produce relevant media—graphics, video, news content, social media—that drives search engine users to clients' websites. The company faces plenty of competition, but Slingshot delves deeper into media production than its competitors do, Bailey said.
"We understand how search engines work and what search engine users want," he said. "The people who are searching, what are they looking for? How do we fill their needs? We're very good at that."
Bailey said Slingshot's growth in the first quarter of 2012 has been strong, including the signing of a Fortune 50 client whose name he was not at liberty to reveal, and the company is gaining a stronghold among large-cap enterprises. Slingshot's success, he said, is based around a simple motto: "Make clients successful, make clients successful, never forget to make clients successful."
"Growth is really great," Bailey said, "but we can't drive growth without client success. It's really us driving tremendous ROI [return on investment] and success for our clients that's fueled our growth."
MSW LLC
To find the source of MSW's growth over the last three years, look to its core customers: Cummins Inc., Dana Corp., Eaton Corp. and Timken Bearing Co.
"Our growth within those customers is what's driving the surge in revenues," Senior Vice President Keith Kanipe said.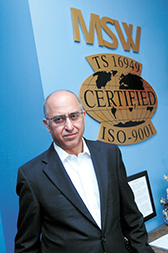 MSW LLC co-founder Yousuf Mahomed hit No. 2 on the list by offering warehousing and assembly to manufacturers. (IBJ Photo/ Perry Reichanadter)
"We don't go out and look for a mass number of new customers," he added. "We're good at what we do, and our customers tend to come to us for additional opportunities, which is great for us."
MSW revenue nearly tripled from 2009 to 2011, to $52.1 million, fast enough to rank it second on the list.
MSW provides warehousing, logistics, packaging, kitting and assembly for companies in the transportation and industrial marketplace. Kanipe said a company might bring in MSW to handle parts inspections either at MSW or in the client's plant.
Another service provides highly specialized ultrasonic-parts-cleaning of industrial components.
MSW was founded as Mahomed Sales & Warehousing, named for co-founder Yousuf Mahomed, to provide warehousing and assembly services to customers in the automotive industry. Mahomed later changed the name to make it shorter and easier to say.
MSW projects revenue at $60 million in 2012—$8 million more than last year. Kanipe said MSW faces a lot of competition, so the company approaches business with the thought that, "Without a customer, we have no opportunities and no jobs."
"From labor to senior management, the mind-set is customer service, on-time delivery and quality," he said. "That's what has driven the opportunities for us to grow."
D2P LLC
An improving economy and expanding client base helped D2P LLC return to IBJ's list of fastest-growing private companies for the second consecutive year, President Rebecca Denison Schultz said.
D2P, which operates from the I-69/96th Street corridor, sells office design services and Kimball International Inc. furniture made in Jasper. But Schultz said the relationship with customers goes deeper than desks and chairs.
"Even though we're a furniture dealership, we're not there to sell furniture," Schultz said. "We're there to listen and remove pain from our customers' world. Furniture is emotional. People get very emotional about their furniture and they don't have time to deal with all the little stuff."
D2P, which stands for Design 2 Perform, continues to work with Indiana University Health, Cummins Inc. and Ivy Tech Community College, and last year branched out with more corporate clients such as OneAmerica and Ogletree Deakins. The result: $9.2 million in revenue compared with $5.7 million the previous year.
That bump pushed revenue growth for the past three years to 249 percent.
Despite the success, Schultz said she continues to run a "fiscally conservative ship," a result of lessons learned during the recession. But to keep pace with customers' needs, D2P last year expanded its operations department—the "get it done" part of the operation that deals with installation and completion of projects. And in January, D2P added its first salesperson. Before that, Schultz and her husband, Bill, handled all the sales.
"We haven't had any feet on the street," Schultz said. "We haven't been out there drumming up business. Now we have a concerted effort and we're starting to do that."
Exacq Technologies Inc.
Exacq Technologies Inc. President Dave Underwood shows potential clients a video of a jewelry store customer palming a $47,000 three-carat diamond ring. He explains that with older, analog technology, even though the robbery would have been caught on camera, you couldn't have seen the sleight of hand because there wasn't enough resolution in the pictures. But with the Internet protocol megapixel cameras, you can see exactly what's going on.
That video helps Exacq, which develops the software that manages the security cameras that are ubiquitous in businesses and public buildings, win over new customers who need video surveillance to protect their inventory, work force and clients.
"When you see the video and it's real and you know it could not possibly be seen with anything [other] than one of these high-resolution cameras, then that camera becomes a valuable solution," Underwood said.
Underwood said Exacq offers a product line that allows clients to integrate the high-resolution equipment while retaining their older technology. So instead of replacing all their equipment, clients can add cameras where it makes sense. Exacq integrates the cameras with its software and systems, and retrofits the analog cameras with a modern system.
Underwood compares the upgrade to replacing your home or office computer every few years to update technology.
Because security cameras are standard equipment everywhere from banks to fast-food restaurants, Exacq's growth has been exponential—from $9 million to $19 million to $32 million over the last three years. In 2012, Underwood said, he expects to report revenue in the $50 million range.
"People are willing to switch out when there's a value in switching out to the new technology so you can see something you couldn't see before," Underwood said. "And that's one of the reasons we're growing rapidly."
Netlogx
Netlogx founder Audrey Taylor credits her company's growth—200 percent in the past three years—to two factors: a major contract with the state of Indiana to revamp the technology in the Office of Medicaid Policy and Planning, and "successfully delivering the agreed-upon services with excellence and integrity."
"There are lots of project managers in the world," added Chief Operating Officer Nick Petrone. "What distinguishes Netlogx is our health care subject matter expertise, particularly in Medicaid."
Netlogx works with a client base that also includes Michigan and Arizona, as well as health care providers in Indianapolis, to provide information security, project and risk management, and data warehousing.
Taylor said Netlogx's current project with Indiana involves improving the processing of health care claims. The focus of the project is improved diagnostic information, but she expects Netlogx's work to ultimately result in savings for the state.
"There will be a focused effort to have this increased productivity become a reality throughout the network of stakeholders who are involved in the submittal and payment of health care claims for citizens receiving state and federal benefits," she said.
Netlogx is a woman-owned business entity and a minority-business entity. And while that stature can be beneficial doing business in the government sector and even with some private businesses, Taylor said the largest account in 2011 was not secured through this status.
Last year, the company grew not only in revenue but in number of employees, adding three experienced consultants in response to the business it secured. And because of these new principal consultants, Taylor said, the company was able to add business.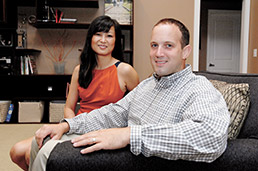 Tammy and Michael Goins' TMG Construction Management builds restaurants. (IBJ Photo/ Perry Reichanadter)
TMG Construction Management Inc.
The word "construction" is right there in the company name, but Tammy and Michael Goins say they think of themselves as part of the service industry rather than the construction industry. TMG works with restaurant chains such as Taco Bell, KFC, Hardees and Chipotle to build new locations or remodel old ones, and the Goinses' goal is to make the process as comfortable for the client as possible.
"We aren't just out to try to get the next job that comes up," Tammy said. "We try to stay out of the bidding wars. Our niche is the $2 million and under arena. Generally, when you get into those-size projects, they tend to turn into all-out bidding wars. So we try to develop a relationship upfront where we're negotiating with our customers, as opposed to bidding down the project."
When they opened TMG four-plus years ago, the Goinses decided they wanted clients who would have substantial building needs over the years and would appreciate a construction manager that could get the job done on time, on budget and without a lot of supervision. That approach appears to have worked. The Goinses, whose company has one other full-time employee, have been hired to work on projects in Tennessee, Kentucky, Ohio and Michigan, in addition to Indiana, where TMG rebuilt the Shadeland Avenue Texas Roadhouse that burned down.
They get 80 percent of their work through word-of-mouth or repeat customers, Michael said.
"We don't see ourselves as a commodity or a necessary evil of another business growing," Tammy said. "We see ourselves as a partner, as a team member. We build trust with them through our execution. We're all on the same team."
Altec Solutions LLC
In the words of owner and President Kirby Cuniffe, Altec Solutions' "bread and butter" is a hybrid of temporary and permanent placement in the manufacturing operations sector, anything from finding a CEO for a small company to temporary hourly skilled labor. The key to the company's growth has been specializing in the manufacturing industry, he said.
"Even though we're very specific—we just do manufacturing—there are different industries within manufacturing," Cuniffe said. "So there's always something that can pick us up and offer balance."
When the economy was down and people were doing more cooking at home rather than eating in restaurants, Altec did well by finding employees for the foods/flavoring sector. When a company with 500 employees had to lay off 100, it turned to Altec to find engineers who could keep the equipment running and help do more with less.
In the past year, Cuniffe said, automotive, plastics and auto suppliers' business has been picking up, and that is fueling Altec's growth. The company also has had success working with businesses in more rural communities that may have a more difficult time luring talent.
Altec's internal growth has been strong, too—the company, which opened in late 2004, has expanded from nine employees at the beginning of 2011 to 17. Cuniffe said his single proudest accomplishment has been Altec's low attrition rate—the company went four years without losing an employee.
Altec plans to hire five or six employees this year and is expanding to Chicago and Fort Wayne. Cuniffe said he hopes to open another office somewhere else by this time next year and apply the company's business model to a different industry, perhaps accounting and finance.
MMY Consulting Inc.
MMY Consulting Inc. focuses on three lines of business—state government, health care and cloud computing. Last year and this year, the company made strides in all three.
"We just followed through on our strategy and continued to execute well," President William Monachino said.
In 2011, MMY was selected as one of only six national consulting firms to work with Ascension Health, one of the country's largest health and hospital chains. (St. Vincent is Ascension's Indianapolis affiliate.) The majority of its work, which began in December, will be to help implement electronic medical records.
In state government, which MMY calls its "public sector business," the consulting firm earned work in several departments of Indiana state government, including the Family & Social Services Administration, where MMY is helping build a long-term strategy, and the Indiana Public Retirement System, where MMY is modernizing the computer system. This year, Monachino's company is looking to expand its public sector work in neighboring states.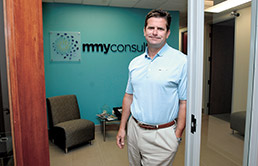 William Monachino's MMY Consulting has grown through government contracts. (IBJ Photo/ Perry Reichanadter)
And in cloud computing, MMY attained premier partner status with Google, the highest level possible. This means MMY has proven its ability to implement Google's technology across a broad spectrum of clients. Fewer than 5 percent of Google's partners qualify for this status, Monachino said.
"It's nice to be recognized," he said, "and it's recognition that my team has done a great job in building that line of business."
As he looked at the numbers—MMY's revenue shot from $4.5 million in fiscal 2010 to $8.6 million last year—Monachino said he expects the company's growth to continue, albeit probably not at the same rate.
"But it will be strong," he said. "And double-digit growth in this economy is very good."
Stonegate Mortgage Corp.
While the mortgage business has been contracting elsewhere, Stonegate Mortgage Corp. continues to expand in numerous ways. The Indianapolis-based company is now operating in 30 states, compared with 20 last year, and has increased its presence in retail locations by continuing to open direct-to-consumer offices—some in Indianapolis and most recently in Nashville, Tenn. CEO Jim Cutillo said loan origination, which drives Stonegate revenue, grew about 150 percent last year, even though the market as a whole was fairly flat.
Early this year, Stonegate launched a division focused solely on financial institutions. This division will buy loans from banks that historically have retained the servicing or sold the loans to larger financial institutions such as Bank of America, Chase, GMAC or Citi Mortgage. These larger institutional investors have significantly reduced their presence in the market over the past year, giving Stonegate an opportunity to gain market share.
"The market isn't growing," Cutillo said, "but the market opportunity is for Stonegate because there have been a lot of large financial institutions exiting the space and we're picking up behind them and meeting their customers' needs."
Stonegate also grew its payroll, hiring an additional 50 employees in 2011. Cutillo said he expects the company to exceed that number this year.
To finance the growth, Stonegate completed a $25 million private equity deal with Long Ridge Equity Partners in New York. The additional capital will be used to accelerate growth and buy more loans from third parties.
Cutillo said he's seeing more people buying homes now than in the previous few years, and many more are refinancing because interest rates are historically low. So far in 2012, business continues to grow. Cutillo said Stonegate expects to return to this list again next year: Its first-quarter revenue is up 260 percent compared with the same quarter last year.•
Please enable JavaScript to view this content.