Mayor Greg Ballard is giving the private sector its first shot at managing the City-County Building since it opened 50 years ago.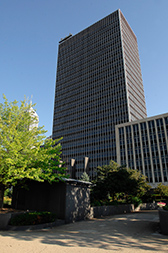 Mayor Greg Ballard's office is seeking new ideas for management of the City-County Building, at 200 E. Washington St. (IBJ file photo)
The city and county currently lease the 731,000-square-foot building for $4.85 million a year from the Indianapolis-Marion County Building Authority. That contract expires Aug. 1, and Ballard has opted to take title to the building, but he doesn't want the city to get into the business of operating it, Enterprise Development Director David Rosenberg said.
Rosenberg posted on June 6 a broad request for information from private-sector real estate firms interested in striking a 30-year agreement with the city. The pact could take a variety of forms, from a straight management agreement to one where a real estate firm leases the entire building, then re-leases it to individual tenants.
The city is not looking to raise its overall costs, Rosenberg said. One of the major objectives is to shift the cost of future repairs to a third party, he said. There are no major replacements on the near horizon, he said, but Ballard is looking for a way to connect the building's south pavilion to the Cultural Trail.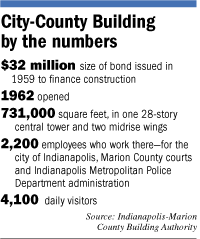 "We would be interested in creative proposals that would allow us to push the mayor's priorities further," Rosenberg said.
He hopes the RFI will at least generate ideas for using the space more efficiently. He also hopes a real estate firm would be willing to make an upfront payment in return for collecting rent from an extremely reliable tenant—government offices—for 30 years. He declined to say how much such a transaction might be worth.
"We're going into it with no expectations because we don't want to bias the market," he said.
Any cash would be spent on infrastructure projects, not to balance the budget, Ballard spokesman Marc Lotter said.
The existing $4.85 million lease, which includes unlimited utilities, amounts to $7.29 per square foot of rented space, building authority General Manager Ron Reinking said. That's less than half what the Marion County public defender and prosecutor pay to lease space in commercial office buildings downtown. Those leases extend into 2017.
"We feel we have offered to the city over a very long period a very economically attractive lease rate at the same time maintaining the building to the highest standards," said Abbe Hohmann, a commercial real estate broker who is chairwoman of the building authority board.
The building authority manages 19 other public facilities, including the Marion County Jail. The city and county would not have asked the agency to take on more property over the years if it weren't doing a good job, Hohmann said.
A municipal corporation, the authority was set up to finance and oversee construction of the building. It employs 75 people, most in building trades, who work on a range of properties. The city's request notes that any proposal should include a hiring opportunity for building authority employees, who are not part of a union.
Security, which is handled by the Marion County Sheriff's Department, is not part of the RFI.
The city's decision to issue an RFI doesn't necessarily mean the building authority will be out of the picture. It could respond to the RFI, though Hohmann said it has not yet decided whether to do so.
The City-County Building houses roughly 2,200 people working for city and county departments, Marion County courts and Indianapolis Metropolitan Police Department administration. The 36 courts contribute to an average 4,100 visitors a day.
"It's not comparable to a typical office building," Hohmann said. "Its desirability on the marketplace is to be determined."
Commercial real estate companies are likely to pitch an analysis of how the space is used with an eye toward bringing agencies that lease elsewhere into the City-County Building.
Gordon Hendry, first vice president at CBRE, thinks agencies could consolidate if the City-County Building were more modern. Creating the kind of environment that Rolls-Royce Corp. set up when it took over Eli Lilly and Co.'s Faris campus downtown, where no one has a permanent desk, is one possibility, he said.
The City-County Building, a steel structure with a featureless, black glass facade, is one of the most prominent government buildings in the state, said Hendry, who oversaw economic development for former Mayor Bart Peterson and spent six years working inside.
"In many respects, it doesn't reflect the kind of community we've become," he said.
CBRE, which plans to respond to the RFI, already advises the city on commercial redevelopment of the Massachusetts Avenue fire station, which will mean moving the Indianapolis Fire Department headquarters and the station. CBRE stands to earn a 4-percent commission, or $1 million to $2 million, from whichever developer is chosen for that project.
Reinking said the authority, city and county have evaluated use of space in the building, but it was "not to the extent that major expenditures were involved to make it happen."
The 28-story central tower and two mid-rise wings, plus the basement, are fully occupied, and it's been five years since the public defender moved out. Marion County Community Corrections, an alternative sentencing agency, took space at 140 E. Washington St. two years ago for a net cost of $12.90 per square foot, Chief Financial Officer Steve Dyson said. "We would've chosen the City-County Building if space was available," he said.
Other cities, including Newark, N.J., and Bridgeport, Conn., have sold and leased back municipal buildings to close budget gaps. Those deals cost more in the long run, a scenario Ballard definitely wants to avoid, Rosenberg said.
A sale-leaseback arrangement is possible, but that hasn't been discussed, Rosenberg said. Instead, the request for information mentions a "lease-leaseback," which could have the same effect of generating upfront cash.
"Certain investor groups like the certainty of a government client," said Kurt Little, the Chicago-based managing director of public institutions for real estate firm Jones Lang LaSalle.
Jones Lang LaSalle is teaming with another, unnamed, firm on its response, Little said.
One real estate executive doubted there will be a long list of groups wanting to invest in a 50-year-old building, which is likely to need major improvements in the next 30 years.
Though more investor groups are looking at publicly owned properties, "I don't know if there's a deep pool of money waiting for this transaction," said John Brown, director of project development at Inland Public Properties Development, a subsidiary of Inland American Real Estate Trust Inc. in Oak Brook, Ill.•
Please enable JavaScript to view this content.