Financial adviser Nancy Wilson finally can share her shameful secret: She's just not a Brooks Brothers kind of gal.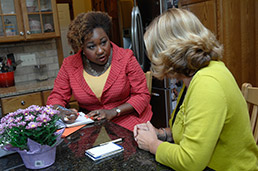 Sola Adelowo, left, works with client Nancy Wilson of Wilson Wealth Solutions to plan a menu and outfit for an upcoming event. (IBJ photo/ Perry Reichanadter)
Oh, she bought the requisite suit years ago for an official photograph, and quickly relegated it to the back of her closet. She'd pull it out every once in a while—it wasn't cheap, after all—but almost always opted for another outfit.
"I think I wore it once, maybe twice," Wilson admitted. "It wasn't me."
She came to that realization with the help of Sola Adelowo, a certified image consultant whose Indianapolis-based ImageCube LLC helps clients like Wilson find their personal style—and align it to their professional persona.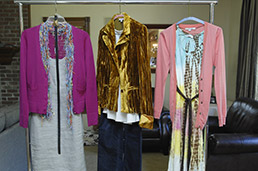 The winner: a magenta sweater and scarf (left) with jeans. (IBJ photo/ Perry Reichanadter)
In addition to working with individuals, Adelowo's firm offers a range of services to businesses, from "Look the Part" group training on dressing for success to deeper "Authentic Professionalism" sessions that aim to ensure that the up-and-coming fashion choices of executives support their career goals.
And this month, ImageCube is unveiling a three-hour "Dining Essentials" program—complete with a five-course dinner at Chef Joseph's at the Connoisseur Room—that promises to give participants the tools they need to fine-tune their social skills and create a lasting impression outside the office.
"People struggle with being themselves," said Adelowo, 34. "They have professional strategies, but when it comes to a social setting, they don't have a plan."

An insider tip: Knowing which fork to use or how to pass the salt isn't nearly as important as being able to carry on an engaging conversation. And folks who are comfortable in their own skin have an amazing advantage. That's where ImageCube comes in.
Adelowo's "personal brand" consulting uses a surprisingly scientific process that starts with a personality-type assessment and results in custom-style kits and an illustrated wardrobe guide. But the impact lasts far longer than the latest fashion trend.
"I find myself holding up clothes in the morning and thinking, 'What would Sola say?'" Wilson said with a smile.
A 26-year veteran of the financial-services industry, Wilson is a people person. But the results of her personality test gave Adelowo pause. Rather than the analytical bent you might expect, she showed a preference for making decisions based on feelings. Empathy comes more naturally to her than logic. And she'd rather wear a crushed velvet jacket than a pinstriped suit.
So now she does.
"You should wear clothes that support who you are and give you the freedom to be seen the way you want to be seen," Adelowo said. "To do that, you really have to understand who you are. Dig deep."
Adelowo and Wilson met at a Women In Insurance & Financial Services meeting and spent a day together last fall figuring out how to transform Wilson's professional wardrobe to reflect her personality. Out went the suit in favor of pieces like a magenta cardigan that can accompany anything from jeans to a dress. All told, Wilson discarded two-thirds of her clothing.
"If it's not you—not supporting how you want to be seen, not conveying the message you want to convey—it's got to go," Adelowo said. "That takes courage."
She also encouraged Wilson to ditch the quarterly client lunches she hosted at area restaurants in favor of gatherings in her Fishers home, where she can share her love of cooking with clients and prospects alike.
This month, she's hosting a couple dozen guests for a presentation on emerging markets. Adelowo helped plan the menu (appetizers and wine) and pick an outfit (jeans topped with the magenta sweater and a colorful scarf).
The appetizers—each inspired by an emerging market—are a good match for the bite-sized information that will be dished out, Adelowo said. And the venue allows Wilson to indulge her fun-loving nature with a more casual look.
"She has the vision, and I come in and help her figure out how to bring it to life," Adelowo said.
Adelowo launched ImageCube in 2008 while working as an underwriting manager for Chubb Specialty Insurance Co. In that role, she reviewed corporate operations—including things like dress-code policies—to identify potential liabilities and in the process rediscovered her love of fashion.
Born in Dallas, she was raised by her grandparents in Nigeria while her parents completed their education in the United States. In Nigeria, "appearance is a huge thing," Adelowo said. In her family's social strata, for example, most clothing is tailor-made for a specific event or activity, an "intentional" approach to style that resonated with her.
"It is a different way of communicating," she said.
She also got involved with Midwest Fashion Week, co-producing the Indianapolis event and acting as the organization's executive director for two years. She earned certification from the Association of Image Consultants International and left Chubb in 2011 to focus on ImageCube.
Adelowo already has an admirer in Linda Jimenez, chief diversity officer at Indianapolis-based WellPoint Inc.
"I was truly impressed with the words of wisdom she shared with me as a female executive," Jimenez said. "You really do only get one chance to make a lasting impression, and the image you project very much depends on your attire."
WellPoint hired ImageCube to provide an hour-long training for volunteer leaders of its associate resource groups—typically high-potential individuals who have their sights set on senior management.
Although WellPoint has a "business-casual" dress code, Jimenez said several participants have told her they now keep a jacket at the office, just in case they encounter a situation that demands a little more formality.
"We were pretty cognizant before," she said, "but now we all do a double take when we look in the mirror."
ImageCube also has worked with students that WellPoint employees are mentoring at Crispus Attucks High School, talking to them not only about their appearance but the impression they make online.
"I really love her ability to approach each situation, each audience and relate to them," Jimenez said. "She commands attention."
Indeed, Adelowo doesn't take the superficial quick-fix approach made popular by television makeover shows. For her and her clients, fashion is serious business.
"People who feel fashion doesn't apply to them are missing an opportunity to be strategic about how they present themselves and how they communicate nonverbally," said Phoenix Cavalier, a Seattle brand consultant who has worked with Adelowo both as a client and a contractor. "If you harness the power of image, you can benefit personally and professionally for years to come."•
Please enable JavaScript to view this content.