Busy professionals Carol Morotti and Scott Westphal don't have the time to travel as much as they would like.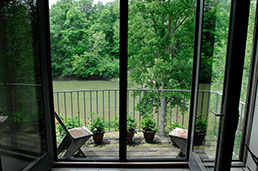 Some of the many windows overlook the White River. A nearby levee has never broken, but the house is three stories high in the event it does. (IBJ Photo/ Perry Reichanadter)
So it was on a long-ago trip to Hawaii that the couple decided to bring a little bit of vacation into their everyday lives, launching a design and construction process that would result in their dream home. Over six years, they planned and built a peaceful, contemporary haven on White River that at once serves as a house, workplace and retreat.
Completed in 2001, their residence in the quiet, quirky Rocky Ripple enclave near Butler University is functional, airy and artistic. The idea behind the 1,800-square-foot house was to give Morotti and Westphal a place to feel comfortable and relaxed even as they juggled the demands of career and family.
"Scott and I were on the island of Kauai when we decided to build a 'home as [a] retreat' on this property," said Morotti, a grandmother, avid cook and owner of a locally based residential design firm.
Several design influences are at play in the home, which features stucco walls, antique furniture and heated concrete floors.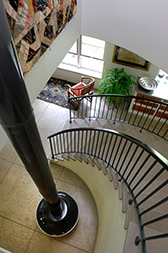 The second-floor main living spaces are linked to the third-story master suite by a spiral staircase. (IBJ Photo/ Perry Reichanadter)
"We started with a Southwest feel, then got into more of a Mediterranean look," Morotti said. A constant throughout the house are the neutral white walls selectively adorned with paintings by Morotti and other artwork.
Their home isn't just a marriage of styles, but a blending of philosophies and design approaches.
"I am spontaneous and Scott is analytical, so when we select something for our home, our process is to explore all possibilities and that often seems to take forever," Morotti said. "The decision made, we love it."
The house was a personal and professional mission for Morotti, who brings residential design clients to her home office to explore a range of design possibilities for their own projects.
"Because of what Carol does, we kind of designed this house as what we wanted to showcase," said Westphal, the owner of two local Great Frame-Up shops and an accomplished sculptor and metal worker.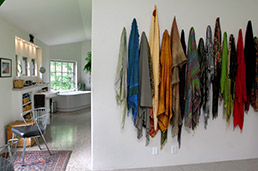 Scarves hanging on a wall adjoining the master bath double as functional art. (IBJ Photo/ Perry Reichanadter)
Toward that end, the house features a variety of elevations, roof lines and ceiling heights that inspire the owners and visitors alike to think outside the architectural box.
"We wanted to show what is possible," Morotti said.
She said clients are often drawn to the ceiling choices. In the Morotti/Westphal home, those include angled ceilings, vaulted ceilings and beamed ceilings, all of which she has used in her client work.
The design and construction was a true collaboration, and such a successful one that the two decided to keep working together on outside projects. Westphal converts Morotti's designs into scale models that she says help envision a project before it takes shape.
The seamless combination of work life and home life envelops not only Morotti's love of architecture and painting, but her husband's passion for sculpture as well. Though Westphal maintains a full-time schedule running his frame shops, he still finds 20 to 30 hours a week to spend in his home studio over the garage.
Westphal turns metal into sculpture when he isn't running his frame shops. Morotti designs homes in her office nearby. (IBJ Photo/ Perry Reichanadter)
The 600-square-foot studio—where the couple actually lived while the rest of their house was under construction—is a creative, industrial space for Westphal to conceive and produce his metal pieces, all of which are inspired by the lines of the construction I-beam.
When the large, heavy pieces are finished and sold, Westphal can lower them to the ground through a garage door at one end of the second-story studio. Smaller pieces are on display throughout the home.
The realization of his home studio and private retreat was a long time in coming for Westphal, who eyed the riverfront property for years before purchasing it in 1988. Together, he and Morotti embarked on their second marriages when they wed on the property in 1993. It was another six years before they tore down the existing house and began construction.
The previous structure, which covered less than 1,000 square feet but shot up five stories, acknowledged the unique considerations of a riverfront property. Though an 85-year-old levee has never been breached, the threat of rising water prompted Morotti and Westphal to build up, as well.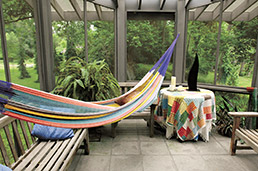 A screened-in porch on the second story. (IBJ Photo/ Perry Reichanadter)
Their main living space—which includes the kitchen, dining room, Morotti's office and a screened-in porch—occupies the second story. A curved staircase leads to the third-floor master suite, an open-concept space with ample windows and natural light.
A "bridge room" extends from the kitchen between the second and third floors. A view from the outside of the house best illustrates the room's name, as it can be seen bridging the main living space with garage and studio space.
The bridge room used to serve as Morotti's office. When she moved to the lower level, the couple converted it into a sitting room, library and home theater.
Above all, the home is the expression of the couple's design sensibility and shared love of design.
"We must have really gotten it right," Morotti said, "because there is no place we would rather be."•
Please enable JavaScript to view this content.