In a world that has embraced the Subway/Qdoba style of assembly-line meal creation, you might very well see Poccadio Moroccan Grill (1045 Broad Ripple Ave., 252-5911) popping up elsewhere over the next few years.
And that would be a very good thing.
While I'm all for $5 footlongs and overstuffed burritos, I find it a lot more interesting to choose between kafta and shawarma, between chickpeas and cilantro, and between cucumber yogurt and charoula when constructing a sandwich. And Poccadio—part of the strip center that shares a parking lot with Thr3e Wise Men Brewery—has these and more. Unlike Subway sandwiches, most of these Moroccan elements work just as well on a plate as they do between bread.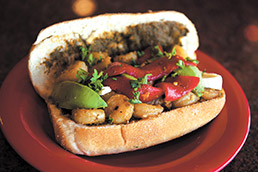 You pick the Moroccan mix at Poccodio. (IBJ photo/Eric Learned)
On a recent visit, my Plate ($12) was anchored by the Chef's Blend Shawarma, strips of spiced lamb and beef so good you'll understand why even the superheroes in "The Avengers" talk about it. Three sides come with it, although the enthusiastic gentleman at the counter scooped on the roasted red potatoes before I could even state my first choice. I did have a say in the second and third choices, though, opting for Moroccan Marinated Carrots and Zaalou, a traditional eggplant spread served with pita. Thanks to these, I didn't miss chips on the side for a second.
Don't feel comfortable making so many choices? There are plenty of Chef's Selections. We sampled the Casablanca Poccadio ($8), featuring grilled shrimp with mozzarella, avocado, grilled onion and red peppers, and charmoula on housemade bread, as well as the hearty Berber Poccadio ($8) with grilled chicken strips, zaalouk, kalamata olives, romaine and cucumbers.
Not that we needed more, but the Harira Soup ($4) as a starter and the Baklava ($2) as a closer were both on par with the rest of the meal. The tomato cilantro soup featured chickpeas and saffron rice. The Baklava was flaky on the outside and dense with almond goodness on the inside.• —Lou Harry
__________
First in a month-long series of "Grill" restaurants.
Please enable JavaScript to view this content.