After 20-plus years in the field, Steve Gray has heard plenty of remodeling horror stories. So when he built his own firm, he set out to offer an alternative ending.
That approach helped Steve Gray Renovations grow during the industry's worst downturn in more than two decades. And now as the market recovers, the 7-year-old company is tackling increasingly ambitious projects.
"We work extremely hard to stay above the curve," said Gray, 47.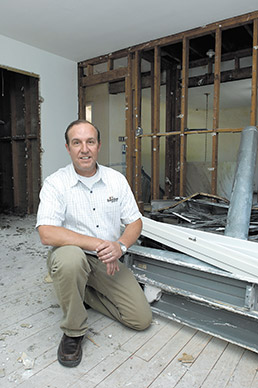 Steve Gray manages more than a dozen major renovation projects each year. (IBJ Photo/ Perry Reichanadter)
So far, so good. Gray oversees more than a dozen high-end remodeling jobs each year, and his firm's handyman division tackles up to 50 smaller projects. Gray said financial results have improved every year, and 2012 already is a record-breaker. The Indianapolis-based company had booked twice as much business by April 1 as it did all of last year.
"The economy's back," Gray said with a grin. "I think that's a fair statement."
Indeed, home-improvement spending is expected to increase over the next several years, recovering ground lost during the recession. The national remodeling market, which peaked at more than $325 billion in 2007, had dropped 12.5 percent by 2009, according to a study released last year by the Joint Center for Housing Studies at Harvard University.
Gray said he bucked the trend by focusing on the big picture rather than the bottom line. It's a lesson he learned while working for others: Take care of customers, and the business takes care of itself.
"If you focus on the money, you're not developing relationships," he said.
He started his company in 2005, aiming to give clients a positive remodeling experience. No low-balling costs to win a job. No overly optimistic project schedules. No disappearing act when the inevitable complications arise.
Instead, he invests time on the front end, making sure he and his handpicked subcontractors—whom he prefers to call project partners—understand the scope of the job and what could go wrong. Then he gives customers the straight scoop.
"Steve is one of the most fair and honest people I know," said longtime client Sally Friend. "He'll tell you the truth even if it's something you don't want to hear. It's not just a marketing tool. It's who he is."
Gray said he wants to educate consumers about the remodeling process. He doesn't want surprises any more than they do. And if that means his bid is higher than others? That's OK.
"Even if we don't get the job, we created a relationship," he said. "We showed we were trustworthy."
Of course, not every project goes off as planned despite the prep work. But Gray deals with problems head-on.
"Do we have challenges? Most definitely. But when we do, we stop, address the issues and move forward," he said. "It all comes down to communication."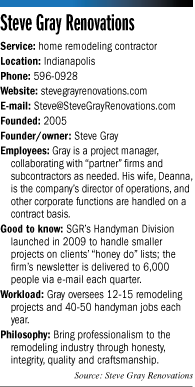 That goes for subcontractors, too. Gray literally spells out his performance expectations in a job-site checklist that includes things like using clean drop cloths and not parking in front of mailboxes.
Such concerns may sound minor, but clients appreciate the extra effort.
"He kept the workplace tidy," said Stan Cox, a Geist Reservoir resident who worked with Gray on a $200,000-plus renovation project. "It radiated cleanliness."
But what really got Cox's attention was the service he received during smaller jobs.
"There didn't seem to be a difference between the big project and the small ones," Cox said. "He just dove right in."
That's the nature of the business, Gray said. Happy customers often become repeat customers—representing as much as 40 percent of the firm's client base, he said.
"If the client relationship is good, we may get the opportunity to win more business down the road," he said. "It does add up."
Steve Gray Renovations' handyman division formed in 2009 to win some of the smaller jobs—and get an inside track on future projects. Gray also relies on the company's robust website to generate leads.
That's how he landed one of his biggest projects yet: a seven-figure overhaul of a Zionsville home. Designer Gary Nance said the project shows Gray's patience is paying off.
Rather than "grabbing [business] just to grab" when he started out, Gray built a steady foundation, Nance said. Now, "it's really taking him to a whole other level."•
Please enable JavaScript to view this content.