Max Siegel knows something about maneuvering through traffic on a fast track.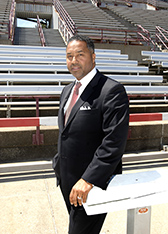 Max Siegel (IBJ photo/Perry Reichanadter)
So the former NASCAR team executive didn't hesitate in May to take a two-year contract to be CEO of USA Track and Field, a locally based sports governing body known for its political environment and divergent viewpoints.

Undaunted by that reputation, Siegel is promising to pull athletes, their agents, sponsors, event promoters and the sport's television partners together to lift track and field's image and revenue—especially domestically.

And he wants to bring big-time track and field meets back to the IUPUI track stadium on a regular basis.

Siegel has met with representatives of the Indiana Sports Corp. and the Mayor's Office, and he's had discussions with Indiana Pacers President Jim Morris and Browning Investments Inc. CEO Michael Browning—leaders in the city's amateur sports community—about increasing exposure for track and field and bringing some of the sport's spotlight events here.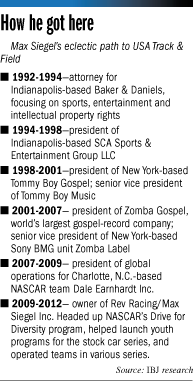 He also has met with leaders from USATF's primary TV partners—NBC and ESPN—and its primary sponsor, Nike. He plans to launch an ambitious marketing campaign on the heels of this summer's London Olympics, which begin July 27.

People within the sport describe Siegel, 47, as a more politically savvy and congenial version of his predecessor at USATF, former Major League Soccer executive Doug Logan, who was fired in 2010.

Steve Miller, the USATF board member who led the CEO search, said Siegel's interview for the position "was killer. He was armed with a tremendous amount of information. His vision was very clear."

Greg Harger, who coaches an Indianapolis-based track and field team made up of Olympic hopefuls, is optimistic Siegel will balance the needs of the sport's sponsors and TV partners with that of the athletes.

"I haven't heard a bad word about Max Siegel in this town or otherwise," Harger said. "I am hopeful that someone with this kind of marketing background can tackle some of the big and obvious issues facing the sport."

Siegel must start by listening to USATF's member athletes, Harger said, something that hasn't happened in recent years.

"The national office has been running roughshod and it's ridiculous," he said.

The recent U.S. Olympic trials, one of USATF's most high-profile events, provided a rough start for Siegel.

The entire Olympic trials in Oregon were overshadowed by the controversy in the women's 100-meter dash, in which Jeneba Tarmoh and Allyson Felix appeared to tie for third place.

Siegel and his staff were left hurrying for a solution since they had no procedures in place to deal with the situation. USATF officials even considered a coin flip to determine the outcome.

Further complicating the situation: Tarmoh initially was declared the third-place finisher, earning her the last spot on the U.S. 100-meter-dash Olympic team.

After the two runners agreed to a prime-time run-off on NBC, Tarmoh pulled out the day of the scheduled race, saying she thought she had won the original race.

The prime-time run-off would have been a boon for U.S. track and field. Instead, it turned into a black eye, sports marketers said.

Familiar territory

If Siegel is looking for allies in his effort to polish USATF's image, he'll likely find them on familiar ground.

Allison Melangton, who is wrapping up her work as 2012 Super Bowl Host Committee CEO and will take over as president of the Indiana Sports Corp. in September, said she is pleased that someone with Indiana roots is taking USATF's top job.

"Max knows Indiana and the Sports Corp. well and is passionate about Indianapolis," Melangton said. "Having Max in that position is a win-win."

Siegel spent his early career working for Jack Swarbrick as a sports and entertainment attorney at Baker & Daniels law firm before becoming president of Sony's Zomba Gospel, the world's largest gospel record company. In 2007, he became president of global operations for Charlotte, N.C.-based NASCAR team Dale Earnhardt Inc. After he left DEI in 2009, he worked as a consultant for NASCAR, launching diversity programs and starting several youth initiatives within the stock car series.

Melangton said Siegel won't be afraid to make bold changes at USATF.

"Max is a visionary leader and a person that analyzes all the angles," said Melangton, who first collaborated with Siegel in her days with USA Gymnastics in 1991. "He's a very skilled and talented leader."

Melangton is set to meet with Siegel, a native Hoosier and University of Notre Dame graduate, soon to discuss future possibilities and partnerships.

While Melangton said there's no agenda for their meeting, she made no secret about her interest in bringing national and international track and field events back to Indianapolis.

Built in 1982, the Michael A. Carroll Track & Soccer Stadium at IUPUI once held some of the world's biggest meets, including the 1988 Olympic Trials. But over the last decade, big-time events there have been infrequent. The last one was the 2007 USATF national championships.

IUPUI recently installed a $1.2 million artificial all-season surface on the track's infield, but sources close to the sport said the facility needs another $1 million to $2 million in improvements.

"Certainly, getting events into the IUPUI track is on [ISC's] agenda," said Melangton, who will replace retiring ISC President Susan Williams. "We want to keep the track in play for national and international events."

Leveraging pop culture

Siegel thinks the sport can grow revenue by raising the profile of its athletes, which will in turn bring more attention to its events.

"USATF does no advertising," Siegel said. "None. How can that be? We have compelling stories to tell."

Siegel is promising to use his media contacts to find some less traditional means of exposure for track and field athletes.

"I not only want to work with our TV partners at NBC and ESPN, but I want to diversify, seeking a bigger audience in the African-American and Hispanic markets," Siegel said. "I want more exposure on ESPN's SportsCenter, but I also want to forge partnerships with outlets such as [Black Entertainment Network] and gain exposure on programs like 'Access Hollywood.'

"I'm big on integrating this sport into mainstream pop culture. I want to appeal not only to sports fans, but to become culturally relevant to your mom or a teenager."

Getting that additional exposure is just one item on a long to-do list that includes improving the event schedule, increasing sponsorship revenue, developing a long-term growth plan, and growing USATF membership.

One of Siegel's most pressing jobs will be extending USATF's deal with Visa, which expires after this year. Visa—along with BMW, Nike and Gatorade—is the lifeblood of USATF and its programs. Sponsorship revenue accounts for almost 60 percent of overall revenue.

"Revenue growth is my most pressing concern, but it's important to remember the most important sponsor is the one you already have," Siegel said.

USATF's biggest expenses are elite athlete development and support, but the group also pays to host 20 to 25 cross-country and track events annually, youth and master's programming, and other member services.

If Siegel can keep his own staff and board of directors happy, he'll be doing more than his predecessor.

Logan was hired in 2008 and promised to double the organization's budget from $15 million to $30 million within four years and clean up the Olympic selection process and training programs along the way.

While Logan made some progress, including increasing the organization's budget by about $5 million, he was fired by the board he helped restructure—cutting its size from 27 to 15 members. Logan lasted just two years.

Ironically, Siegel took a seat on the organization's board during Logan's overhaul. After Logan was fired, Siegel's firm was hired as a consulting agency.

Siegel said he's happy with the composition of USATF's board and staff and "won't grow for growth's sake."

"I think if you grow revenue—and that's my intention—the staff will grow as a result of that."•