An Indianapolis Honda dealer is eyeing a site for a store that would front State Road 37, in Fishers.
Honda West has filed with the state preliminary plans for a store at 13661 Britton Park Road, near Pinheads Entertainment Center.
Also nearby is Andy Mohr Mitsubishi and new Nissan and Kia stores operated by Butler Automotive. A large body shop facility is being constructed in the vicinity as well.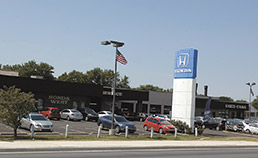 Honda West has operated at 4701 W. 38th St. since 1979. (IBJ Photo/ Perry Reichanadter)
Honda West officials declined to comment. A woman who works at the store said an agreement to secure the Fishers property was pending.
The dealership has operated at 4701 W. 38th St. since 1979. It's unclear whether that facility will continue in its present form if a Fishers location is built.
The west side has lost several prominent retailers over the years as well as car dealers such as Paul Harvey Ford, which operated down the street from Honda West.
However, a number of other new-car stores in that area were acquired by Greenwood-based Ray Skillman, who operates his own, multi-brand auto mall up and down Pike Plaza Road, just to the north.
Still, car dealers have followed other retailers into more-affluent suburban locations. For example, Lockhart Automotive this year moved new Cadillac sales from a longtime Keystone Avenue location near Broad Ripple to its former Hummer store in Fishers.
The Hamilton County town has become more attractive to dealers as its population has exploded, noted Marty Murphy, executive director of the Automobile Dealers Association of Indiana.
Oftentimes, dealers like to cluster in a general area because shoppers tend to "ping-pong" from store to store to comparison-shop, he said.
Please enable JavaScript to view this content.