With high heat and drought conditions pressing down on Indiana in the early weeks of summer, area golf courses are struggling to keep the courses green and lush.
Mark Nance, who operates city-owned Coffin and Riverside golf courses, said he expects his water bill to be up at least 10 percent, or about $3,000, this year.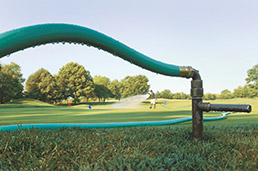 Crooked Stick Golf Club's new $1.9 million irrigation system has 2,500 heads and is capable of spraying varying amounts of water on greens, fairways and rough areas. (IBJ Photo/ Perry Reichanadter)
Courses on wells also have issues. Officials for The Legends, a semi-private course in Franklin, said their electric-powered irrigation system pushed the course's June electricity bill to its highest monthly total since the course opened in 1993.
Course superintendents and their staffs are working 16-hour days trying to keep grass alive. They're using automated systems and watering some sections by hand while constantly monitoring ground temperatures and moisture levels.
"Watering a course is definitely a science," Nance said. "In weather like this, you can lose a course in a day or two. And this time of year, if you lose it, it isn't coming back."
Courses that don't get it right are looking at $25,000 to $50,000 in re-seeding and restoration costs, industry officials said.
No area course is under more pressure than Crooked Stick, which is hosting a PGA Tour event, the BMW Championships, in September. The event will draw the top 70 golfers in the world, along with 150,000 spectators and a nationally televised audience. PGA officials are set to inspect the course this week to make sure it's in championship condition. (See below for a video on high-tech tactics used to keep the turf in shape.)
"We're all very concerned about the next 30 to 45 days," said Tony Pancake, Crooked Stick's director of golf.
PGA officials will inspect the quality of tee boxes, greens, fairways and the thickness of the rough areas on the outer boundaries of the course.
Crooked Stick has two things going for it. The 200-acre course in Carmel is on a well, which helps keep its watering costs down. Even with its deep well and network of holding ponds, Crooked Stick has had to tap into Carmel's water supply through a fire hydrant to supplement its own stores.
The majority of water used to keep the course green will come from Crooked Stick's well, said Pancake, who expects a water bill for the season of about $4,000 for tapping Carmel's city water. Many courses without wells have a $30,000 water bill on an average year. Some expect to approach $40,000 this summer.
Even more significant for Crooked Stick officials was their decision to install a new, $1.9 million irrigation system this past off-season.
"I have no doubt [Crooked Stick] is going to be in great shape, right where the PGA wants it to be," said Ted Bishop, director of golf for The Legends Golf Course in Franklin who also serves as PGA of America's vice chairman.
Given this year's severe weather, Bishop doubts Crooked Stick could meet the PGA's standards without the new irrigation system.
Newer irrigation systems have several programmable features, Bishop explained. Most important is the ability for the system to focus on small areas of the course and vary the amount of water sprinkled.
"The bent grass on the fairways is going to require a different amount of moisture than the blue and fescue grasses in the rough," Bishop said.
Though the rough areas may look like overgrown weeds to the uninitiated, Bishop said the thickness of those areas is critical to PGA officials. Thinner roughs, Bishop said, are easier to play out of and don't penalize the players enough for making a bad shot.
Most golf courses can't afford to invest in a sophisticated irrigation system, Bishop said, but for Crooked Stick, a private club, it appears to be paying dividends.
The new irrigation system and the quality of its course through some of the roughest weather conditions Bishop said he's seen in more than 30 years in the golf business has put Crooked Stick in the running for PGA Tour events beyond this year.•
 
Please enable JavaScript to view this content.