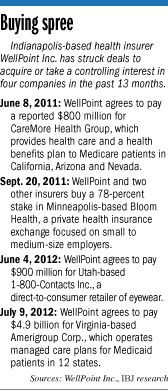 The buying spree is back on at WellPoint Inc.
The Indianapolis-based health insurer has put together a string of deals in the past 13 months that is reminiscent of the acquisition binge that ran from 1999 to 2005 and made the company the nation's second-largest health insurer. 
But the similarities between the two periods pretty much end there. A decade ago, then-CEO Larry Glasscock consolidated Blue Cross and Blue Shield plans that catered to employers. Today, his successor, Angela Braly, is making deals to grow the non-employer part of WellPoint's business.
That's because President Obama's 2010 health law is fueling a two-pronged mega-trend in health insurance: increasing the role of both government and consumers in the health insurance marketplace. Those developments will lead to fewer workers covered directly by an employer health plan.
So WellPoint, which has dominated employer-sponsored insurance in its markets, now must change its game. Acquisitions will be key to making that shift. 
"We continue to be interested in acquisitions, and we'll continue to consider them as they come," Braly said July 9 after announcing a $4.9 billion deal to acquire Virginia-based Amerigroup Corp., which manages health benefits for Medicaid patients in 12 states.

Braly
Since June 2011, WellPoint also acquired CareMore Health Group, which provides care and benefits to high-need Medicare patients, and 1-800-Contacts Inc., a direct-to-consumer eyewear retailer. WellPoint also teamed with insurers in Illinois and Michigan to acquire Bloom Health, which operates online health insurance exchanges for employers.
In all, WellPoint has shelled out more than $6.6 billion for those four purchases.
More deals coming?
Any further deals probably would focus on companies that can give WellPoint a full array of services for individual customers in either the federal Medicare program for seniors, the Medicaid program for low-income patients, or the online health insurance exchanges that states will launch in 2014, according to Wall Street analysts and health insurance professionals. 
That's likely to include disease management companies that have had particular success keeping patients healthy and needing less medical care.
It also could include more companies like 1-800-Contacts that help WellPoint appeal to individual buyers in the health insurance exchanges—particularly to younger and healthier customers that might be tempted to skip coverage in favor of the modest taxes they will be charged under Obama's health law.
WellPoint has analyzed 275 consumer-focused companies over the past year, Braly noted during a June 6 investor conference at which she discussed the 1-800-Contacts deal.
"When you do consumer surveys of our members, particularly young and healthy ones, they define their health care experience much broader than we traditionally have in terms of health insurance," Braly said, according to a transcript of the conference. "And they include their eyes, their vision, their eyewear in that. And they also include dental and just related capabilities and services."
What is much less likely—though an outside possibility—is that the new environment will prove too challenging for some not-for-profit Blue Cross and Blue Shield plans, leading their states to convert them to for-profit status. That could set the stage for WellPoint to acquire them, as it did so avidly under Glasscock.
"The states could really be budget-constrained and then they look for other sources to address those constraints," said Ana Gupte, a health insurance analyst at Bernstein Research in New York.
But Gupte views that outcome as unlikely politically for now. Instead, she thinks WellPoint has most of its bases covered on health insurance, and probably doesn't want to take on additional debt to do more deals.
So now it's time to focus on integrating and expanding the acquisitions it has made, she said.
WellPoint has had some difficulties managing its core insurance business, Gupte said, adding that moving more into Medicare and Medicaid patients presents new challenges. "Medicaid is a very hard population to treat." 
Under Glasscock, WellPoint and its predecessor company, Anthem, delighted investors by making huge acquisitions and integrating them well enough to not lose customers. In fact, WellPoint's businesses kept adding customers even as they were merged with other companies.
But WellPoint's performance has been less consistent under Braly, even before the company started its recent string of deals. Computer problems left over from the Glasscock era have made it difficult for WellPoint executives to see big changes in their customers' medical claims—leading them to misprice their products a few times in recent years.
Most analysts who cover WellPoint have noted this mixed performance and said there is "execution risk" to WellPoint's acquisition of Amerigroup.
Still, they expect WellPoint's latest deal to help it offset—or nearly offset—the negative impact it will feel from Obama's health care law.
A provision of the law already has kicked in that requires health insurers to give rebates to customers when less than 80 percent of their premiums are spent on medical care. The threshold is 85 percent for large employers.
And beginning in 2014, health insurers no longer will be able to deny coverage to patients with pre-existing medical conditions. Nor will they be able to charge sicker patients higher premiums—beyond charging higher prices to older patients or tobacco users.
Those changes will pressure WellPoint's ability to make money from its small-business and individual customers, which currently account for 30 percent of its annual profits from operations. None of its publicly traded peers are as vulnerable in those areas.
Brian Wright, an analyst at Monness Crespi Hardt in New York, estimates the hit to WellPoint's overall operating profits could be as high as 15 percent—or $550 million annually beginning in 2014.
"The [Amerigroup] transaction plugs the potential hole," Wright wrote in a July 10 note to investors.
Exploiting opportunities
WellPoint's deals also are designed to capitalize on new opportunities created by the health care law, known as the Patient Protection & Affordable Care Act.
One of the biggest is the law's privatization of benefits for so-called "dual eligibles"—seniors on Medicare whose incomes are low enough to also qualify for Medicaid.
These 9 million Americans rack up an annual health bill of $300 billion—or more than $33,000 per person. State governments, each of which operates its own Medicaid plan, are now soliciting bids from private companies to help keep those patients healthier and keep their bills down—something known in the industry as "disease management."
WellPoint officials think its acquisitions of Amerigroup for Medicaid and CareMore for Medicare put it in a good position in states that account for $180 billion of the "dual eligible" spending. In all, the contracts for those states could bring WellPoint as much as $16 billion in annual revenue.
The trick for WellPoint and its peers, however, is that no one has figured out a magic formula on disease management, said Alex Slabosky, the former chief of the M-Plan HMO and a Senior Smart Choice Medicare plan for seniors. Slabosky retired last year from Indiana University Health Plans.
"A lot of different organizations have different approaches on how to do disease management. I don't think they've reached a point where they've mastered it," Slabosky said.
He added that WellPoint is "buying these companies because they're trying to buy the expertise, the policies and procedures. … It's trying to find the organization that's doing it most successfully."
Slabosky said he expects WellPoint to acquire more disease management firms. There are few large ones, other than Tennessee-based HealthWays Inc., although there are myriad disease management firms being scaled up by venture capital firms now.
Being strong in Medicaid and disease management could prove vital for winning in the new online health insurance exchanges, too.
The Affordable Care Act raises various taxes to fund subsidies for buying private health insurance for Americans earning from 100 percent to 400 percent of the federal poverty limit.
It also asks states to expand their Medicaid programs to allow in families making up to 133 percent of the federal poverty limit.
As a result, WellPoint officials expect many patients to switch back and forth between exchanges and Medicaid from one year to the next. It will be important to be able to offer both kinds of services in each state where WellPoint operates.
The Obama health care law provides for some higher payments to insurers that attract sicker patients. But the road to higher profits for health insurers will still be to attract a good mix of healthy and sick customers—and to keep the sick customers' costs down as much as possible by helping them manage their diseases.
WellPoint's joint purchase of Bloom Health could help it prepare for exchanges run by state governments. In addition, it has been testing new insurance products on 23,000 customers to see what mix of sick and healthy patients they get and what amount of medical claims they generate.
Wayne DeVeydt, WellPoint's chief financial officer, said during the June 6 investor conference the company wants to "really make sure that we're in a position that, come 1/1/14, those investments that we've been embedding in this year actually pay off the way we want them to."•
Please enable JavaScript to view this content.