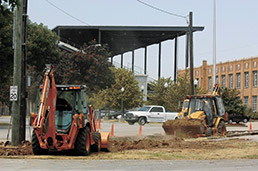 The Fall Creek Parkway fairgrounds entrance is getting an extra lane for traffic at this year's state fair, Aug. 3-19. (IBJ photo/Perry Reichanadter)
The Indiana State Fair is raising admission prices and adding a parking charge as it tries to recover from a big hit to its bottom line caused by last year's tragic stage collapse.

Fair admission at the gate has increased for the first time since 2006—from $8 to $10. And a first-time $5 charge has been instituted for parking inside the fairgrounds.

The 2011 Indiana State Fair drew 872,312 visitors, down 8 percent from the 952,020 that attended in 2010, according to fair officials.

Officials had hoped attendance for last year's fair would hit 1 million for the first time, but a stage collapse just before the Sugarland concert on Aug. 13 that killed seven and injured dozens more took a heavy toll on attendance.

The fair closed the Sunday after the tragedy on a day expected to attract 60,000 visitors. Several big concerts and events were then canceled, also costing attendance, and attendance was down for several days after the fair reopened.

As a result, the fair's overall revenue declined from $11.9 million in 2010 to $8.38 million in 2011. Profits shrank from $1.23 million to $310,953 during the same period.

Hoye
Fair Executive Director Cynthia Hoye and Board Chairman Andre Lacy say the price hikes are to pay for increased attractions at this year's event and not to make up for the possibility of attendance and revenue losses due to the reduction of headline concerts—from six to eight before, down to four now—and the movement of those shows from the fairgrounds to Bankers Life Fieldhouse.

"We've programmed this fair differently than we've ever programmed it," Hoye said. "We think we have a lot of attractions to draw people in. We think the biggest variable in our attendance will be the weather."

The venue shift and headline show reduction should have little impact on the fair's bottom line, because the headline shows have never been a profit center, Hoye said.

"The money we brought in for those shows only served to cover our costs for the show," she said.

Lacy and Hoye said they are confident the added attractions will keep attendance and revenue up at this year's fair, which will be Aug. 3-19.

"The main point of those [headline] shows is to draw people to our campus," Lacy added. "We think we've addressed that by offering free fair admission as part of the concert ticket."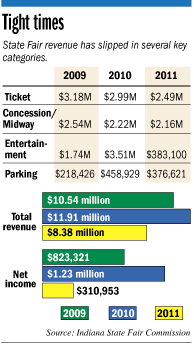 Fair officials are promising attendees more bang for their buck. Attractions ranging from a country music showdown and Ted Nugent concert to lumberjack and extreme sport shows are on tap to keep fairgoers of various ages entertained.

"There's no question with the [headline acts] being held off-site this year that we wanted to make sure people know there is plenty of live music and entertainment at the fairgrounds," said fair spokesman Andy Klotz.

Entertainment options have increased "500 percent" over last year, Klotz estimated.

"This year, we have more programming than we've ever had and people are going to notice," he added.

Fair officials said those increased offerings carry a cost.

"In order to have such a high-quality event, we have to raise the admission price from time to time," Klotz said.

But the fair remains a great value, he said. "We don't expect much fallout from the ticket increases."

Despite the fee hikes, Indiana State Fair prices still stack up favorably against neighboring state fairs. Gate ticket prices are $7 at the Illinois State Fair and $10 at the Ohio and Kentucky state fairs. Parking is $5 at Ohio's state fair, $7 at Illinois', and $8 in Kentucky. Michigan no longer holds a state fair.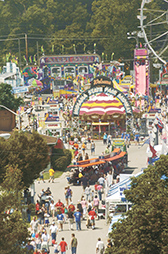 Midway and concession revenue has dropped two years in a row. Fair officials hope a variety of new attractions—like a motorcycle race, Wild West show and a Beatles tribute band—get more Hoosiers through the turnstiles to all parts of the fair. (IBJ file photo)
Indiana State Fair officials said they will deliver more entertainment than surrounding fairs.
"We're one of the most reasonably priced fairs of our caliber in the country," Klotz said.

There are plenty of options this year for discounted tickets, he said. Advanced-sale tickets remain $7 and, for the first time, fair officials are offering a three-day ticket for $18. A newly installed $300,000 ticketing system allowed fair officials to offer the multi-day ticket, Klotz said.

While the parking increase will sting many who like proximity, Klotz pointed out that the fair continues to offer a free shuttle to and from Glendale Mall. Mall parking is free, and the shuttle runs every 20 minutes.

Fair officials began charging for close-in parking in 2006 when it began charging at its lots along 38th Street and Keystone Avenue. The fair started charging patrons to park at the Indiana School for the Deaf in 2010. Those surrounding lots charge $5.

Fair officials plan to start an advertising blitz later this month to tout the fair's new attractions and discount ticket options.

The fair shows that will be held at the fieldhouse are Barry Manilow, Train with Matt Kearney and Andy Grammer, Journey/Pat Benatar/Loverboy, and Blake Shelton. In years past, the headline shows combined usually drew more than 50,000 to the fair.

Though fair officials are offering those concert-goers tickets for free fair admission on any day of the 17-day fair, tourism experts aren't sure a majority of the tickets will be redeemed.

"In today's world, people are busier and more tightly scheduled than ever," said Jay Gladden, dean of the School of Physical Education and Tourism Management at IUPUI. "So I'm a little skeptical that people who go to those concerts will also go to the fair. It's two separate outings."

Attendance at the four headline acts this year could suffer because many fair concert attendees are traditionally people looking for an outdoor experience, Gladden said. Previously, most of the headline fair shows were held outdoors.

"Certainly, the concerts being held off-site creates a more disjointed experience for the customer," Gladden said.

Still, he doesn't expect fair attendance to be dented too badly—by the concert movement or price increases.

"The state fair in Indiana has a very strong tradition," Gladden said. "I think there is a large group of people who will attend to show support in light of what happened last year, and to show this is a great event the state takes enormous pride in."

Fair officials haven't decided where they'll hold headline concerts next year, but said once the Pepsi Coliseum is renovated, the headline acts will return to the fairgrounds in 2014.

Pacers Sports & Entertainment, which operates Bankers Life Fieldhouse, will get no rent for the four fair shows. Instead, PS&E agreed to take $2 per ticket sold plus concession and merchandise revenue, fair officials said. The state fair will absorb the costs of producing the shows.•