Expecting diminishing returns in its traditional business of providing blood to hospitals for transfusions, Indiana Blood Center is tapping a new vein of revenue by participating in an emerging style of treatment for cancer patients that aligns with some of its usual services.

The Indianapolis-based not-for-profit is now collecting and processing blood from patients taking part in a new treatment for prostate cancer named Provenge, developed by Seattle-based biotech firm Dendreon Corp.

As it does with most of its blood donations, IBC separates the Provenge patient's blood into underlying cellular components, which can include the immune system's white blood cells. It then sends the patient's white cells to Dendreon for a process that supercharges their ability to find and fight prostate cancer.

The work for Dendreon falls under the IBC's recently founded regenerative medicine program. The center's leaders believe the program is on the leading edge of this kind of cellular therapy—using a patient's own cells to fight disease—and that its applications and popularity will only grow. And along with that growing popularity, the profit margins for IBC's role of the process will swell, as well.

"It's an extension of what we do and what we have always done with our blood collection technology, and it's an opportunity to create additional revenue streams," said Byron Buhner, president and CEO of Indiana Blood Center. "For us to continue to be a go-to [provider] for transfusion medicine, we have to continually reinvent ourselves on the latest medicine and provide it."

Similar cellular-therapy treatments for other cancers are in the clinical testing phase, according to Dr. Julie Cruz, the IBC's associate medical director and head of the regenerative medicine program. The center expects to widen the program to take advantage.

"Our first expansion in the area will be more therapies for more types of these diseases," Cruz said. "In terms of looking at the future, cell therapy is going to be where it's at."

IBC is one of at least 20 or so regional blood centers in the United States working with Dendreon and collecting blood for the Provenge treatment, according to Jim MacPherson, CEO of America's Blood Centers, a network of more than 600 donor centers. The group worked with Dendreon to help establish relationships with member centers.

"We know that cell therapies are going to explode," MacPherson said. "We're gearing up for this to be a big [revenue-producing] area in the future."

For now, the Dendreon program represents a tiny segment of IBC's revenue. The center has seen about 100 patients for the blood-collection procedure since April 2011. It is reimbursed approximately $4,500 per patient by Dendreon for performing the procedure, which requires three patient visits over six weeks.

In its 2010 fiscal year ending June 30, 2011 (the most recent year for which complete figures are available), the center generated revenue of $60.5 million, with expenses of $57.8 million. As a not-for-profit, the center reinvests surplus revenue back into the business.

The lion's share of the group's revenue—about 79 percent in 2010—comes from its blood-banking unit. The center collects blood from donors across Indiana, tests it for type and various diseases, separates it into component parts, then sells its various components to more than 60 hospitals in the state.

The separation process, which occurs in a centrifuge-like device, allows technicians to isolate components such as red and white blood cells, plasma and platelets. Hospitals buy packets of red blood cells for blood transfusions. For its current fiscal year, IBC expects to produce 150,000 units of red blood cells (typically about 450 milliliters each), out of the 180,000 total units of blood-based materials altogether.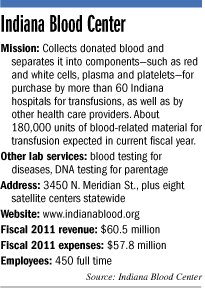 Although it provides a vital human fluid, the IBC does not charge out the nose. Its list price for a unit of red blood cells for hospitals is $220, according to Buhner, and the price barely covers expenses. A slim markup of 1 percent to 1.5 percent is included in the price, so the center can continue to upgrade its facilities and services, Buhner said.

IBC officials don't see selling blood for transfusions as a growth center for their business. They expect increasingly cost-conscious hospitals to use less blood per patient, and to try to find ways to decrease the price paid for blood.

After years of 2-percent to 4-percent annual increases, demand for blood began to drop in 2008, MacPherson said. A major contributing factor, beyond hospitals' trying to be more frugal with blood, was the recession's chilling effect on elective surgeries.

Although many patients again are opting for such procedures, MacPherson estimated that demand for blood is still 2 percent below the 2008 level.

In addition, there is competitive pressure in the market; the American Red Cross also sells blood to hospitals nationwide, including Indiana.

So, the IBC is looking to develop new revenue streams, such as services for cellular therapies.

The center is a good fit for collecting and processing blood for Dendreon's Provenge, Buhner said, because it already has staff and facilities essential for the work, and meets rigorous federal regulations for handling blood.

"We are the professionals at collecting and distributing these types of products that are collected within regulatory and safety parameters," Buhner said.

As with all of its services, IBC for now has a profit margin for the Dendreon work in the neighborhood of only 1 percent. Buhner expects its margins for such cellular therapy programs to grow, although he declined to predict by how much.

"I firmly believe that [these] self-therapy treatments will be much more in vogue in the future," he said.

In addition, providing such services fits into the center's mission of providing blood-related services for the community at a reasonable cost.

"We hold the technology, and because we do it for a wide variety of customers, we're able to keep the price low," he said. "We need to do this, rather than have someone else come in and start a program and probably double the cost."•