At only 19 years old, Josh Roche fired his first employee.
"It was terrible," he said. "I was so nervous, and I kept questioning myself."
Textbook Painting owner Josh Roche and his paint crew spruce up a house on the northeast side. (IBJ photo/ Perry Reichanadter)
The termination is only one of the tough decisions Roche has had to make this summer.
As an intern with Student Development Co., which helps college students run Textbook Painting businesses, Roche has learned the ins and outs of entrepreneurship. The program's goal is to give business students hands-on management experience.
Roche is one of 30 student leaders in seven states participating in the program this summer. About 10 are in Indiana, including Indianapolis, Carmel, Fishers, Noblesville and Zionsville.
The 6-year-old Student Development Co. is similar to more established college painting firms that operate nationwide, but its founders wanted more of an emphasis on one-on-one mentoring for their interns.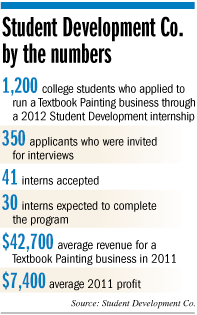 Co-owners Michael Murray and David Marker were once in the same position. While undergraduates at Miami University in Oxford, Ohio, they started their own painting companies to earn money in the summer.
"I probably learned more running my business than in any of my classes I took in college," said Marker, who graduated in 2008 with a major in management and a minor in entrepreneurship.
And business students today also see the value of the entrepreneurial experience. About 1,200 students applied for the program this year; 41 were accepted.
Among other factors, Student Development Co. looks for interns who live in promising markets—places with a large population of middle- to upper-class homeowners.
"The north side of Indianapolis is obviously a great target for us," said Marker, who lives and works here. The firm's main office is in Cleveland, and it also has a regional presence in Tennessee.
For now, Student Development Co. isn't looking beyond the Midwest, but leaders hope to build upon some of its weaker locations—Pittsburgh, Chicago, St. Louis and Louisville.
Next summer, the company plans to hire specialized Textbook Painting interns: one in marketing and one in operations for each location. The result could be fewer but larger-scale businesses.
Open for business
A new painting season starts each spring when Student Development Co. hires interns to run the Textbook Painting businesses.
"I liked the idea of being my own boss," said Bryant Alessi, a Textbook Painting owner in Fishers who will be a junior at Indiana University this fall. "I liked the idea of getting that experience early on."
Indeed, developing entrepreneurial skills in college allows students to have smoother transitions into their careers, said Rhoda Israelov, an executive career mentor at Butler University's College of Business.
She advises sophomores in a class called Real Business Experience, during which student groups create business plans and present them to a panel of local executives. A select few even borrow money from the university to get started.
"They're learning to run these businesses so that when they go work for Eli Lilly or Johnson & Johnson, they understand all of the considerations that go into running a business," Israelov said.
Successful projects included a business that provides technological training for senior citizens and another that brings photo booths to special events. But Israelov acknowledges that these businesses might not happen without the support Butler's College of Business gives them.
"Most students who go here would not have the funds to open their own business from scratch," Israelov said.
Student Development Co. was founded on the principle that starting a business is difficult for college students without some assistance. So it provides a business mentor, paint training, marketing materials and T-shirts.
"We're not just popping them out there and saying, 'Hey, good luck,'" Marker said.
There are no upfront fees, but the interns eventually pay for these services with a portion of their revenue based on how much training and marketing help they need—the more successful the business, the less the cost.
After all, Student Development Co. has its own expenses to pay. Marker declined to disclose financial results but said he expects revenue to reach $1 million this year.
Interns are not required to know anything about painting—but by the end of the summer, they will have managed a business that specializes in house, fence, concrete and commercial painting, as well as deck staining and power washing.
"They did a good job kind of bringing us up to pace with all the work we'd be facing," said Alessi, the Fishers owner. "If I ever felt uncomfortable with any situation, help was always just a phone call away."
Sweat, blood and paint
Still, the business owners are expected to act independently.
"The reality of being a business owner is that you're always at work," said Austin Hildebrandt, owner of Textbook Painting in Zionsville and incoming junior at Miami.
The owners start working almost immediately after they are hired. During the spring, they must focus on marketing—and maybe even make a few trips back home to gather some clients so that they're ready to work as soon as summer break begins.
But some interns just can't get the job done. This year, 11 of the original 41 have dropped their businesses. Marker said the students who leave the program often don't commit enough time during the spring to get their businesses off to a good start.
The ones who have survived tend to be resilient despite facing challenges.

Roche
"If I want to run a really successful company, I'm really going to work my butt off, which is what I've been doing," said Roche, the 19-year-old incoming sophomore at IU. "If things go wrong, it's all on me."
And things have gone wrong. The original team he hired in the spring fell apart—two quit and two were fired.
"It was the most frustrating thing in the world, and I started to hate the internship," Roche said.
But then he got the business back on track. With four new employees, he learned how to hand over responsibility to his crew and be more efficient with his time.
"I think that it's really opened my eyes to the business world as far as working with other people and being in charge of other people," Roche said.
Hildebrandt, who is in his second year of being a Textbook Painting owner, said the experience teaches business students skills the classroom can't—especially when it comes to planning, and working through disagreements with clients.
And he's been successful. Last year, his Zionsville company brought in $45,000 in revenue. This year, he hopes to reach $50,000, even though he has now hired two marketing assistants, whom he pays $15 per lead.
Although Hildebrandt has had a positive experience, owning a company has taught him one thing: He doesn't want to do it for a career.
"I want to have a good work-to-play ratio when I'm older, and I don't see the point in making a whole bunch of money if all you're doing is working and sleeping," Hildebrandt said.
Last summer, Textbook Painting interns earned an average of $7,400 after paying for supplies, Student Development Co. fees and employees. The highest-earning owner pocketed $18,000, while the lowest made only $2,500, according to Marker.
And while Alessi, Hildebrandt and Roche all will earn various amounts of money, one thing about their experience is the same: They will finish up their last paint job with more professional confidence than they had at the beginning.•
Please enable JavaScript to view this content.