Pam Velo of the Central Indiana Community Foundation said she's known for years that people were less interested in helping the elderly than other causes.
Families aren't as close as they once were—both geographically and emotionally—so people don't think as much about the needs of their parents' or grandparents' generations.
But the comments Velo saw on a blog asking readers what they could do to help their elders propelled her concerns to new levels.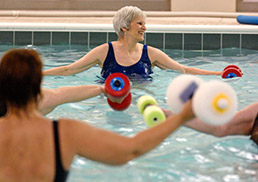 Nancy Adams exercises in an aquatic aerobics class at PrimeLife Enrichment Inc. in Carmel. The center has struggled to attract individual donors.(IBJ photo/Perry Reichanadter)
Many posters said measures such as Social Security and Medicaid were already in place, so why waste more resources?
One even made a wisecrack about "Soylent Green"—the 1973 science-fiction film in which a conglomerate makes food out of people.
"I don't want to sound melodramatic, but it's just so sad to see that all these people who've given so much to this community are now the invisible ones," said Velo, CICF's associate vice president for donor services.
The foundation, which provides financial support to hundreds of not-for-profits, is upping its focus on senior issues as more people enter their 60s and 70s.
The aging population is expected to generate an explosion in demand for senior services—taxing a network of often thinly funded providers. Some strains already are surfacing, such as June's closing of the 50-year-old Indianapolis Senior Center downtown.
Not-for-profit executives struggle to pinpoint why they often encounter apathy toward senior causes. People don't like confronting the issues they'll face themselves someday. Or there are too many other worthwhile causes.
"I think, sometimes, one of the challenges for organizations that provide services to older adults [is], it's a topic we're not real comfortable with," said Orion Bell, president and CEO of the Central Indiana Council on Aging. "We're not comfortable with our own aging process."
'Silver tsunami'
Organizations trying to raise money for senior services report contribution totals are small and are at best holding steady.
The community foundation, for instance, received $500 in individual donations for its senior fund in 2011. The only years in which the amount goes much beyond that are when estates bequeath large amounts.
CICF formed the Central Indiana Senior Fund in 2004, when a senior services group liquidated and turned over $11 million in assets. The fund has given $5 million since and closed 2011 with $13.5 million.
Fundraising demand will only increase with the arrival of the "silver tsunami"—the upcoming flood of senior citizens as baby boomers enter their twilight years.
An Indiana University report shows the state's 65-and-older crowd will expand from about 840,000 in 2010 to more than 1.1 million in 2020.
The age group will grow more than 30 percent, while the total population will increase about 6 percent, based on the same set of data.
By 2050, Indiana's senior population could almost double, to 1.5 million.
Despite the demographic trends, the Indianapolis Senior Center, 708 E. Michigan St., had seen its membership drop 25 percent—1,200 to 900—over the last four years.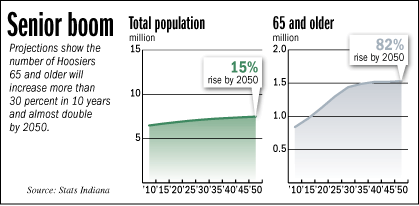 Membership fees covered only about 5 percent of its budget. The group found itself in dire straits after fundraising fell short for a $4.2 million, 22,000-square-foot expansion that opened in 2008.
"Nobody's going to give you money to pay debt," said Amy DiStaulo, who arrived at the senior center as interim director in August 2011. "The revenue over the past few years did not meet expenses. With the cumulative effect of overspending, it ran up to the point that the time ran out."
Sex, drugs and retirement
Many of today's seniors grew up listening to song lyrics such as, "I hope I die before I get old," in The Who's "My Generation"—a 1965 teenage anthem that captures many baby boomers' uneasiness about entering the golden years.
DiStaulo attributed the attitude conveyed in that song to the fading membership at the senior center.
She described the transition as a shift from the "Beaver Cleaver generation" to the "sex, drugs, and rock 'n' roll generation."
"The baby boomers are going to have the same aging needs, but it's going to have to be delivered in a different way," she said. "I am a baby boomer. Going to a building with the word 'senior' on it—that term, 'senior center,' needs to go away. We need to rethink the whole delivery system."
The Council on Aging's Bell said organizations that succeed in pulling in donations, volunteers and clients will be the ones that clearly define and communicate their missions.
Contributors are ultimately going to want to see how their time and money are working.
"Any nonprofit that is going to stick around, you have to be able to demonstrate some positive impact," he said. "I think, a lot of times, organizations struggle to tell their story."
It's also about reversing an image that senior citizens already have enough services provided to them, said Sandy Stewart, executive director of PrimeLife Enrichment Inc. in Carmel.
PrimeLife provides an activity center for anyone 50 or older, as well as services running the gamut from taking clients to medical appointments to fixing unsafe living conditions.
The community has supported the organization—local government grants cover about one-third of the $1 million annual budget. But Stewart said some people have misconceptions, which, when combined with the tough economy, have led to struggles attracting individual donations.
"People think we're running a country club here in Carmel," she said. "There doesn't seem to be much interest in contributing to something like that."•
Please enable JavaScript to view this content.