Scott Enright typically logs more hours on the job as Emmis Communications Corp.'s in-house counsel than he did as a partner at one of Indianapolis' largest law firms.
That might seem unusual, given the stressful demands firms impose on their lawyers to bill clients a set amount of hours every year to generate revenue.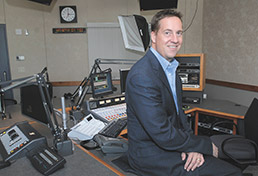 Scott Enright says he works more as Emmis Communications' general counsel than he did at a law firm. (IBJ Photo/ Perry Reichanadter)
But Enright's experience at the Indianapolis-based media company jibes with a recent study from the Association of Corporate Counsel in Washington, D.C., that might help dispel a long-standing perception within much of the legal community that in-house lawyers work less than their outside brethren.
The survey found that corporate lawyers are busier than ever, due in large part to the lingering economic downturn and increasingly complex federal regulations. Companies searching for ways to cut expenses are keeping more legal work inside rather than farming it out to a law firm.
"Anybody who thinks coming in-house is going to be a more cush job with less demands, they're just wrong," insisted Enright, 49, who works 55 to 60 hours a week.
Emmis, which owns 17 FM and two AM radio stations nationwide, and seven city and specialty magazines, has cut its outside legal budget about 20 percent in the past few years, Enright estimated.
Any moves companies have made to trim legal costs don't seem to be affecting Indianapolis' largest law firms, however.
Barnes & Thornburg LLP has felt a "slight"
impact from some clients, Managing Partner
Alan Levin said. And Ice Miller LLP may actually be benefiting from the trend, said partner Steve Humke, because companies might be pulling their work from larger, more expensive firms and giving it to his.
"It's impossible to staff everything in-house," Levin said.
Less outsourcing
Even so, results from the ACC survey released in March show that the amount of lawyers surveyed—more than 5,800 in 54 countries—who sought outside counsel declined in several areas from 2006 to 2011.
Among the findings: Those seeking assistance on litigation dipped from 69 percent to 65 percent, and for mergers and acquisitions, from 35 percent to 28 percent. Just 20 percent said they relied on outside lawyers for tax matters compared with 30 percent five years ago.
The report also revealed that the increase in work translated to more pay. Twenty-two percent said they earned more than $300,000 in salary, bonus and other compensation last year compared with about 18 percent in 2006, without adjusting for cost-of-living expenses.
More companies are taking notice of their efforts by rewarding them with higher-profile office space. The number of legal departments housed within corporate headquarters has grown within the past five years from 55 percent to 73 percent, helping them gain a certain amount of "prestige" at work, the survey said.
Law schools are beginning to taking notice, too.
Catholic and Georgetown universities in Washington, D.C., began offering courses in the spring to train students on how to practice law in a corporate setting, according to The Washington Post.
Students are required to write contracts and prepare a presentation before a board of directors, as the law schools adapt to the changes within the legal industry.
No plans are in the works to add in-house training at Indiana University's Robert H. McKinney School of Law in Indianapolis, said Antony Page, the school's vice dean. But that could change if necessary, said Page, who commonly invites corporate lawyers to speak to students in his business law courses.
He's not sold on entire classes being devoted to in-house legal issues because recent law school grads are rarely hired as corporate attorneys.
"People at law firms love to get in-house jobs," he said. "Yes, they tend not to pay as well, but the work-life balance tends to be perceived as much, much better. Every lawyer hates billable hours."
Family-friendly
That balance is what attracted Lisa Price to Carmel-based KAR Auction Services Inc., where she now holds the title of vice president of litigation and employment counsel.
Price, 38, reports directly to the public company's general counsel and handles employment, compliance and litigation issues. KAR, the holding company for ADESA Inc.'s auto auction facilities, has grown to more than 12,000 employees in the United States and Canada since her arrival in 2005.
That growth, combined with KAR's efforts to reduce its use of outside lawyers, has Price at the office from 9 a.m. to 6:30 p.m. throughout the week in addition to some evening and weekend work.
Yet her job at KAR enables her to take time out during her day to tend to her two young sons, if needed, which would have been nearly impossible if she were preparing for trial, or in court, at her former job at a local law firm.
"I think everyone in my life would say I work more, including my husband," she said. "But I'm not on a court deadline. If I have a day care run, that makes it easier."
Juggling the extra hours with family life has taken a toll on the amount of sleep she gets, though. Price typically rises at 4:50 a.m. on weekdays to get her 5:30 a.m. workout in.
The tradeoff: no billable hours or the rainmaking requirement to bring in new clients, she said.
Enright at Emmis can relate. He arrived there in 1998 from Bose McKinney & Evans LLP and became general counsel in 2009.
Enright attributes some of the extra hours he works to a flurry of transactions the public company has made in recent months to pare down debt. His evening and weekend work is made easier these days, with a son in college and a daughter in high school, "so I don't have as many games to go to," he said.
Neither Price nor Enright has complaints. Both say they enjoy their jobs, and serving as a corporate lawyer had always been a goal for Enright, who earned an MBA from IU in Bloomington.
"If we had a time sheet, we'd be billing more than we would at a law firm," he said of his staff of three lawyers. "But we don't have to write it down, which is nice."•
 
Please enable JavaScript to view this content.