Underneath the bustling Indianapolis City Market lies a quiet, cavernous basement of brick archways and columns dimly lit by hanging bulbs.

It's an unlikely public venue, but officials nevertheless are hopeful the so-called catacombs can be transformed into a useful space.

"Ideally, we would love a restaurant down there," said Wayne Schmidt, president of City Market's board of directors. "It would be fabulous, but so far we've had no bites."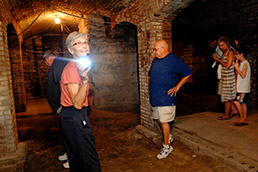 Indiana Landmarks volunteer Carolyn Curry leads a tour of the City Market catacombs. (IBJ photo/Perry Reichanadter)
Until recently, the catacombs—one of the only remainders of City Market neighbor Tomlinson Hall, which burned down in 1958—have been a mystery to most. But during the week before Super Bowl XLVI, City Market Corp. teamed up with Indiana Landmarks to give tours of the subterranean rooms. Since then, about 700 people have wandered through the remains of the structure built in 1886. (See below for a video tour of the catacombs.)



The partnership came about due to a shared wish that someone would make use of the area, said Neil Stowe, a volunteer docent with Indiana Landmarks, a locally based historic preservation group.

"It's 20,000 square feet of wasted space," he said.

Early last year, the City Market board drafted a request for proposals from business owners interested in remodeling the catacombs—while maintaining their historic elements. The document was never released to the public because the board became distracted with other tasks on its agenda, specifically renovations to other portions of the property at 222 E. Market St.

In recent years, City Market has made extensive improvements to its structure, renovating the main market house and the east wing, which now includes a YMCA of Greater Indianapolis branch and a bicycle hub. The west wing is being converted into shared office space called The Platform. Set to open in October, it will house a number of neighborhood improvement organizations.

"The city has made tremendous gains in terms of increasing the diversity of retail" at the market, said Marc Lotter, director of communications in Mayor Greg Ballard's office.

City Market has seen a lot more foot traffic since the renovations, said Executive Director Stevi Stoesz.

Redeveloping the catacombs into a restaurant could provide an additional draw, said Mike Halstead, president of Halstead Architects and a former City Market board member.

Schmidt said the lack of an RFP hasn't stopped the board from casually discussing the prospect of renovations with restaurant operators. Market leaders also have had informal talks with a local food retailer about the space, but Stoesz declined to identify that potential tenant.

Still, not everyone is sold on the idea.

"Although it is a unique [space], I think it would be hard to find someone to operate a restaurant there," said Steve Delaney, a principal at Indianapolis-based retail real estate firm Sitehawk.

He noted that Indianapolis residents are used to dining on the first floor of buildings, making underground restaurants a harder sell. Delaney, who has visited the catacombs, said the space might make a better event venue.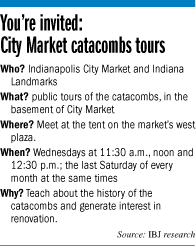 Stoesz said in the past couple of decades, the catacombs have been used for special events, such as a haunted house, TV commercials, an art festival and an environmental education event.

"It's an ongoing effort of 'ideation,' if you will, about how to properly use and honor the catacombs," she said.

The price tag also presents a challenge. Halstead estimated renovations would cost $3 million to $4 million—a hefty investment for a high-risk venture.

"It would take someone with a lot of guts and willing to take a big risk to put that kind of money into this space," he said.

Some of the challenges include getting natural light, ventilation and emergency exits into the catacombs, Halstead said. Opening up windows along Delaware Street that have been blocked by concrete would provide a partial solution.

City Market and Indiana Landmarks employees believe the underground space mainly served as storage for Tomlinson Hall—a gathering place for vendors, similar to City Market. Tomlinson Hall also had a 3,500-seat auditorium and is most famously known for hosting Indiana's first public basketball game.

Halstead, who has explored the catacombs, said the design of repetitive barrel vaults, spread about 10 feet apart, was exceptional for the time period. The Romans began using a similar plan for infrastructure over 2,000 years ago.

"Today, no one would do this because the labor would be too extreme and too expensive," Halstead said.

The catacombs survived the fire that destroyed all of Tomlinson Hall except for one archway that stands outside City Market.

Halstead doesn't expect anyone to start a project soon.

"I believe in this current economy that there won't be anybody willing to step up and take that risk," he said. "I do believe in five to 10 years from now, there will be someone who will see the quality of this space and what it can be."•