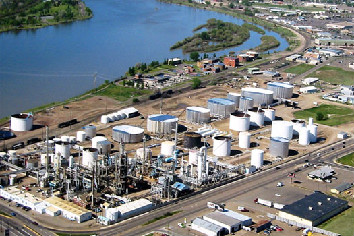 Indianapolis-based Calumet Specialty Products Partners LP has agreed to buy Montana Refining Co. Inc. from Connacher Oil and Gas Ltd. for at least $120 million.
Calumet, a manufacturer of custom lubricants, solvents and waxes said Tuesday that an additional amount to be paid for inventory and other costs will be determined at closing, which is expected to occur in the fourth quarter.
Calgary-based Connacher, which is carrying a debt load of more than $900 million, said the additional amount could raise the deal to a range of $155 million to $170 million.
Calumet said it will finance the purchase with cash on hand and by borrowing under its existing credit arrangement.
The refinery in Great Falls, Mont., produces gasoline, middle distillates and asphalt for markets in Montana, Idaho and Washington, in addition to Alberta, Canada. It is capable of producing up to 9,800 barrels of crude oil per day.
"This acquisition further develops our long-term strategy of diversifying our crude slate and geographic presence," Calumet CEO Bill Grube said in a prepared statement. "We expect this acquisition to be immediately accretive to our distributable cash flow. We are pleased with this acquisition and continue to actively look for additional growth opportunities."
The purchase of Montana Refinery would be Calumet's third major acquisition in about a year.
In July, Calumet acquired high-performance lubricants maker Royal Purple Inc. of Porter, Texas, for about $333 million. In September, it bought a refinery in Superior, Wis., from El Dorado, Ark.-based Murphy Oil Corp. for $442 million.
Please enable JavaScript to view this content.