Signs for home remodeling contractors and custom builders are popping up in yards around the Indianapolis area.
(IBJ Photo/ Perry Reichanadter)
More homeowners are taking the plunge on pricey home remodeling projects—ranging from kitchens, bathrooms and basements to outdoor living areas and whole-house makeovers—after a roughly five-year lull that began with the housing downturn.
Cheap financing, an improving economy and a lack of new-home developments are helping drive renewed interest in renovations from $50,000 up to several hundred thousand dollars to the point that some contractors face schedule backlogs—unheard of just months ago.
"People's pocketbooks are opening up
now, and they're choosing to fix up what they have," said Steven Moses, who specializes in interior custom remodeling projects and hires contractors on a job-to-job basis. "Everybody's on a budget, though, no matter how much money they have."
Homeowners have always spent time fantasizing about remodeling projects, but most put those dreams on hold in 2008, said Sal Alfano, editorial director for Remodeling Magazine, a national publication based in Washington, D.C.
There's still uncertainty in the remodeling business, and homeowners these days are more deliberate and cost-conscious, Alfano said. But they are spending again, including on projects $100,000 to $150,000 and up.
"In my experience, people can't keep from changing things, even if they think a house is perfect," he said. "There's a remodeling chromosome. A lot of people just can't let it be. They have to customize it to their liking."
Low interest rates on remodeling loans or mortgage refinancing and low pricing on remodeling projects—driven by increased competition among builders—also have boosted demand.
Alfano expects prices will begin to rise in the coming months as some contractors face a backlog.
"If the economy continues to progress, this may be the best time we're going to see price-wise for renovations," he said.
Confidence builds
One of the biggest beneficiaries of the booming renovations market is Case Remodeling, a Carmel-based company specializing in projects under $100,000 that Remodeling Magazine says is the state's largest such contractor.
Case has added 15 employees since 2008, most notably a 10-person in-house design team, and revenue has grown every year since the company began in 2003, said Case President Larry Green.
The company has 32 employees and for projects uses a mix of about 70 percent in-house labor and 30 percent subcontractors.
This year, Case has seen a big increase in remodeling projects outside the staple kitchens and bathrooms, including porches, outdoor rooms, small room additions, basements and mud rooms.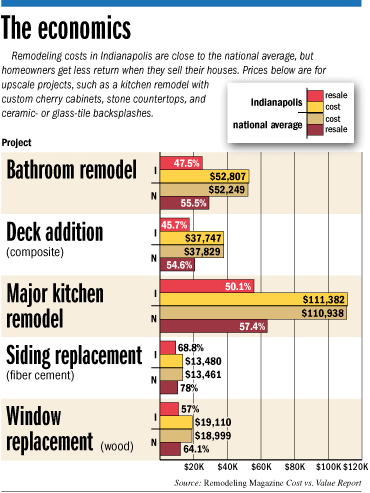 A common thread: Most homeowners are not remodeling with an eye toward resale. They'd like to recoup most of their investment someday, but the first priority is quality of life.
"A lot of them plan to stay in their homes and want to enjoy the improvements," said Green, who noted the competition among remodeling contractors is getting more intense. "But that just means homeowners are spending money again."
As Moses sees it, a lot of the new demand is from those in middle-income brackets who are growing more confident about recovery in the housing market and economy.
Moses said many of his customers refinance their house and take out cash to pay for his work. He moved his business from Bloomington in 2009, and demand has been steady.
Builders retool
A big reason remodeling is more competitive these days is the still-stagnant market for custom new homes.
Builders like Indianapolis-based Petty Custom Homes had to retool when demand disappeared for its one-of-a-kind spec homes ranging from $500,000 to more than $1 million.
"When that market pretty much died, we had to reinvent ourselves," said owner Chris Perry. "I don't think the larger custom homes are going to come back for a couple more years—bank requirements are still crazy. The remodeling thing is going to stay hot for a while. It definitely saved us."
He says homeowners investing in remodeling are savvy.
"Those people are ahead of the game," Petty said. "As the market comes back, they won't have to put as much money into the house to sell."
Petty does a wide range of projects ranging from finished basements to pool houses, with prices ranging from a few thousand dollars to $100,000.
Some builders are focusing on remodeling niches: Finishing basements is the new specialty for DB Klain Builders, a 19-year-old Carmel company with four employees that shifted from custom homes to remodeling during the housing downturn.
Klain this year launched a new brand and website, BuilderBuddy.com, to showcase its process and experience at finishing basements.
The pitch from owner David B. Klain is pretty simple: You can economically add up to 30 percent more living space to your existing home.
Like most other remodeling contractors, D.B. Klain takes on a variety of projects, including kitchen and bath remodels and whole-house projects. And like the others, many of its clients would have been move-up buyers a few years ago.
"People get settled in, love where they live, but would love a new home," Klain said. "So they go ahead and fix up what they've got instead of moving up."
Kitchens and porches
Two of the most popular projects these days: spacious modern kitchens and open-air porches for entertaining, said Steve Gray, who heads a local remodeling operation that builds projects ranging from about $50,000 to $750,000.
Many of Gray's customers own homes in the $300,000 to $500,000 range and consider buying a new, higher-priced home before opting to stay put and upgrade.
Another subset of customers buys another home but remodels immediately. In some cases, Gray works with real estate brokers to discuss plans and build budgets before buyers even make an offer.
"There aren't many houses out there already to their liking," he said. "Our goal is to give an existing house the same character and style as what's hot now."
Homeowners are spending again, Gray said, but not "freely, without much thought"—like they did before the housing crash.
Most are realistic about costs, realizing materials have risen in price, projects require permits and code compliance, and contractors need insurance. But not everyone.
"Consumers and Realtors aren't really up on the cost to properly remodel," Gray said. "If you watch the reality shows and those things, it makes it seem really cheap."
Pent-up demand
Builders say a fledgling recovery in the housing market should help the remodeling market. People are more willing to spend on their house if they sense neighborhood property values are rising. The buyer's market for remodeling could quickly turn into a seller's market.
That might not be imminent, though, cautions Rob Froehlich, president of Indianapolis-based Corinthian Fine Homes.
His specialty is whole-house remodeling projects in Meridian-Kessler that cost $200,000 or more. Most of his deals the last few years have run in the $20,000 to $40,000 range, but he's on pace to beat his 2008 volume this year, buoyed by larger deals often paid for with cash.
The 14-year-old Corinthian builds projects totaling $1.2 million to $1.8 million a year.
An early-summer backlog of projects has turned into a manageable load and many homeowners are back on the sidelines. Froehlich blames the November presidential election and a general unease that the economic recovery could stall.
But it probably won't take much to push the worriers into the optimistic category.
"There's a lot of pent-up demand," he said. "For a number of years, people have been wanting to do something with their house but are waiting to see where this economy is going."•
Please enable JavaScript to view this content.